Barcelona in 2 days: the perfect 48 hours in Barcelona
Book a Free Tour of Barcelona!
Barcelona is one of the most popular destinations in Europe, and once you visit it, you'll know why! There is so much to see and so much to do, that visiting Barcelona in 2 days may be a bit of a challenge. Just as a quick fact, Barcelona boasts 9 UNESCO World Heritage buildings. One of the highest numbers for a single city in the world! In this week's post, The Touring Pandas go through the city must-sees to help you make the most of your 48 hours in Barcelona.
If you follow our tips and organise your plan to explore Barcelona in 2 days, you'll get to see most of the unmissable spots. Your schedule may be a bit tight, but we're here to help. And if you end up wanting for more, you can always come back!
Barcelona in 2 days: Day 1 – morning
Park Güell, Sant Pau and Sagrada Família
If you only have 48 hours in Barcelona, you will want to make the most out of them. Yes: that means you'll have to wake up early! On your first day, have a good breakfast and head towards the mountains of Barcelona. Here is where you'll find one of the city's best gems: Park Güell. Gaudí's park has a new regulation that reserves the early hours, from 6 to 9:30am, for Barcelona's residents. After 11am it can get quite crowded, and you'll probable want to have some quite selfies with the lizard and the mosaic benches. So book your 9:30am ticket and get ready for it!
After Park Güell, you can combine Metro L3 and L5 to reach Sant Pau Hospital. You'll have to take the Metro in Lesseps, a 10 minutes walk downhill from the park. You can change lines in Diagonal, and continue your trip until Sant Pau-2 de main, just two minutes away from Barcelona's old hospital. This amazing building can be visited only since 2015 and is rapidly escalating position in the top of Barcelona's must-sees. This unique example of Modernista architecture is world's largest Art Nouveau construction. A visit to Sant Pau is simply breath-taking: don't skip it and save some time for this within your 48 hours in Barcelona!
Once you're done visiting the old hospital, you can continue your Barcelona in 2 days plan with the Sagrada Família. Walking down Gaudí's Avenue, it's just 5 minutes away from Sant Pau. During the walk, you won't be able to move your eyes away from the towers, which continue growing towards the sky year after year.
Once it's finished, in 2026, it will be the highest temple in the world. Sagrada Familia is usually extremely busy and it's really hard to get a ticket. If you want to know all about Gaudí's unfinished dream and save time skiping the long lines, we recommend you to take our Sagrada Familia tour in English, Japanese, Korean or English. It's a small group tour that will allow you to discover this amazing building in comfort.
After some walks and already three UNESCO World Heritage Sites, you may be a bit hungry! There are many restaurants around the temple and on Avinguda Gaudí. But our recommendation is to look for La Paradeta, a local place hiding in an alley. It's a small seafood market stall where you can choose what you want to eat, how much quantity, and how you want it cooked. Anyway, it will be delicious and you have to live this experience while discovering Barcelona in two days.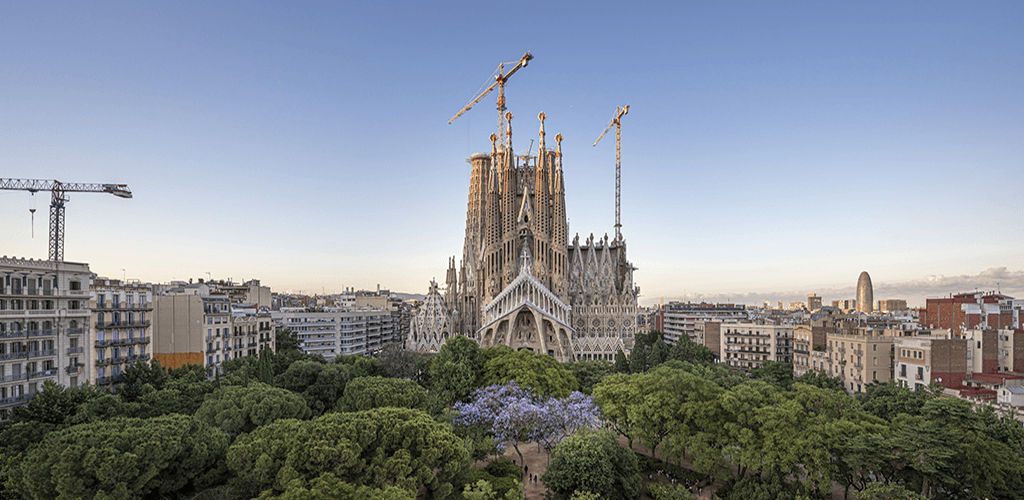 Barcelona in 2 days: Day 1 – afternoon
Gaudí Houses and Passeig de Gràcia
It's turn now for the fairy-tale houses: Gaudí's Casa Vicens, Casa Milà and Casa Batlló. 48 hours in Barcelona may be too little time to see the three of them, but we have a solution for that! Gaudí's first house is Casa Vicens, a small chalet with oriental inspiration. With it's beautiful and exclusive yard, this is a real oasis amid the noise of the city. Once you've scanned every corner of Gaudí's post-graduate project, continue walking towards the city center. In 15 minutes you'll reach Passeig de Gràcia, Barcelona's golden mile.
One of the first buildings you'll spot is Casa Milà, the last project that Gaudí completed in his life. Locals call this building "La Pedrera" (the stone quarry in Spanish) because of its looks. At the time when it was created, the landlady actually hated it! The most famous part of La Pedrera is its terrace, probable the most beautiful of Barcelona. If you want to meet the warrior statues in your visit to Barcelona in two days, make sure to mark this one on your list!
Finally, Casa Batlló is the third house you'll find walking down Passeig de Gràcia. In this case, the house stands out for its magnificent and colorful dragon facade, which actually represetns the legend of Sant Jordi (see our post about it). The house is no less amazing inside. Here, Gaudí unleashed all of his imagination and the place looks like you're diving into the Mediterranean Sea.
A good option to get a comprehensive look at Gaudí's work is to take our Barcelona Gaudí Walking Tour. In three hours, you'll learn about Gaudí's houses with our expert guide in English, Japanese, Chinese, or Korean. The tour includes a flash visit to Casa Vicens and a fast-track ticket to Casa Batlló, ideal to save time and explore two of Gaudí's creations. You can also combine the Gaudí Houses and Sagrada Familia in a combo full-day tour. With the help of our guides in English, Japanese, Chinese or Korean, you'll learn much more in your 48 hours in Barcelona.
Barcelona in 2 days: Day one – evening
By the end of the day, you've already visited the most popular Gaudí buildings with this plan of 2 days in Barcelona. Now it's time to enjoy a wonderful evening exploring Barcelona's ancient quarters. Did you know that the old town has more than 2.000 years of history? To start your evening, head to la Rambla and stroll past the flower stalls. There is always going on on la Rambla, no matter the time of the day. That's why this is the most famous street of Barcelona!
After la Rambla, a quiet walk through the Gothic area is the best plan for an evening in Barcelona. The Cathedral and the remains of the city walls look majestic with the evening lights. Don't miss the Plaça de Sant Felip Neri and Plaça Reial, some of the most magical corners of the old town. In the latter you'll also find Los Tarantos, the oldest tablao flamenco in Barcelona. Here you can enjoy a genuine performance of about 45 minutes, which is the perfect duration if you only have 48 hours in Barcelona.
And finally, to top up the evening, a good dinner with real Spanish food. There is a super fancy restaurant called Pork, where all the menu is based in the most cheerished animal in Spain. Of course, there are also vegetarian and vegan options. If you want us to organise the perfect evening for you, check out our Barcelona Evening Tour with Flamenco Show and Dinner. This is a three hour plan that includes a guided visit to Barcelona's old town in English, Japanese, Chinese, or Korean. It includes a flamenco live show and a finger-licking dinner!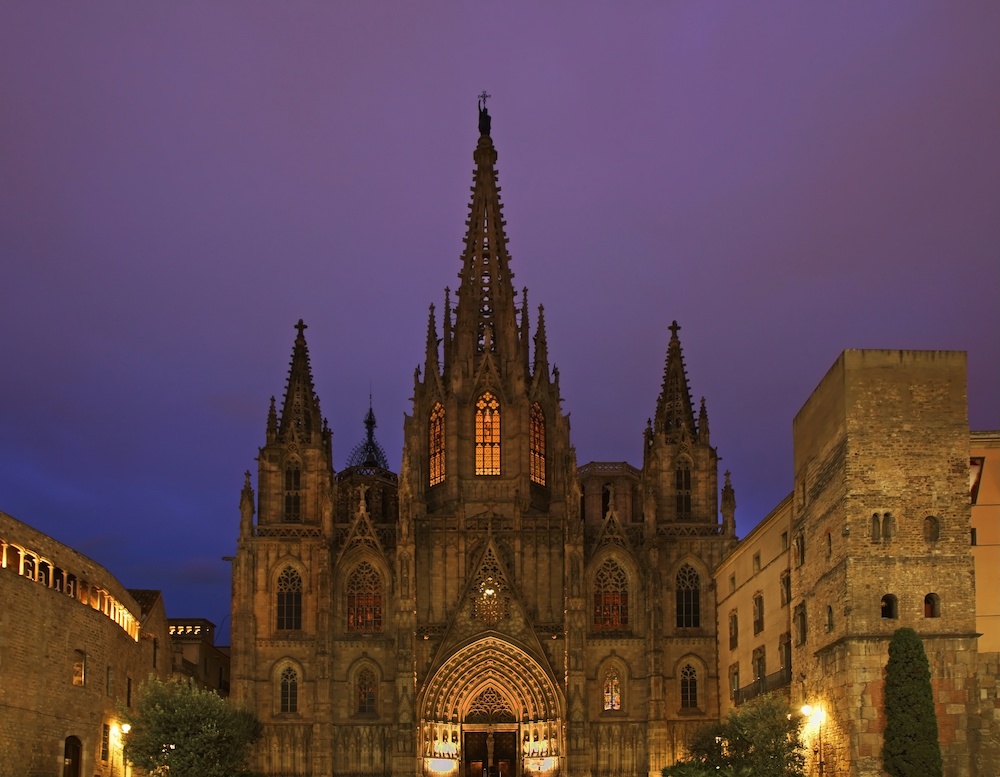 Barcelona in 2 days: Day two – morning
Montserrat
Good morning! It's your second day in the city – and remember you only have 48 hours in Barcelona! So say good-by to bed and fill up your belly with a good breakfast – we're heading to the mountains! Yes: a plan of Barcelona in 2 days is not a good plan if it doesn't include a trip to Montserrat. The best way to reach the most beautiful landscape in Catalunya is to take the Train to Montserrat from Barcelona. We recommend to take the first train, at 8.30am, to start early and be able to continue enjoying the city in the afternoon.
In Montserrat, apart from scenic views you'lll find a 9th century Monastery with the Black Virgin, a museum and an audiovisual space to understand the history. If you save 3 hours for this nature experience, you have enough time to get a good taste of it.
And speaking of taste, you may be hungry by the time you retrun to the city! You can't leave Barcelona without tasting some good tapas. To help you find the most authentic tapas places, we have created a Barcelona Tapas Tour in a small group. In this premium tour we take you to some tapas meccas and you'll get to taste real Spanish local food with the help of our guide in English, Japanese, Korean or Chinese.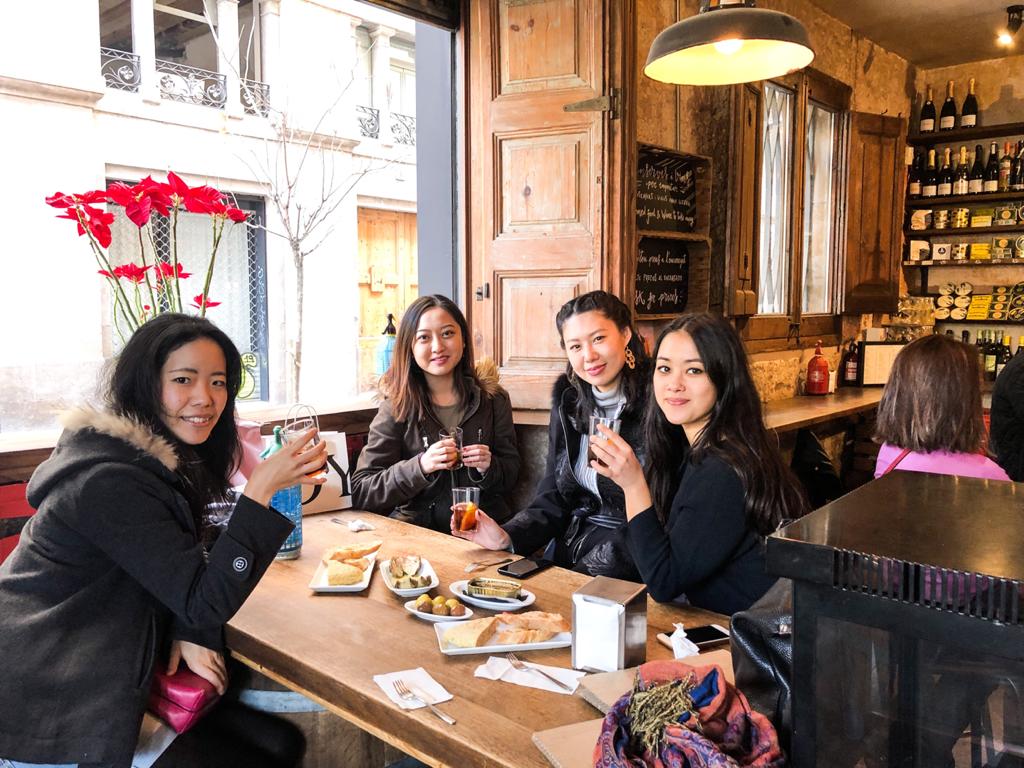 Barcelona in 2 days: Day two – afternoon
El Born, Picasso Museum and Palau de la Música Catalana
If you're following our plan to visit Barcelona in 2 days, we recommned you to dedicate your second afternoon to discovering El Born neighbourhood. El Born is Barcelona's medieval quarter, one of the oldest areas in the city. In the Middle Ages, the center of the city was still surrounded by walls. The population grew a lot and the Gothic quarter became overcrowded. That's when the noble families started building their palaces outside the walls, but close enough to still be able to live in the city. This is how the history of El Born started. The highliths of this area are Santa Maria del Mar, the Picasso Museum, and the Palau de la Música Catalana.
The Picasso Museum is pretty small, you can visit it within one hour and a half. But that doesn't mean that it's not an important museum! On the contrary, this place is perfect to understand Picasso's personality. In this museum, you can see the artist's early works. At the beginning he was a traditional artist, but Barcelona marked his own personality and he started finding his own way. Learn all about this transformation inside the museum within your 48 hours in Barcelona!
The other gem in this are that you can miss if visiting Barcelona in 2 days is the Palau de la Música Catalana. This outstanding theatre is also one of Barcelona's UNESCO World Heritage Sites. As many of the city's most remarkable places to visit, this belongs to the Modernista architectural movement. Apart from the facade, famous for its sculptures, the stained crystal dome in the main hall is definitely a unique masterpiece of architecture.
Barcelona in 2 days: Day two – evening
Parc de la Ciutadella and Barceloneta
Nothing lasts forever, and our plan to visit Barcelona in 2 days is no exception. You're almost reaching the end of your 48 hours in Barcelona! So let's find the best way possible to enjoy the last evening in the city of Gaudí. After el Born, we suggest to visit the Arc de Triomf and Parc de la Ciutadella, one of Barcelona's green lungs. Apart from the monumental fountain, the garden is packed with sculptures and there's even a giant mammoth!
Then, you can continue your walk and in 10 minutes after leaving the part you'll reach the Olympic Port. The waterfront of Barcelona is an amazing sight to say good-bye to this bautiful Mediterranean town. After strolling on the sand of Somorrostro beach, enter the picturesque streets of Barceloneta, the city's old fisherman's village. If you want to end your trip with a memorable paella, in this are you'll find El Cangrejo Loco, a restaurant with amazing views of the city's beach line to round up 48 hours in Barcelona.
We hope this post will help you decide what you should prioritise in your visit to Barcelona in 2 days. We have also designed plans for one day and three days. Do you think we missed something important? Was this information useful to you? Leave us a comment and let us know your thoughts! We really look forward to hearing from your dreamed 24 hours in Barcelona!
If you liked our post about what to see in Barcelona in one day, recommend it to your friends and learn more Barcelona tips in our Panda Blog! Remember you can also take our tours to discover the best attractions in Barcelona from a local perspective. Use our Panda coupon in your language to get a 10% discount!
Coupons: CHINA10 – JAPAN10 – KOREA10
You can also follow us on Facebook!