Enjoy the best views of Barcelona at Torre Glories Observation Deck
Did you know that, according to locals, the most beautiful version of Barcelona appears when you stare at it from above? If you arrive by plane and have a window sit, you can appreciate the city's unique location surrounded by the Mediterranean sea and the mountains.
Apart from that, seeing Barcelona from the air is a great opportunity to admire the characteristic sketch of the famous Eixample, with its perfectly designed blocks (called 'apples' by the Barcelonans). And of course, you may even spot some city icons like the Sagrada Familia or the W hotel!
But, if you aren't lucky enough to get a window sit, we have a perfect solution for you! In this week's post, The Touring Pandas invite you to enjoy the best views of Barcelona from the top of Torre Glories, the new observation deck in the city that you can't miss.
Torre Glories, or Torre Agbar? Let's find out!
Barcelona's most iconic tower was designed by architect Jean Nouvel and built between 1999 and 2005. Jean Nouvel imagined a new skyscraper for Barcelona inspired by some of the city's most famous elements. Thus, the result was a modern, state-of-the-art tower that reminds us of some of Gaudí's works thanks to its unique shapes and colors.
Initially, the tower hosted the headquarters of Barcelona's water company, called Aguas de Barcelona in Spanish. That is why people started calling it Torre Agbar (AGuas de BARcelona). Eventually, the public company moved to a different building and the tower took the name of the big square where it is located, called Plaça de les Glories. So, currently, the official name of the tower is Torre Glories.
Now that you know a bit more about its history, let's see what you can see during your visit to the Torre Glories Observation Deck!
Torre Glories: much more than an observation deck
The underground digital space
Once you step into Torre Glories, the first views of Barcelona you'll see are totally different from what you expect. The actual visit starts at the underground floor, where you'll discover an interactive museum with real-time information about the city and its day to day life.
After a first interaction with a digital cube, you'll be greeted by all the habitants of Barcelona that are not human. This extremely cute collection of often invisible citizens contains a wide variety of plants, animals and even unicellular organisms, from birds to cockroaches!
Next, you'll find yourself immersed in a big room with a wall-to-wall screen where you can see everything that happens in Barcelona beyond the human eye's view. How many flights are departing and landing at this moment at the airport? How strong is the wind, and where does it come from? What is the sea temperature? What noises can we hear while we walk the streets of Barcelona?
The last room of this floor is an environmental cinema where visitors can learn interesting facts like real-time levels of pollution, X (the old Twitter) activity, traffic density, and other topics related to sustainability. The goal of this space is to raise awareness about the importance of taking care of our cities if we want to preserve them for future generations.
The observation deck
After a quick elevator ride, you'll reach the last floor of the tower, where you'll find Barcelona literally at your feet. At 144 meters above sea level, the 30th floor of the Torre Glories Observation Deck has become an outstanding viewpoint just a few minutes away from the city center.
From the top of the Glories tower, you'll gain unbeatable views of the Montjuic and the Tibidabo mountains, the Mediterranean sea and, of course, of Barcelona's most iconic monuments like the world-famous Sagrada Familia. Needless to say, the views are 360º!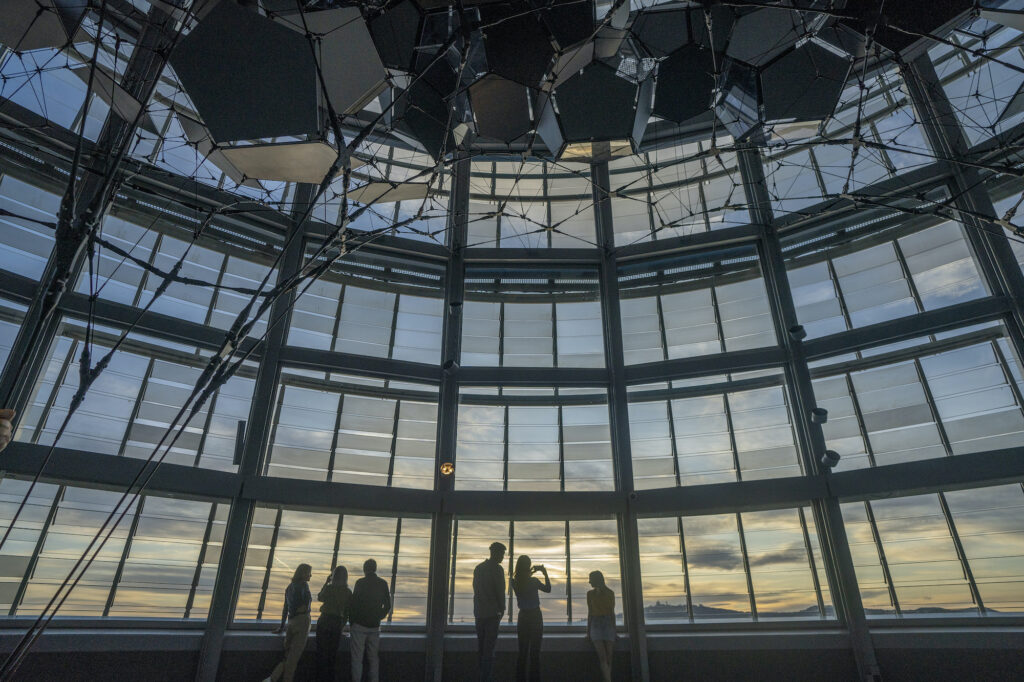 Cloud Cities Barcelona
However, the experience at the Torre Glories Observation Deck doesn't end with nice views. For the most daring visitors, there is still one surprise waiting: Cloud Cities Barcelona. This floating sculpture by Chilean artist Tomas Sarraceno is a unique artwork that allows you to get one step higher, just when you thought you had reached the top.
Believe it or not, you can climb on the sculpture and crawl your way through the hundreds of panels that recreate the clouds over Barcelona. There is no time limit at the sculpture, so you can just sit and relax on these artistic clouds while you reflect about everything you learned about the city during your visit.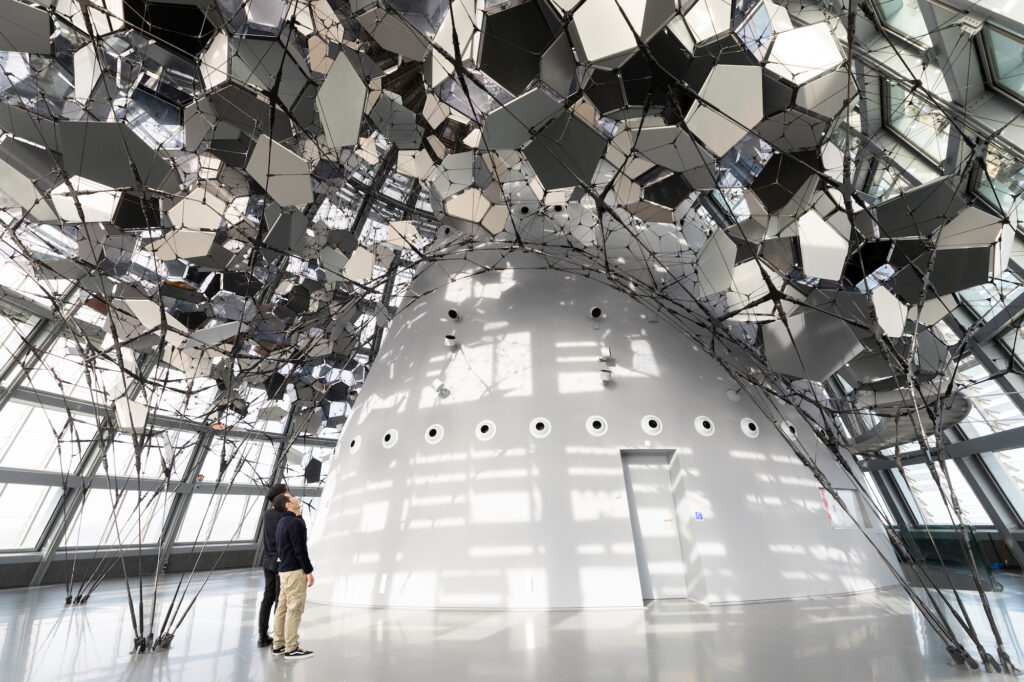 Finally, before leaving the building there is a shop where you can find original souvenirs to bring back home for you or as a gift for your loved ones.
Buy tickets for Mirador Torre Glories
With such a rounded experience, Torre Glories has become one of our favorite attractions in the city and we definitely recommend you to visit it! The basic ticket is 18€, but you can save 3€ if you buy it online with Tiqets, where you pay only 15€. If you want to experience Cloud Cities Barcelona, you can purchase an upgrade online or onsite for 10€ more.
👉🏼 Buy your online tickets now and save 3€! 👈🏼
Opening hours: Wednesday to Monday from 9:30 to 18:30. Tuesdays closed.
How to get there: Metro L1 (red line) to Glories
Next to Torre Glories, you can find other things to do like visiting the Encants flea market (open Monday, Wednesday, Friday and Saturday), the DHUB Barcelona Design Museum, and the new park on the other side of the square.
We hope you found this post with tips to visit the Torre Glories Observation Deck interesting. If you're still missing some information or if you have questions, leave us a comment. We'd love to hear from you and we're happy to help you with more tips and advice! Also, we invite you to check our posts to spend one day and two days in Barcelona. They're full with ideas to tailor the perfect plan to discover the city!