Barcelona in one day: discover the city of Gaudí in 24 hours
Book a Free Tour of Barcelona!
Barcelona is one of the most popular destinations in Europe, and once you visit it, you'll know why! There is so much to see and so much to do, that visiting Barcelona in one day is a big challenge. Just as a quick fact, Barcelona boasts 9 UNESCO World Heritage buildings. One of the highest numbers for a single city in the world! In this week's post, The Touring Pandas go through the city must-sees to help you make the most of your 24 hours in Barcelona.
If you follow our tips and organise your day well, you'll get to see the most famous highlights of Barcelona in one day. It's not much time, but just enough to make you love the city. You will want to come back very soon!
Barcelona in one day: morning
An early visit to Park Güell
There's no questioning what's the first thing you should visit if you only have 24 hours in Barcelona: Park Güell! Considering that you're just going to spend one day in Barcelona, it's worth to wake up early and start enjoying the day before the crowds get out. Park Güell receives more than 3 million visitors every year, so it's quite busy from 11am. What many tourists don't know is that the park opens really early, and it's very quiet if you go at 9.30am.
So get up for an early breakfast and make your way to meet the most famous lizard in the world. Your reward for being an early bird is that you'll get a chance to take a selfie alone with it! If you need help to buy your online ticket for Park Güell, let us know when you want to go and we'll get it for you. It's important to make a reservation before you go.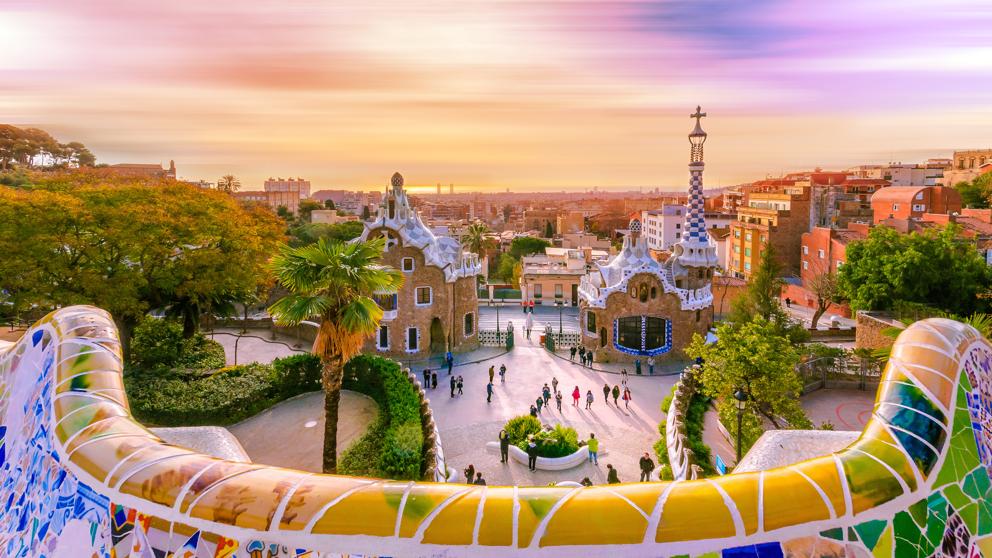 Sant Pau and Sagrada Família
Once you're done enjoying the beautiful views from Park Güell, get ready to see another two breath-taking constructions. If you want to discover Barcelona in one day, you can't miss the old hospital of Sant Pau. This impressive building is the largest Art Nouveau site in Europe. Until 2010, it still worked as a hospital, but now it's a museum for people to discover this beautiful UNESCO World Heritage site. In addition, it's only 5 minutes away from Sagrada Familia, so no excuses to skip this one!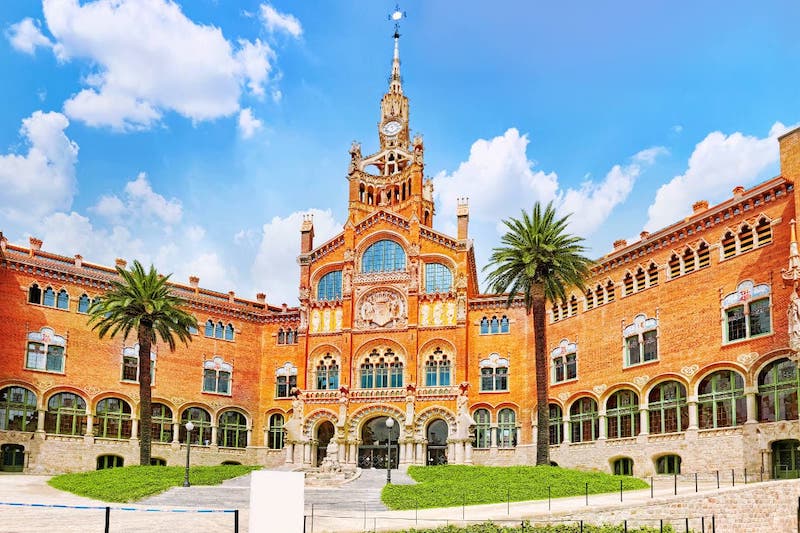 After Sant Pau, walk on Avinguda Gaudí (Gaudí's Avenue) to reach Barcelona's unfinished temple: the Sagrada Família. This church has something that will make you either love it or hate it. The truth is, this is the most visited monument in Spain for an obvious reason: it's uniqueness. Once it's finished, in 2026, it will be the highest Christian temple in the planet. It's very difficult to get a ticket for Sagrada Familia, so make sure to book in advance. Apart from the interior, which is fabulous, it's worth taking a guided tour to discover the stories behind the Passion and Nativity facades.
We highly recommend to book our Sagrada Familia tour: our expert guides will tell you every secret of this building. And in your preferred language: English, Japanese, Chinese, or Korean! It includes a fast-track ticket, so you will be able to walk past the long lines and have guaranteed admission! If you want to make the most out of your 24 hours in Barcelona, don't miss this chance.
After so much walking, you'll probably start feeling hungry. So it's a good time to take a breath and enjoy some nice local food after Sagrada Familia. There are many restaurants around the temple and on Avinguda Gaudí. But our recommendation is to look for La Paradeta, a local place hiding in an alley. It's a small seafood market stall where you can choose what you want to eat, how much quantity, and how you want it cooked. Anyway, it will be delicious and you have to live this experience in your one day in Barcelona.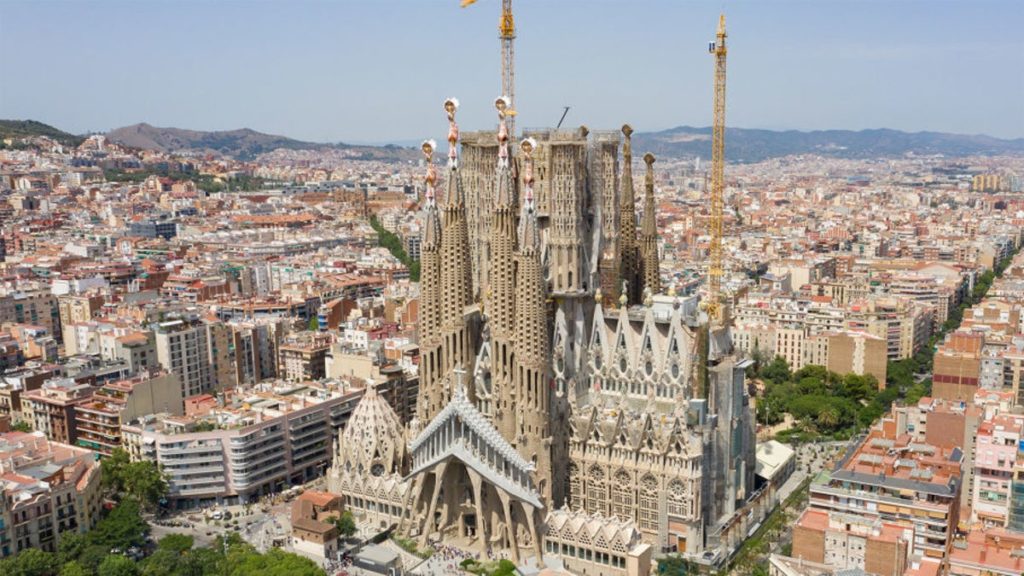 One day in Barcelona: afternoon
Gaudí Houses and Passeig de Gràcia
Now that you have a full belly, you're ready to continue discovering amazing heritage. It's turn now for the Gaudí houses: Casa Vicens, Casa Milà and Casa Batlló. 24 hours in Barcelona may be too little time to see the three of them, but we have a solution for that! Gaudí's first house is Casa Vicens, a small chalet with oriental inspiration. It's the tiniest of the three houses which is already a good reason to make some room for it. Walking 15 minutes from Casa Vicens you'll reach Passeig de Gràcia, Barcelona's most glamourous and luxurious boulevard.
One of the first buildings you'll spot is Casa Milà, the last project that Gaudí completed in his life. Locals call this building "La Pedrera", the stone quarry in Spanish, because of its looks. At the time when it was created, it generated a lot of controversy! The most famous part of La Pedrera is its terrace, probable the most beautiful of Barcelona. If you want to meet the warrior statues in your one day in Barcelona, make sure to mark this one on your list!
Finally, Casa Batlló is the third house you'll find walking down the avenue. In this case, the house stands out for its magnificent and colorful facade, which may remind you of a Monet painting. The house is no less amazing inside. Here, Gaudí unleashed all of his imagination and the place looks like the bottom of the sea.
A good option to get a comprehensive impression of Gaudí's work, is to take our Barcelona Gaudí Walking Tour. In three hours, you'll learn about Gaudí's houses with our expert guide in English, Japanese, Chinese, or Korean. The tour includes a flash visit to Casa Vicens and a fast-track ticket to Casa Batlló, ideal to save time and explore two of Gaudí's creations. You can also combine the Gaudí Houses and Sagrada Familia in a combo full-day tour. With the help of our guides in English, Japanese, Chinese or Korean, you'll learn much more in your 24 hours in Barcelona.
Barcelona in one day: evening
Congratulations, you almost made it through your 24 hours in Barcelona! After a long day, it's time to enjoy a wonderful evening. We will leave Gaudí and the modern city behind now to explore the origins of Barcelona. Did you know that the old town has more than 2.000 years of history? To start your evening, head to la Rambla and stroll past the flower stalls. La Rambla looks like a river of people, there is always going on here and it's fun to just walk and enjoy the scene.
After la Rambla, a quiet walk through the Gothic area is the best plan for an evening in Barcelona. The Cathedral and the remains of the city walls look majestic with the evening lights. Don't miss the Plaça de Sant Felip Neri and Plaça Reial, some of the most magical corners of the old town. In the latter you'll also find Los Tarantos, the oldest tablao flamenco in Barcelona. Here you can enjoy a genuine performance of about 45 minutes.
And finally, to top up the evening, a good dinner with real Spanish food. There is a super fancy restaurant called Pork, where all the menu is based in the most cheerished animal in Spain. Of course, there are also vegetarian and vegan options. If you want us to organise the perfect evening for you, check out our Barcelona Evening Tour with Flamenco Show and Dinner.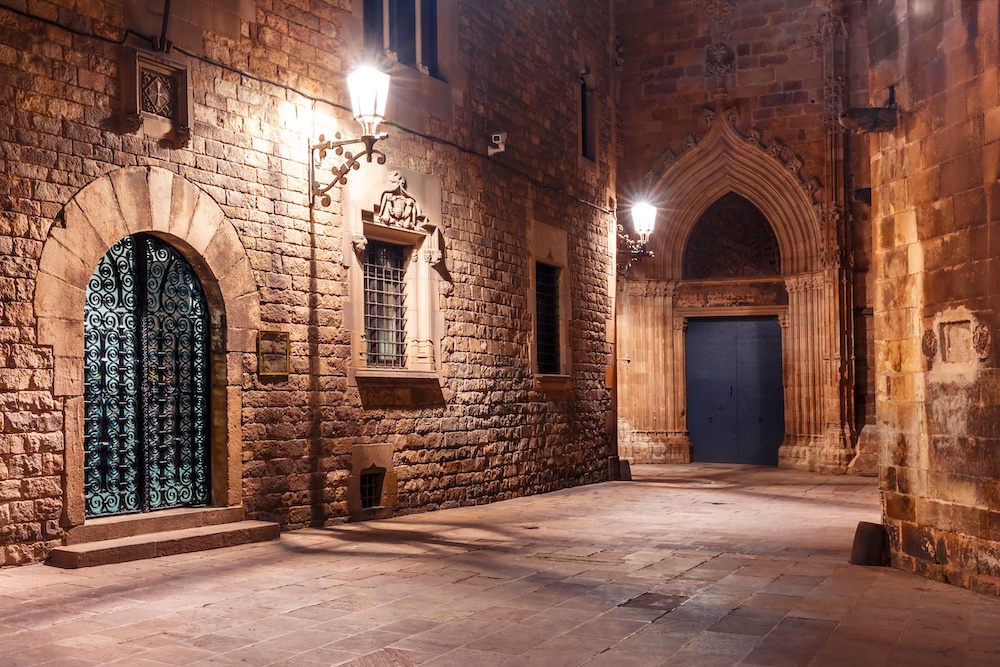 We hope this post will help you decide what you should prioritise in your visit to Barcelona in one day. If you have some more time, we have also designed plans for two days and three days. Do you think we missed something important? Was this information useful to you? Leave us a comment and let us know your thoughts! We really look forward to hearing from your dreamed 24 hours in Barcelona!
If you liked our post about what to see in Barcelona in one day, recommend it to your friends and learn more Barcelona tips in our Panda Blog! Remember you can also take our tours to discover the best attractions in Barcelona from a local perspective. Use our Panda coupon in your language to get a 10% discount!
Coupons: CHINA10 – JAPAN10 – KOREA10
You can also follow us on Facebook!
Other Tours in Barcelona: