Tour details
Barcelona Tapas Tour
If there is one thing you can't miss in your Spain trip, it's the tapas!
The most delicious bites in Barcelona can be found in the Born area. Taste them in our Barcelona Tapas Tour! Most guides will recommend you to walk down la Rambla, sit down for a beer, and have some tapas. But the Pandas know better: avoid tapas on la Rambla! hola
A recent study found that Spain has as many bars as Italy, Germany, and France together! Literally, there is a bar in every corner in Spanish cities. With such a huge offering, it's easy to be confused and ask yourself: so, where will I find the best tapas?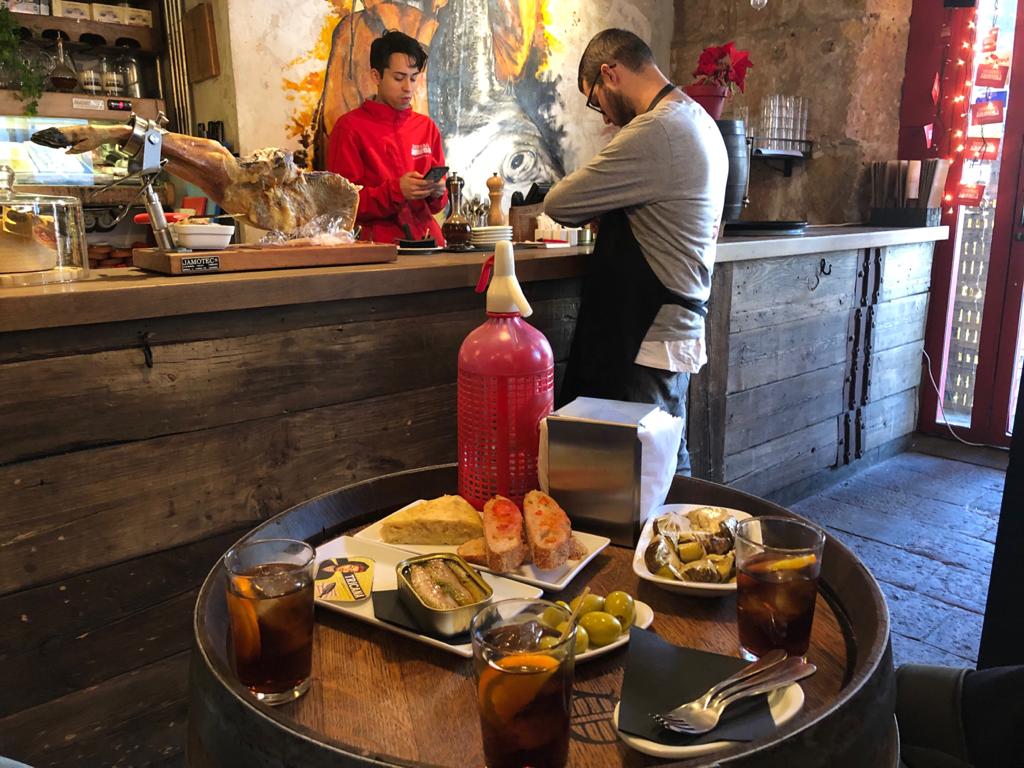 Prices (tickets included)
Adults (18+): 99€
Use the coupon BYESUMMER during checkout to get a 10% OFF!
Gaudi & Sagrada Familia: Barcelona Day Tour Details
If you don't have much time in the city, this is our recommended solution to discover the most amazing architecture in a full day tour of Barcelona: with our Gaudi & Sagrada Familia tour combo, you will save time and money!
In the Barcelona Tapas Tour, we will take you to the best bars in the Born area. Chicken wings and fried potatos can be found in any city and that's NOT the real tapas. Instead, go for tortilla de patata, sardines, pintxos, albóndigas, and other delicious dishes that will make your mouth water! In addition, discover some authentic bars along the way.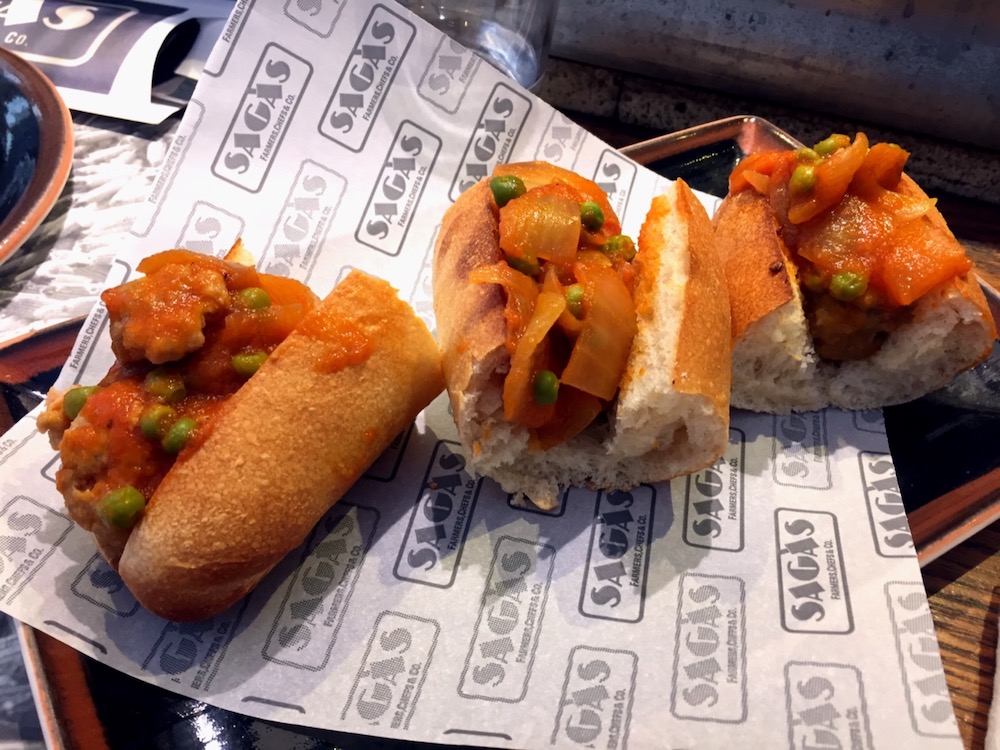 The tour begins with a short walk through Barcelona's old town, just to open up your apetite! Then, we'll make our first stop at Vidrios y Cristales. Here you'll have vermut, a typical Catalan sweet wine often served as aperitif, alongside the first tapas of the day.
Later on, we'll stop at a pintxos bar. A pintxo is a traditional tapa from the Basque country, so you'll also get to taste some flavors from other parts of Spain. Finally, we will have our last stop at a bar specialist in traditional Catalan dishes, where you will also get a special tapa as desert.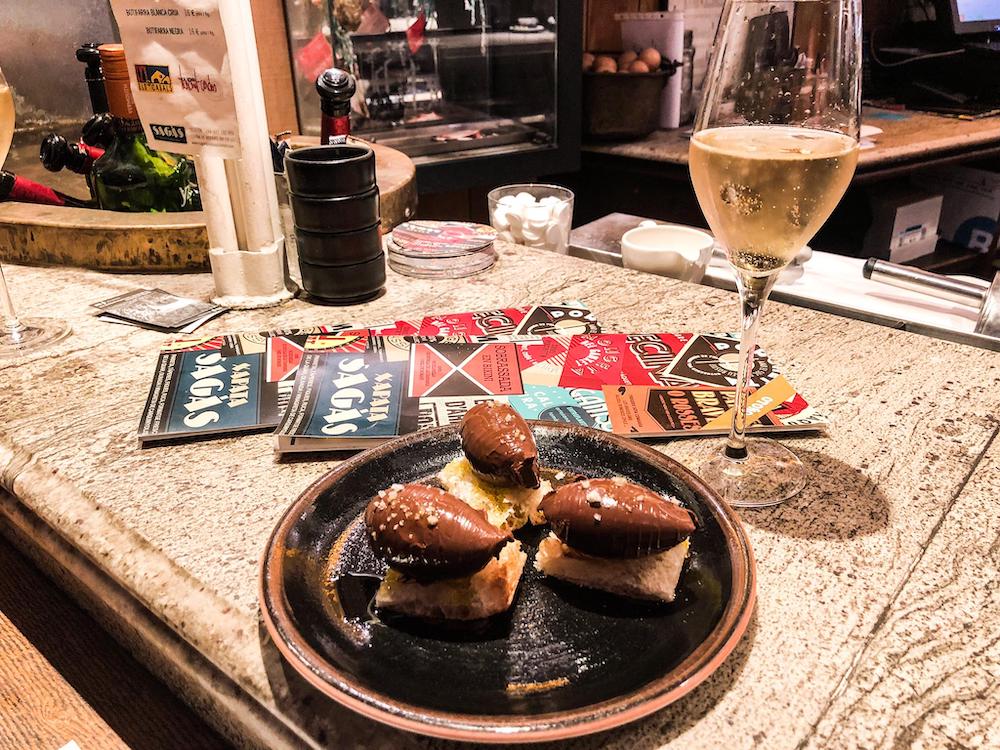 Operating hours:
From Wednesday to Sunday at 18:00
*Please arrive 10 minutes before departure
Meeting point:
Pla de la Seu. At the steps in front of the Cathedral of Barcelona.
Your guide will be wearing a blue cap with The Touring Pandas logo.
Duration:
Approximately 2.5 hours
Included (tapas selection may vary depending on the season and available menus):
√ Guided tapas tour in your selected language
√ Small group tour (max. 6 people)
√ Stop at three bars
√ One drink at each bar (vermut, beer caña, wine, water, or soft drink)
√ Tapas: tortilla with pa amb tomàquet, olives, sardines, two pintxos at your choice, patatas bravas, albóndigas, and a special desert tapa.
√ Extras at your own cost
!! If you have allergies or dietary restrictions, please inform us 24h before the tour.
Cancellation and amendments:
This tour can be cancelled at no cost up to 48 hours before departure. After that, the ticket is non-refundable.
In case of force majeur or incelement weather, the guided tour can be cancelled or rescheduled by The Touring Pandas, and the corresponding amount will be refunded.

Reschedule is subject to availability, and possible up to 24h before departure.
For more details, check our terms and conditions.
Don't miss your chance to discover the best of tapas cuisine and book now your Barcelona Tapas Tour with The Touring Pandas. This is probably the best and most authentic tapas tour you'll find out there! If you're looking for a more architectural tour, check our guided walking tours in Barcelona.
Jeanna Callahan Century 21 Broker
2023-03-01
Great tour with a local! Loved all the insider information and her humor, expertise, and detail was wonderful!
Daniela Grisoni
2023-02-22
Anna was a great guide and the agency was so helpful: my flight was delayed and I could grab the guide after the beginning of the tour so that I didn't miss it completely!
I booked a walking tour for my partner and myself. Ana was a fantastic and knowledgeable host. Barcelona born and bred, she answered all our questions and gave us so much wonderful insight to the beautiful Gothic Quarter of Barcelona, as well as its surroundings. We are extremely happy and satisfied with our walking tour.
Michelle Polo | elrowfamily
2022-11-03
We had a tour in Japanese and it was wonderful. The guide was amazing. Thank you so much!
We have done the Gothic tour and the truth is that it was a very good experience. 100% recommendable 🙂
Mario Del Moral Diaz
2022-10-31
Trato amable y muy profesional y siempre tratando de adaptarse a las necesidades del cliente. Totalmente recomendable.
Siddhartha Gupta
2022-10-24
We did a walking tour in barcelona, our guide Chessie was knowledgeable and engaging, we learnt a lot about the city and its history. She also gave us some great food recommendations.
I booked and went on multiples tours in both Barcelona and Madrid and had incredible experiences. Since they keep groups small, the tours are very personal and information-rich. We went on both English language and Korean language tours, and all of the tour guides were top notch: well-informed, engaging, fantastic story-tellers, friendly, and a ton of fun. Even though I had been to both cities a few times before, I learned new things from all of the great tour guides - thanks to Sun, Chelsea, and Hwa-Jin!
Excellent tour fir getting acclimated to the old city and Gothic center. Ron, and I hope I remember correctly because it's been a while, was our tour guide and was terrific. He was knowledgeable, courteous, professional, and answered all of our questions with enthusiasm!
Maps