Main Info
Discover the most amazing architecture of Barcelona with the Gaudí & Sagrada Família Tour!
If you don't have much time in Barcelona, this is our recommended solution to discover the most amazing architecture: with our Gaudí & Sagrada Família Tour combo, you save time and money!
In just one day, you will visit the most spectacular buildings of Barcelona and you will explore Sagrada Família, Casa Vicens, and Casa Batlló with a fast-track ticket included. This is a full day tour with the following schedule: get ready to enjoy Barcelona!
Gaudí & Sagrada Família Tour Schedule
10:00am – Meeting Point at Sant Pau Hospital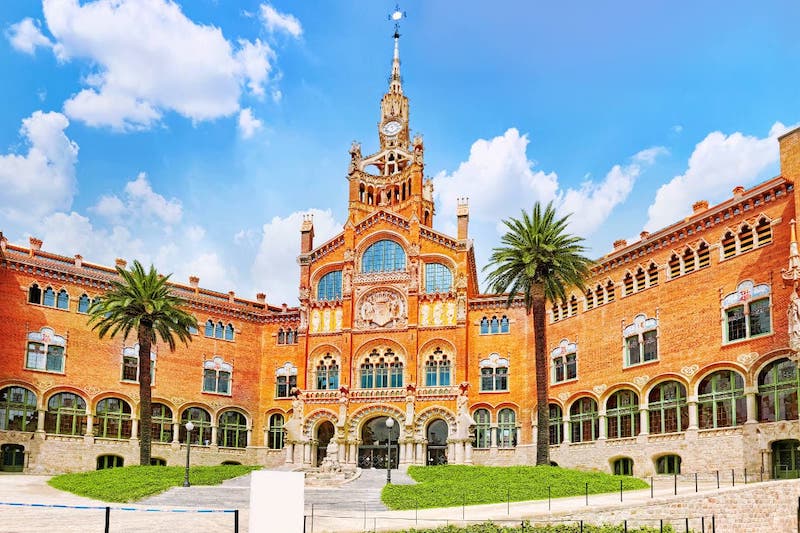 The day starts in front of one of Barcelona's hidden gems: Sant Pau Hospital. Not long ago, until 2005, this was a full functioning public hospital where Barcelonans could go whenever they were sick: what a nice place to recover!
The Sant Pau Hospital has more than 20 modernist pavilions surrounded by gardens. Here the patients found fresh air and sunlight to overcome their diseases. Since 2015, Sant Pau doesn't have any sanitary activity and now it's a museum to appreciate the history and the architecture of this building.
10:15 – Gaudí's Avenue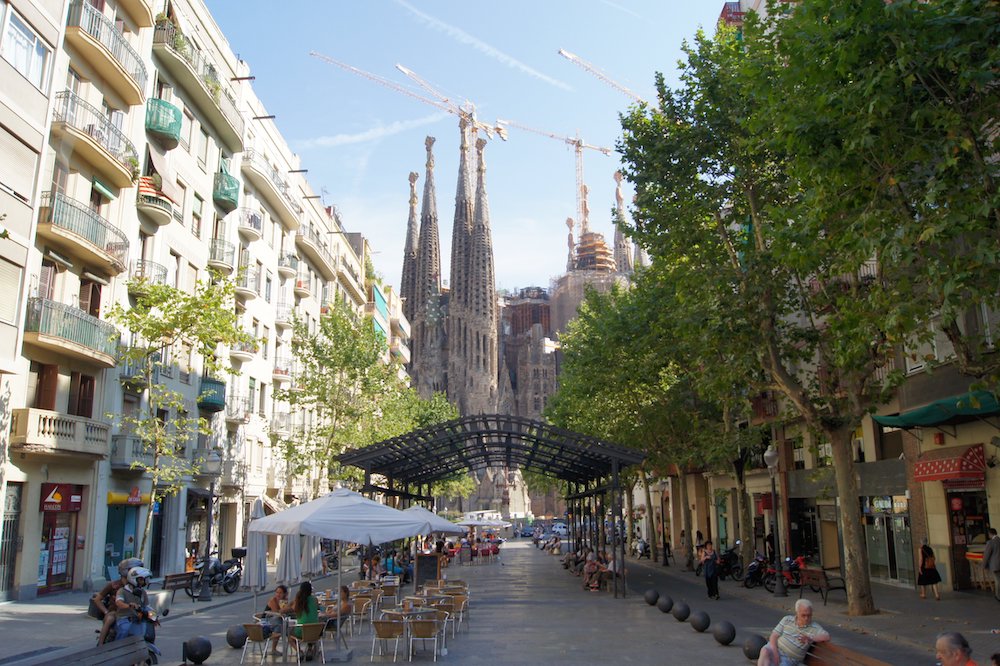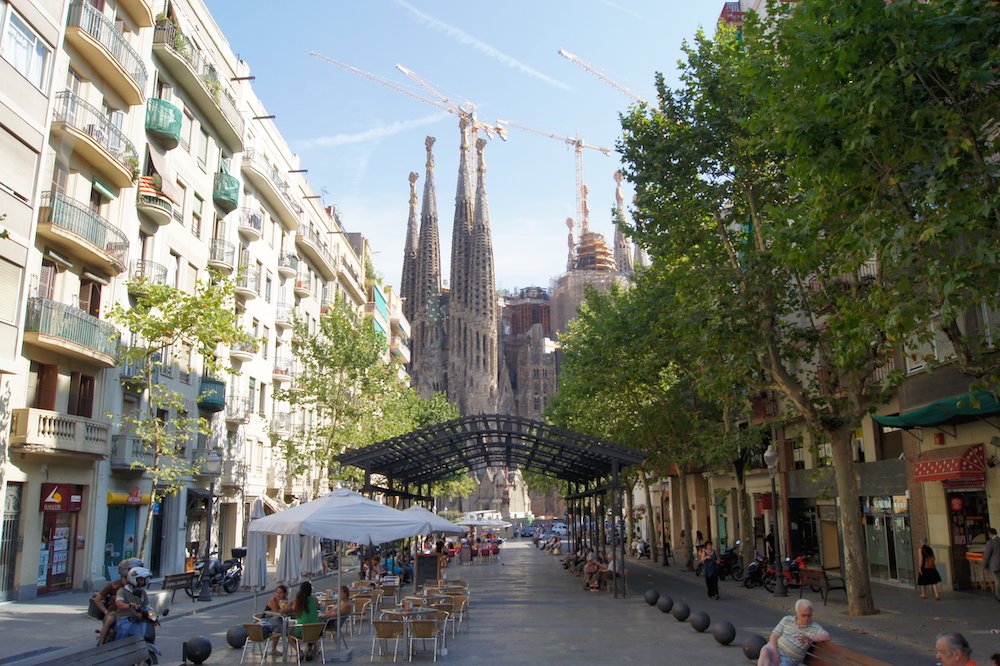 With the incredible legacy that Gaudí left in Barcelona, it's no surprise that he got his name in one of the most beautiful streets of the city!
You will walk down Gaudí's Avenue while you learn about the life of this unique architect. Where was he born? How was his childhood? What inspired him to design one of the most famous temples in the world? The views of this Avenue are just breathtaking, since right at the other end – where you're heading! – the awe-inspiring Sagrada Familia raises towards the blue skies of Barcelona.
10:45 – Sagrada Família: Passion facade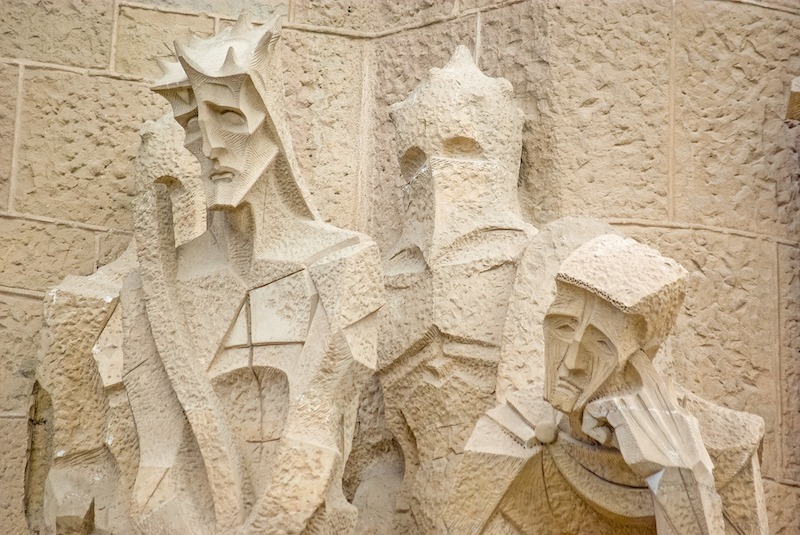 Since you started planning your trip to Barcelona, this is probably the spot you've been dreaming of: the Sagrada Família! Now you're here, and it probably looks even more dreamy than you imagined. Our expert guides know all the secrets kept by the Biblic sculptures that decorate every inch of the temple.
11:15 – Sagrada Família: Nativity facade
After seeing the new façade of Gaudí's masterpiece, you'll walk around the temple to discover the old part: the Nativity facade. Again, explore the stories behind the artwork that decorates the entrance and learn the meanings behind the sculptures. Our guide will also show you the perfect spot to take the best shot of your Barcelona trip!
11:30 Skip-the-line entrance to Sagrada Família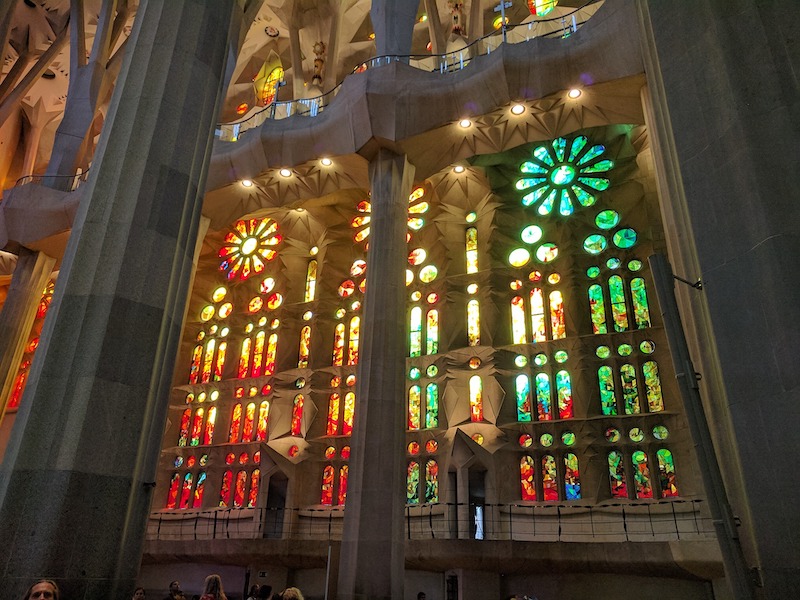 It's time to go inside Gaudí's unfinished dream! Get ready to skip the long lines with our fast track ticket. The Sagrada Família is absolutely amazing from outside, but when you get in, your heartbeat will stop for a second.
Marvel at the gentle lights that filter through the stained glass and admire the magic colors they create. Look up and see the tree-like columns that only a genius mind could have imagined. Take in every minute of your experience here: the Sagrada Família is like nothing you've ever seen before.
We will provide you an audioguide in your language so you can explore this masterpiece of architecture at your own pace.
13:00 – Free time to have lunch
After Sagrada Família, you will have some free time to have lunch around the area. Your guide will give you some recommendations to find local food for good value!
15:00 Meeting point at Fontana Metro station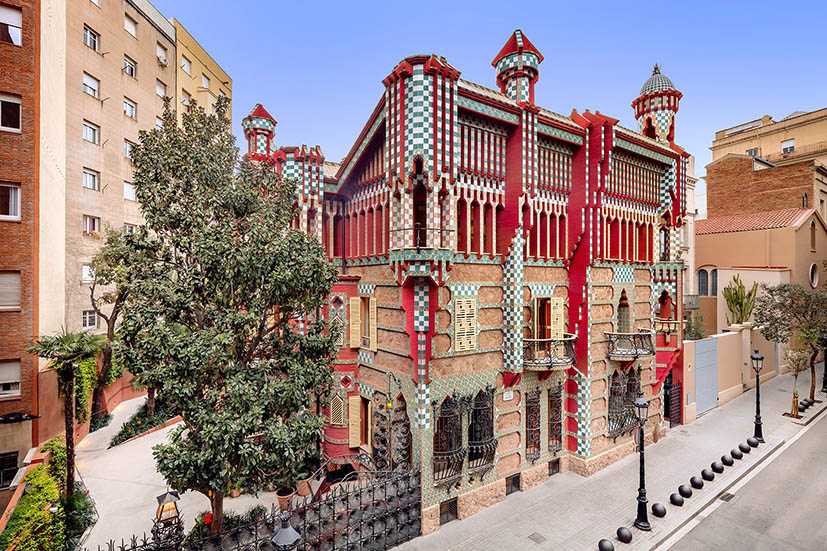 After lunch, your guide will meet you again at Fontana Metro station. From this point, there is only a two minutes walk to the next Gaudí building you'll discover in this tour: Casa Vicens.
This was the first project of Gaudí, when he was a young graduate! For the first time, he was able to use all his creativity to deliver a unique place inspired by Oriental motives. Enjoy a visit inside Casa Vicens with an explanation from your guide.
16:00 – Gràcia neighborhood
The area surrounding Casa Vicens is the neighborhood of Gràcia, a small town that used to be in the banlieu of Barcelona until the city expanded at the end of the 19th century.
While you walk down its narrow streets, you will appreciate how it has kept a genuine air that makes it one of the most attractive areas in town for locals. Back in the Eixample, you will spot Casa de les Punxes.
16:30 – Casa Milà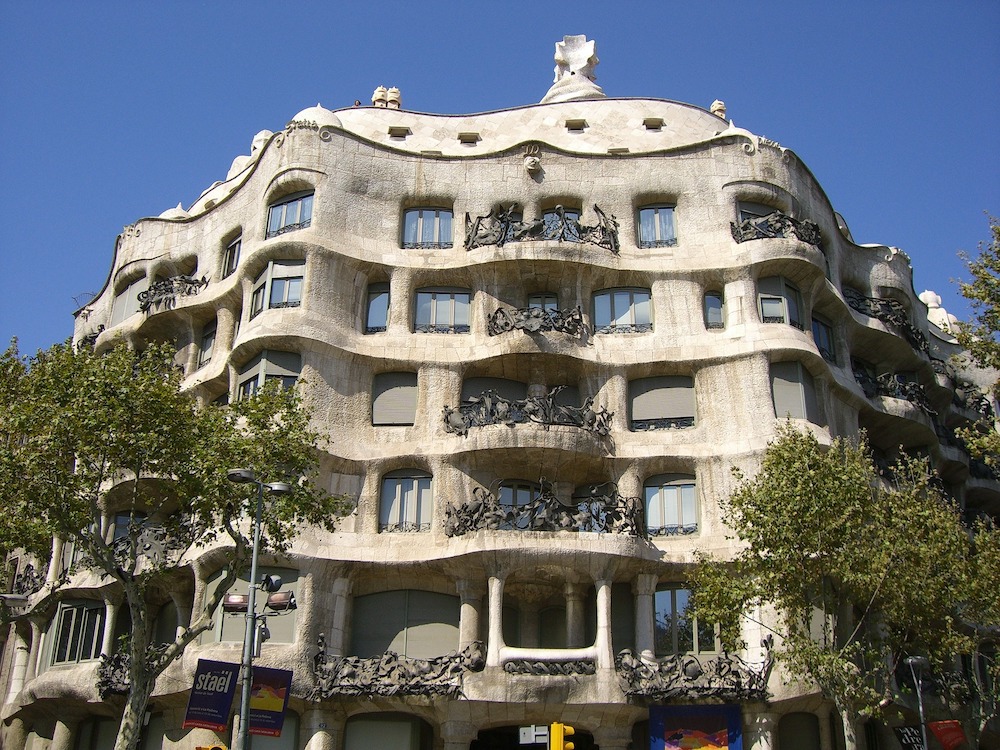 Next, we will arrive at Passeig de Gràcia, Barcelona's most luxurious boulevard. Here, top-fashion brands like Gucci or Channel coexist with local designers that have had their shops for centuries, like the famous Santa Eulàlia.
Also, this is the avenue where you'll find the two most well-known Gaudí houses. The first one you'll spot is Casa Milà, called La Pedrera (the Quarry) by the locals.
17:00 – Casa Batlló fast-track entrance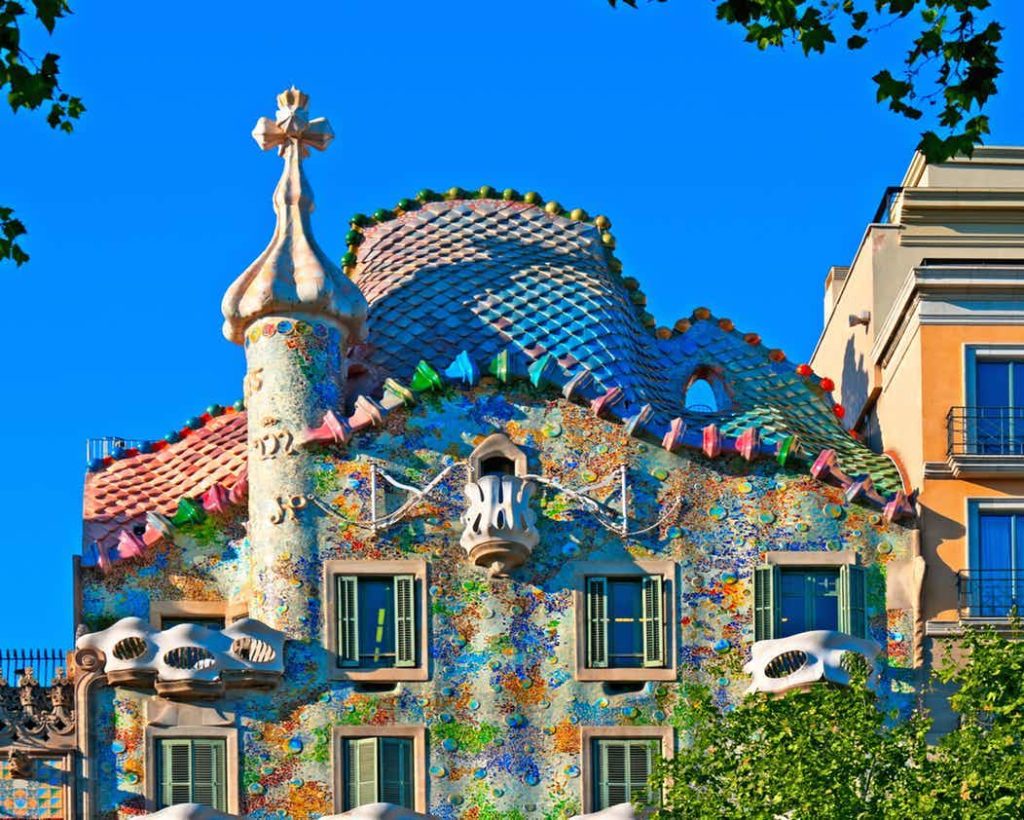 Finally, we will arrive in front of Casa Batlló. From across the road, the house seems to have been taken out of a fairy tale. You guide will explain all the symbols around the façade and the dragon-like roof.
At the end of the tour, you can explore the interior of the house with a fast-track ticket and a smart video guide in your language. Enjoy this fabulous Gaudí house at your own pace!
Before entering, your guide will give you the farewell and will also give you some recommendations to find dinner after visiting Casa Batlló.
Gaudí & Sagrada Família Tour Details
Meeting point:
Sant Pau Hospital. Carrer Sant Antoni Maria Claret, 167
Your guide will be wearing a blue cap with The Touring Pandas logo
End point:
Casa Batlló. Passeig de Gràcia, 43.
Departure time:
-Chinese: 10:00am
-Japanese: 10:15am
-Korean: 10:30am
*Please arrive 10 minutes before the start of the tour
Duration:
Aproximately 9 hours
Price:
WINTER SALE! 25%OFF until 15th March
Adult (12+): 130€ 100€
Child (8-11): 50€ 37,50€
Child (0-7): Free
Included:
· Small group guided tour (max. 12 people)
· Explanations in Chinese, Korean, or Japanese
· Sant Pau Art Nouveau Site (exterior)
· Fast-track ticket to enter Sagrada Família
· Sagrada Família audioguide in Chinese, Korean, or Japanese
· (optional +9€) climb to the tower of Sagrada Família
· Casa Vicens guided visit
· Casa de les Punxes (exterior)
· Casa Milà (exterior)
· Fast-track ticket to enter Casa Batlló
· Casa Batlló smart video guide in Chinese, Korean, or Japanese
Cancellation and amendments:
You can cancel your tour up to 72 hours before departure time. After that, the ticket is non-refundable. In case of force majeur or inclement weather, the guided tour can be cancelled or rescheduled by The Touring Pandas, and the corresponding amount will be refunded.
Reschedule is subject to availability, and possible up to 24 hours before the departure time.
For more details, you can check our terms and conditions.
Are you curious to know how the Sagrada Família will look like when it's finished? Check this video!
Maps