Visit La Sagrada Familia in Barcelona: explore Gaudí's unfinished masterpiece
If there is one thing in Barcelona that you should absolutely not miss, that is the Sagrada Familia. With 5 million visitors a year, Gaudí's unfinished dream is the most visited place in Spain. And you'll know why when you visit it! The moment you step onto this unique building, you will feel like you've been transported to another world where everything seems possible.
That is what makes Gaudí so grand: in his buildings, you feel like you've entered a dream. That's what makes Barcelona so unique and that is why so many people that visit our city, decide they want to stay.
In this week's post, The Touring Pandas have gathered some tips to help you visit la Sagrada Familia in Barcelona. Keep reading and learn all you need to know before planning your trip!
Get a 10% off with the coupon PANDABLOG!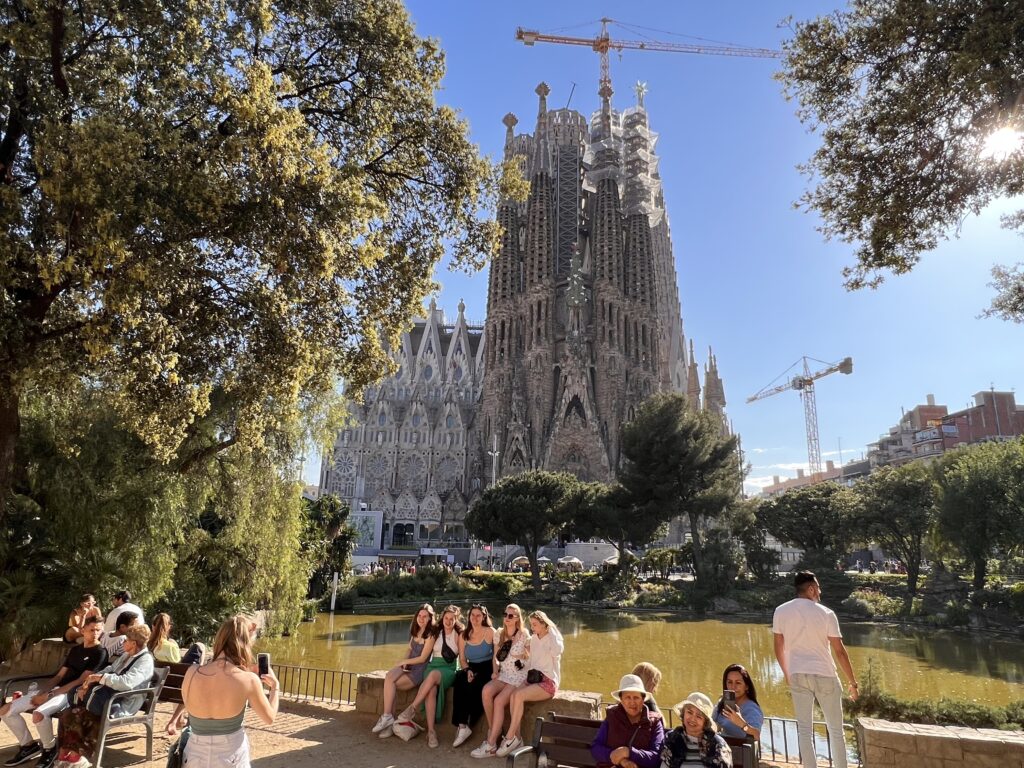 What to see when you visit la Sagrada Família
La Sagrada Familia, in case you didn't know, is a religious temple. It is very well known as Barcelona's top attraction, and for good reason. Both the exterior and the interior of the Basílica are exquisite and unique architectural masterpieces designed by Antoni Gaudí.
The building doesn't really fit into any standard architectural style. It is not Gothic, nor Romanesque, nor Art Nouveau… it isn't even Modernist – Barcelona's own style. It's simply… Gaudí! But let's see what you need to know about the different parts before you visit it:
The outside
Gaudí said that La Sagrada Familia is a Bible carved in stone. Usually, churches and temples are rich with sculptures and artworks inside. But Sagrada's exterior is an explosion of creativity. This is because the architect wanted everybody to learn the Bible, even if they didn't go to church. That is why there is so much symbolism in the exterior.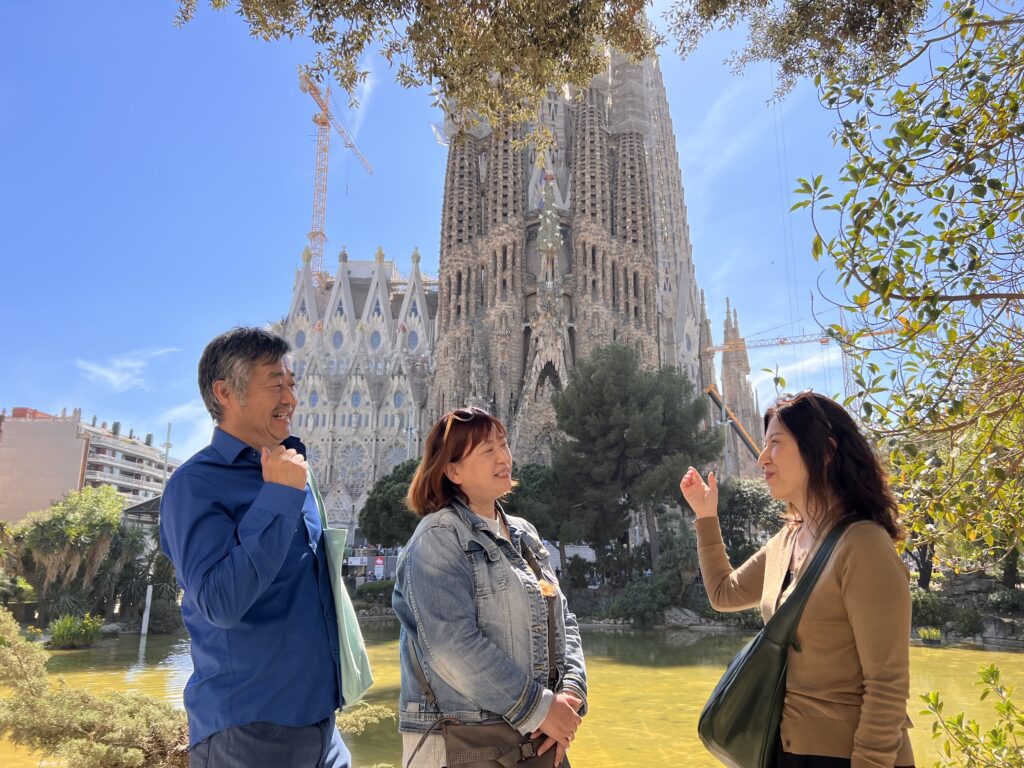 The Nativity Facade
Two of the three facades that the temple will have when it's finished are completed. The oldest one is the Nativity facade. This one represents Jesus' birth and therefore it's full of nature and different representations of life. Gaudí wanted people to feel joy when they saw this facade.
The Passion Facade
On the other side, you'll find the new facade, or the Passion Facade. This part, in contrast with the previous one, represents Jesus' death and crucifixion. The facade is sober, with sharp sculptures that are even scary and a little bit depressing. Gaudí wanted people to feel sorrow when they looked at this facade.
Finally, the third facade, The Glory Facade, represents Jesus' Resurrection and it's planned to be built in the coming decade. Gaudí wanted people to feel triumph when they look at it. Although it's not built yet, you will be able to see some mock ups during your visit.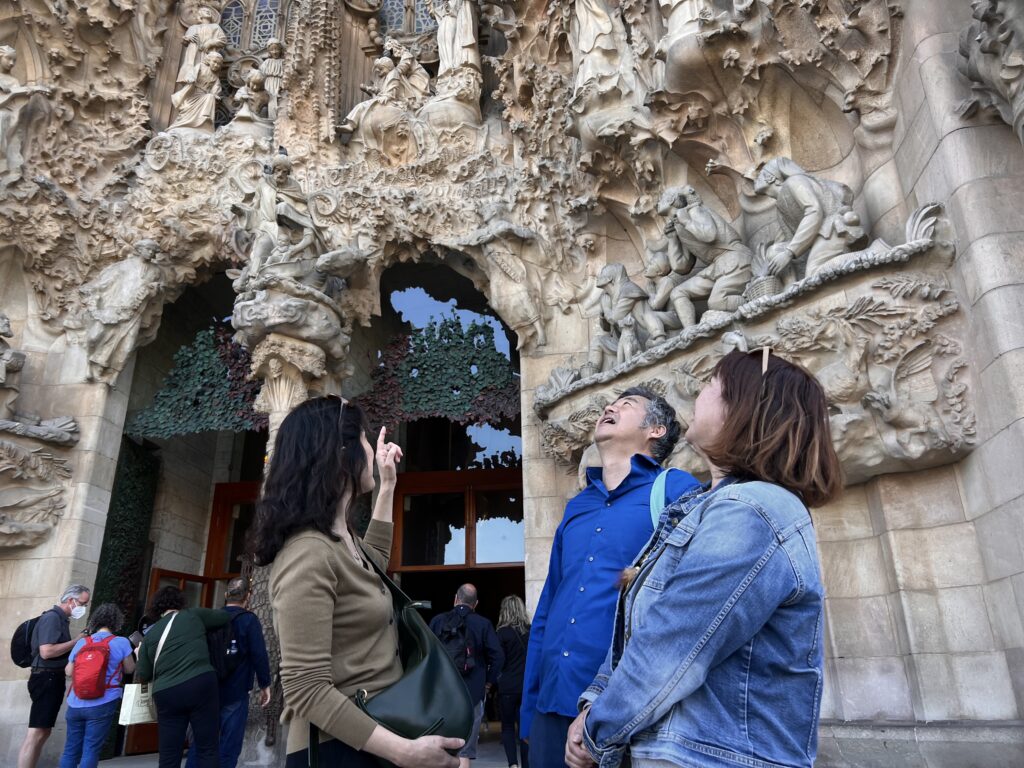 The Towers
A visit to la Sagrada Familia means that you'll be looking up for a while. Antoni Gaudí designed the temple in a way that verticality would be one of its main characteristics. The planning of Barcelona doesn't allow any building in the city to be taller than the towers of the Sagrada Familia, once they'll be completed.
The projected temple has a total of 18 towers, 9 of which are already built. 12 towers for the apostles, 4 for the evangelists, one for Mary, and the last one for Jesus. Jesus' tower will raise 172 meters above the city and it will be crowned with a giant glass and mosaic cross on top.

The interior
The central nave of the temple is one of the most beautiful visions you'll ever see, and we're not exaggerating. The tree-like columns, the stained glass windows and the sober symbolism make it hard to decide whether you like it more inside or outside.
We recommend a visit in the later hours of the day, when there is still some light coming from the south and hitting the stained glasses of the Passion facade. The colours at this time of the day are red and orange, and it's a really unique view.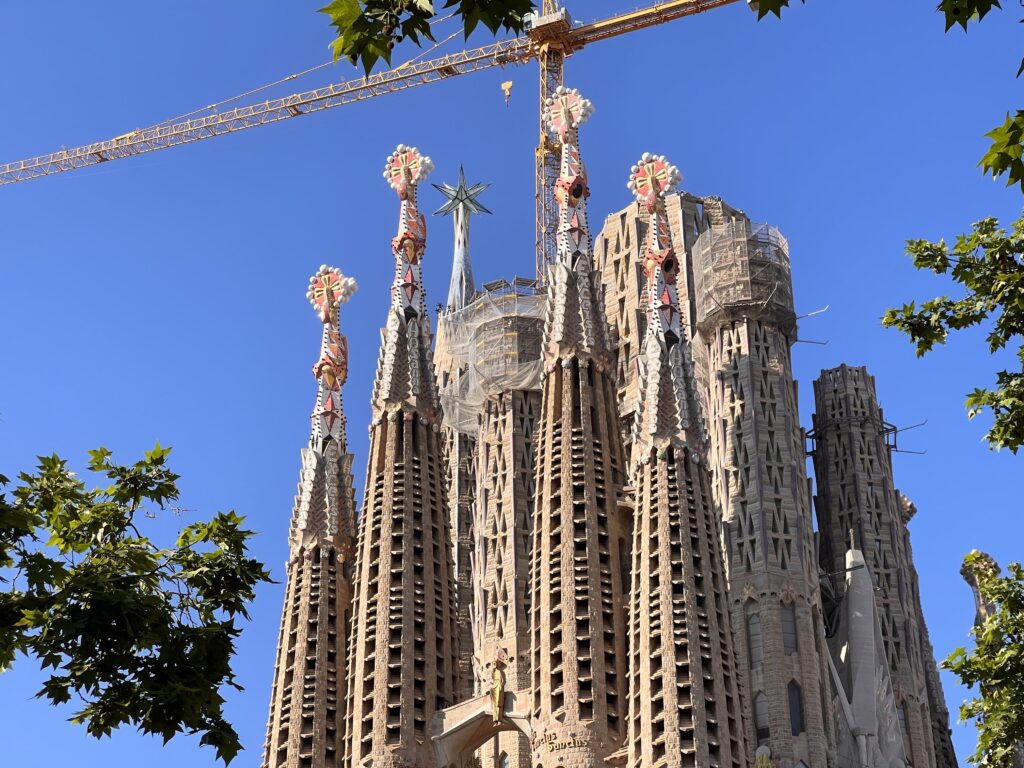 Finally, at the underground of the temple there is a Museum where you can learn about the history of the temple and the techniques that Gaudí used in this and other of his masterpieces.
Where to buy tickets to visit la Sagrada Familia
If you want to visit la Sagrada Familia in Barcelona, the best tip we can give you is to buy your tickets in advance. As we mentioned at the beginning of the post, la Sagrada Familia is the most visited attraction in Spain and it runs out of availability pretty soon.
If you don't have tickets in advance, you may end up not seeing the inside, which is just jaw-dropping. Therefore, make sur to book your tickets and have them ready to visit at your selected day and time!
If you want to get a real understanding of the temple and to make the most out of your visit, our best tip is to take a tour with a guide. We offer tours in English, Chinese, Japanese and Korean, in small groups of no more than 12 people, with tickets included. You will get an understanding of Gaudí's masterpiece and the history of Barcelona and, at the end of the tour, the guide will give you a fast-track ticket to explore the interior with an audioguide at your own pace.
You can book our Gaudí & Sagrada Família: Small Group Tour for 59€ with tickets included, or you can have the more complete version with a full day tour including Sagrada Família and Gaudí's Houses.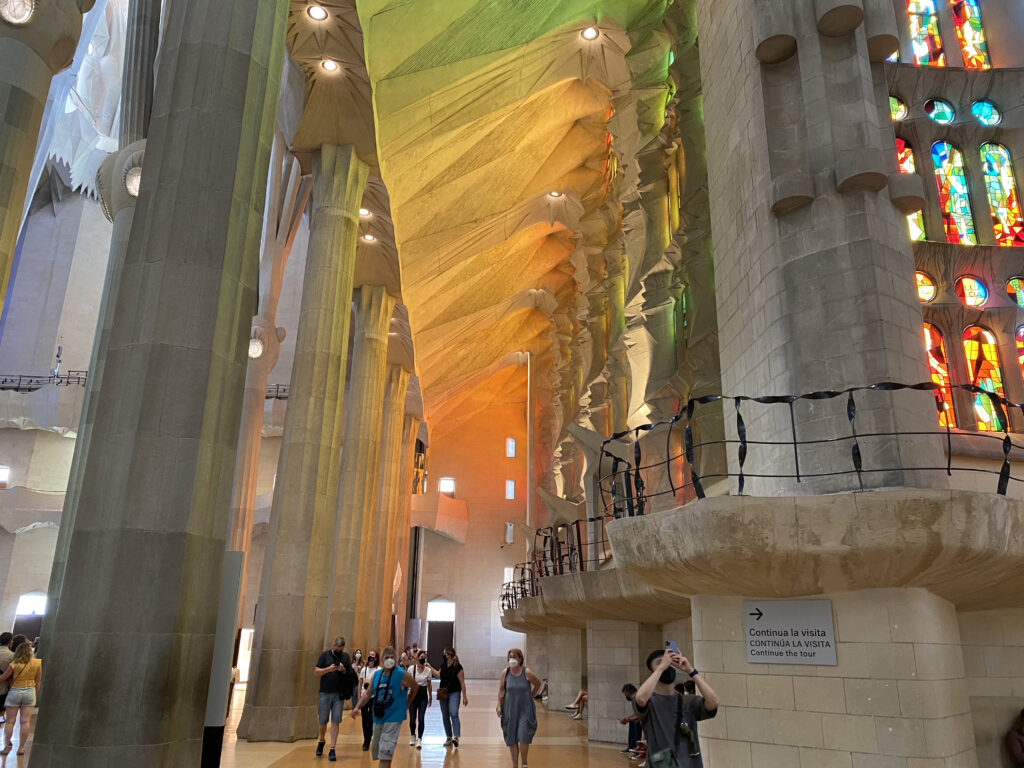 Secure your ticket
The Sagrada Familia is usually fully booked with several days in advance. Book our Gaudí & Sagrada Familia Small Group Tour and learn everything about Spain's most visited masterpiece.
59€ with fast-track ticket included.
There are also some platforms that offer interesting deals if you want to visit la Sagrada Familia alongside some other Barcelona attractions. One of our favourite is Tiqets. Here you have some options that will help you save money, like the Barcelona Pass which includes:
-Sagrada Família
-Park Güell
-The Barcelona Hop-on Hop-off Bus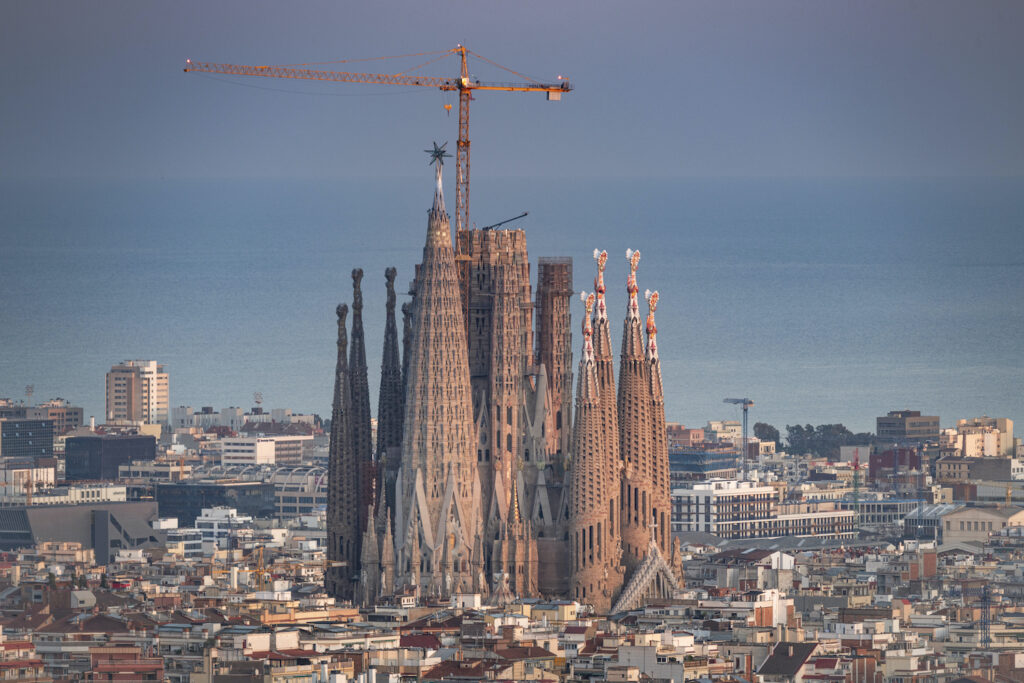 How to get to la Sagrada Familia in Barcelona
The final question you may be asking when planning to discover a city highlight is: how can I get there? If you want to visit la Sagrada Familia, it's super well connected by public transportation! Although the temple is not in the city center, it's hardly a 10 minutes ride. Here are three ways to reach it.
1 – By Metro
Barcelona's public transportation system is very efficient and you can get anywhere by metro in less than 30 minutes. If you want to visit la Sagrada Familia, you can take L2 or L5 (purple or blue lines) to Sagrada Família station.
Use the exit "Plaça de Gaudí" to go to the old facade first, or the exit "Plaça de la Sagrada Familia" for the new one. We recommend seeing the old one first: opposite the temple there is a park with a lake from where you can take some of the best pics of your trip to Barcelona!
2 – By Bus
The Bus is another option, although it may be a bit inconvenient because buses are usually slower. You can take Bus 19, 33, 34, D50, H10, B24. A bus ride to Sagrada Familia will take approximately 35 minutes from the center, and you can use the same tickets as you use for the Metro.
3 – On foot
That's right! "On foot" is always an option in the beautiful Barcelona! If you're at the city center, you can walk up Passeig de Gràcia and see Casa Batlló and Casa Milà. These two masterpieces will start opening your appetite for Gaudí.
From Casa Milà, you just need to follow career Provença (towards the North) and in about 20 minutes you'll start seeing the spires of the towers of la Sagrada Familia.
We hope you found this post with tips to visit Sagrada Familia interesting. If you're still missing some information or if you have questions, leave us a comment. We'd love to hear from you and we're happy to help you with more tips and advice! Also, we invite you to check our posts to spend one day and two days in Barcelona. They're full with ideas to tailor the perfect plan to discover the city!