Tour details
Sagrada Familia Tour: join our small group and skip the long lines
Learn everything about Gaudí and his masterpiece, the most visited monument in Spain
Get a fast-track ticket to skip the lines and explore the Sagrada Familia with an audio guide in your language
Enjoy a safe and comfortable tour in a small group of up to 12 people in English, Japanese, Korean, or Chinese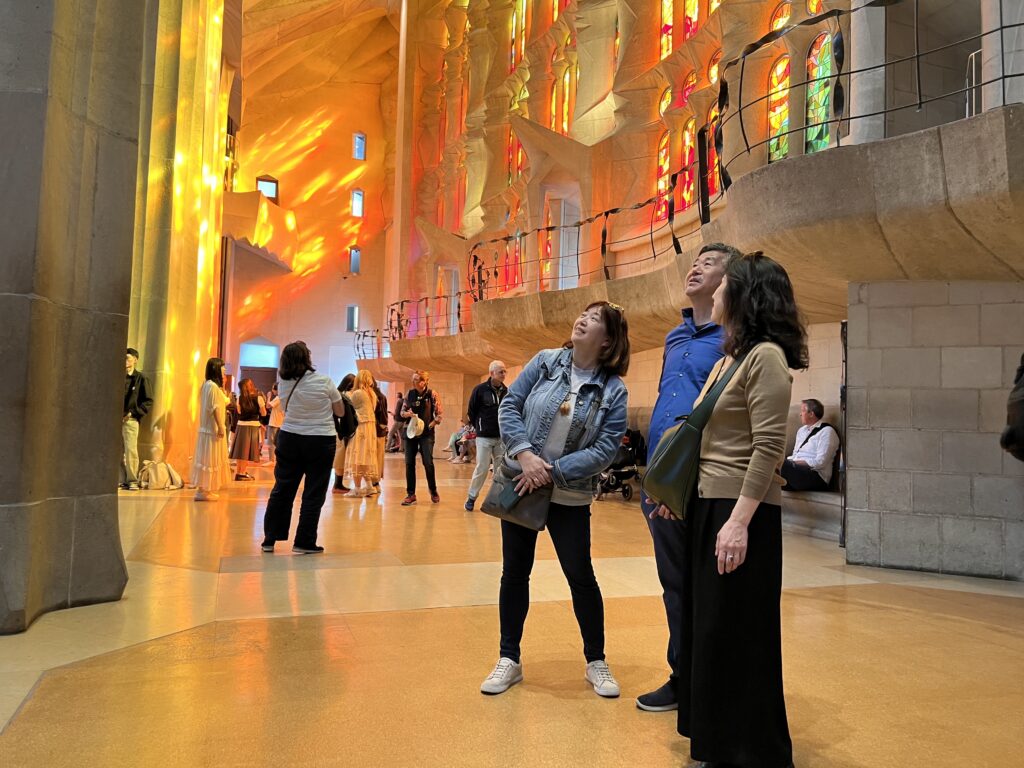 Prices (fast-track tickets included)
Adults (11+): 59€
Children (0-10): Free
🤓 The Sagrada Familia is usually fully booked with several days in advance. Book early to make sure you get a spot!
Description
If there is one thing you can't miss in your visit to Barcelona, that is the Sagrada Familia. Being one of the most famous landmarks in the world, the story of this church goes beyond the building itself. The temple means so much to Barcelona that it is impossible to understand the city as it is today without Gaudí and the Sagrada Familia.
In Gaudí's work, everything has a reason to be. Every little detail has a meaning. On this three-hour tour in English, Japanese, Korean or Chinese, we will tell you all about Gaudi's unfinished dream and how it developed after the tragic death of the architect, from the late 1890s until today.
At the end of the tour, you will benefit from a fast-track ticket to enter the Sagrada Familia without waiting in line.
🔍 Click here to see the full itinerary
Reasons to book this tour
While most tour companies offer groups of up to 30 visitors, we limit our group size to 12. This guarantees a comfortable experience and the possibility to better interact with the guide.
We conduct the group part of the tour outside the temple, while the interior is self-guided with an audioguide, allowing you to explore at your own pace for a more intimate experience.
There is no time limit inside the monument. You'll be able to stay for as much time as you wish inside the Sagrada Familia (until closing time).
On this tour you'll also learn about Sant Pau Art Nouveau Site, listed as UNESCO World Heritage since 1997 and one of Barcelona's hidden gems.
Our walk down the Avinguda Gaudí has a very special perspective of the Sagrada Familia: you'll get to capture memorable moments to take home the best possible pics of Gaudí's masterpiece.
Key information
Meeting Point
Carrer de Sant Antoni Maria Claret, 167. Outside the Sant Pau Art Nouveau Site.
Your guide will carry a tablet or a folder with The Touring Pandas logo.
End point
Sagrada Familia. Carrer de Mallorca, 401
Departure Time
Daily at 4:00pm(from November to February at 3pm)
Please arrive at the meeting point 10 minutes earlier
Duration
The Sagrada Familia Tour lasts approximately 2 hours (1h tour, 1h recommended inside the Sagrada Familia)
Included

Sagrada Familia Tour in English, Japanese, Korean or Chinese
Small Group (up to 12 people)
Sant Pau Art Nouveau Site (exterior)
Avinguda Gaudi and Sagrada Familia neighbourhood
Sagrada Familia – Passion facade
Sagrada Familia – Nativity facade
Sagrada Familia Fast-track ticket
Audioguide in your selected language

Excluded

Climb to the tower (not available until December)
Hotel pick-up
Cancellations and amendments
You can cancel or reschedule up to 24 hours before departure time. After that, it is non-refundable. In case of force majeure or inclement weather, the tour can be cancelled or rescheduled by the Touring Pandas, and the corresponding amount will be refunded. Make sure to arrive at the meeting point 10 minutes before departure. Latecomers and no-shows don't get a refund.
For more details, check our terms and conditions.
Book now!
Itinerary
1. Meeting point: Sant Pau Art Nouveau Site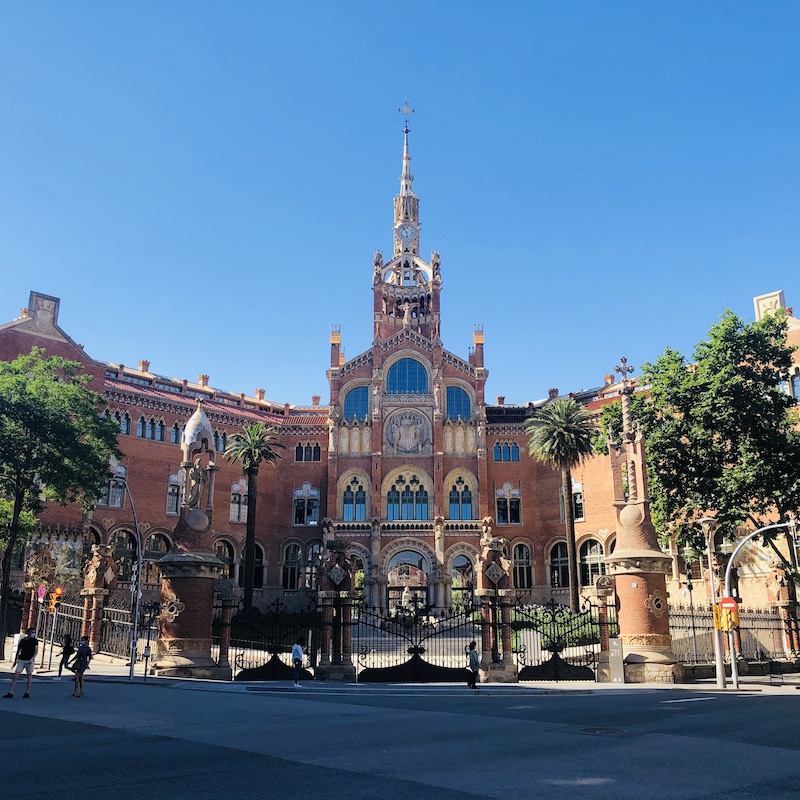 Our tour starts at Sant Pau Hospital, one of Barcelona's hidden gems only 5 minutes away from Sagrada Família. More than a century ago, this was one of the most avantgarde hospitals in Europe, and also one of the most beautiful. Sant Pau was declared a UNESCO World Heritage Site in 1997. You will learn about its history and how its origins are very similar to those of the Sagrada Família.
2. Avinguda Gaudí
After Sant Pau, you'll walk down Avinguda Gaudí while you hear about the life of the irreplaceable architect Antoni Gaudi in the street that bears his name. His imagination created the most amazing buildings in Barcelona, and now they can be admired by visitors from all over the world.
3. Sagrada Familia - Passion facade
The new facade is called the Passion facade, and it represents the crucifixion of Jesus. The sculptures in this facade are sharp and full of symbolysm: our guides will explain all the hidden details!
4. Sagrada Familia - Nativity facade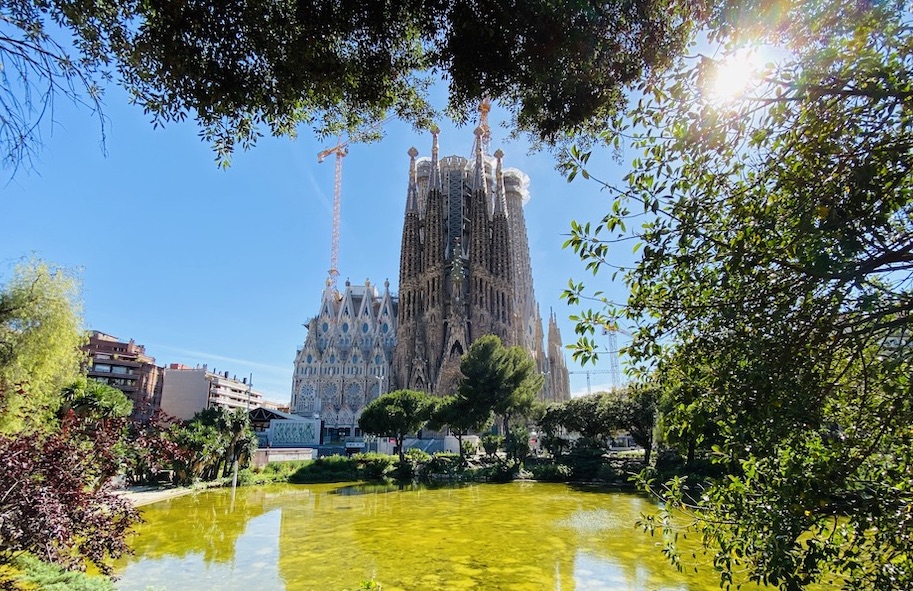 The old facade represents the birth of Jesus, that's why it's called the Nativity facade. On this side, nature takes over and the sculpture work makes Sagrada Familia look like the entrance to a spiritual forest full of secrets that our guide will unveil for you.
5. End point: inside Sagrada Familia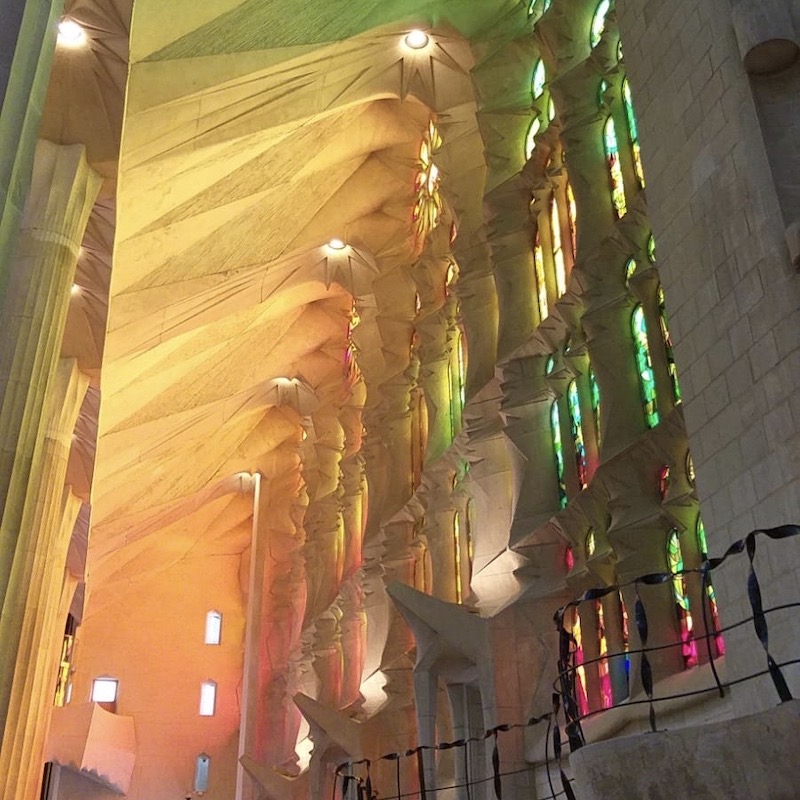 Get inside the Sagrada Família and feel the goosebumps the moment you step in: it's like nothing you've ever seen before. With our fast-track ticket, you don't have to stand in line! Finish your tour comfortably and marvel at the lights coming in through the stained-glass windows. You'll be able to finish the visit inside the temple at your own pace with an audioguide in your selected language.
Maps