If you're planning a trip to Spain, one of the things that may be top of your list is probably a flamenco live performance. The flamenco is original from the south of Spain, especially from the Andalucia region. Still, if you're visiting Catalonia, you can also enjoy a genuine flamenco show in Barcelona. Keep reading to discover where!
Is there really a good flamenco show in Barcelona?
Of course! Even though flamenco roots are Andalusian, we can find amazing performers in Barcelona. Back in the sixties, Catalonia's thriving economy attracted thousands of families from other regions of Spain. People were looking for jobs and factories in Barcelona were a great opportunity.
Traditions from all the country, including flamenco, were imported to Barcelona and became part of its heritage. Actually, Carmen Amaya, one of the most renowned dancers of all times, was born near the city! So there is a flamenco tradition in Barcelona and it's actually really good.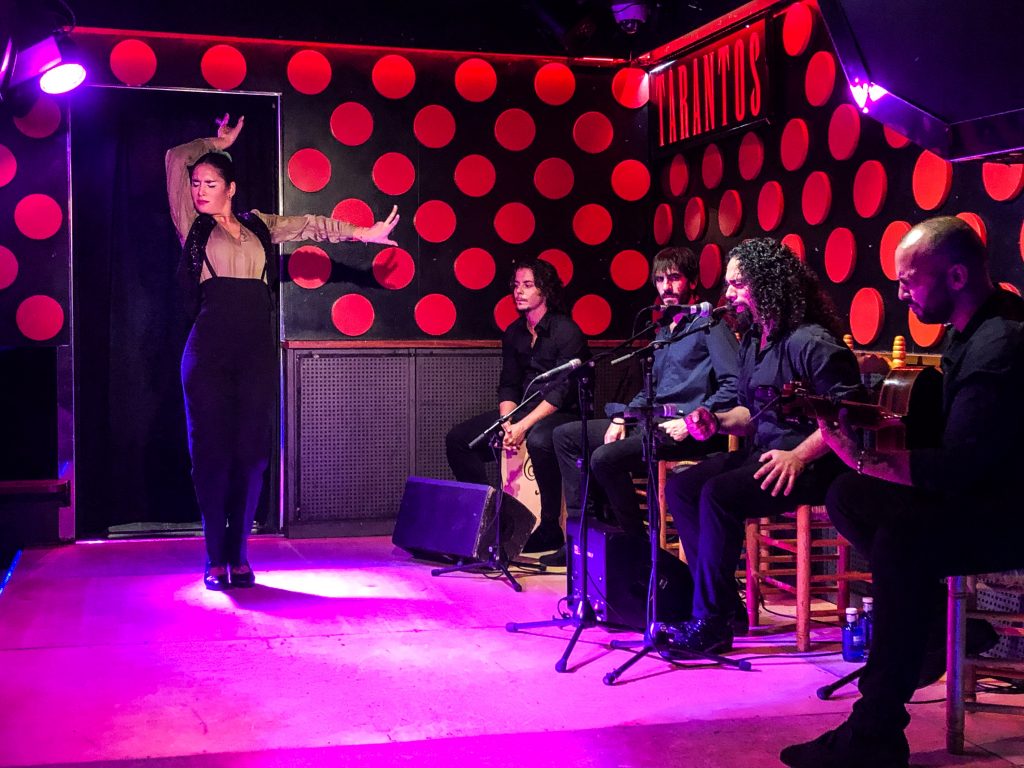 What is the best option?
As mentioned above, there are many options available in the city and most of them are more than acceptable. Performances rank from simple shows to up-graded options with tapas or dinner. But the truth is, the latter are often over prized and food is not the best.
So we recommend to focus on a tablao to experience a good show, and then go somewhere else to find good and affordable food, which is easy to find in Barcelona. If this sounds like a good option for you, our recommended option for a flamenco show in Barcelona is Los Tarantos.
Los Tarantos flamenco show in Barcelona
Los Tarantos is one of the oldest tablaos in Barcelona and is definitely worth a visit. It is also very conveniently located, in Plaça Reial, next to la Rambla. Although this is a very touristic area, Los Tarantos is an authentic show and flamenco performers have an outstanding talent.
Shows here are never the same. Unlike other tablaos, where there is a fix staff, Los Tarantos attracts dancers from all over Spain that want to perform in this iconic setting. The artists improvise and always surprise the audience.
Combine flamenco and the magic of the Gothic Quarter at night
If you want to live a unique experience, we recommend you to take a look at our Barcelona Gothic Night Tour & Flamenco Show. We will walk you through the most romantic corners of Barcelona's old town with the magical evening lights. At the end of the tour, we will take you to Los Tarantos, so you can enjoy this genuine tablao.
Feel the rhythm of flamenco while the dancers enchant you with their sinuous moves. Get carried away by the delicate notes of the Spanish guitars. And vibe with the unique zapateos, the sound of the wooden heels clacking against de floor. Goosebumps are guaranteed in Los Tarantos flamenco show in Barcelona!
If you liked our post, recommend it to your friends and learn more Barcelona tips in our Panda Blog! Remember you can also take our tours to discover the best attractions in Barcelona from a local perspective. Use our Panda coupon in your language to get a 10% discount!
Coupons: CHINA10 – JAPAN10 – KOREA10 – ENGLISH10
There are great tours you can do in Barcelona with locals to discover not only the main attractions but the secret gems of the cities. Here are some we recommend: