Shopping in Barcelona: discover the best souvenirs at unique shops
Book a Free Tour of Barcelona
Did you know that the word souvenir means "to remember" in French? The souvenirs are called like that because they are the things that remind us of our trips. They are physical memories that we take back home to remember the destinations we've visited. Thanks to the souvenirs, we can keep a small piece of the places we love and cheerish the moments we've lived in them. And of course, they also allow us to dream about our future travels. That's why it's so important to know where to find souvenirs as unique as the beautiful places where we've been. In Barcelona, there are some one-of-a-kind shops with amazing souvenirs for yourself, or also for your beloved ones. In this week's post, The Touring Pandas share a selection of unique shops to find the perfect souvenir when going shopping in Barcelona. Make some room in your luggage for the perfect, local gift!
La Chinata: all about olive oil
La Chinata is one of those places you can't miss when you go shopping in Barcelona. In this unique shop, the olive oil is the center of the world. From scented soaps to aromatic candles, everything has the Spanish gold (the olive oil) as its main ingredient. The specialty is of course the oil itself, so you can even have an oil tasting to differentiate between the different origin and type of olives. And you can even pair them with the perfect type of bread! The store also offers falvoured oils. Our favourite is the truffled olive oil. You can use it for salads, meat… even pasta with some cheese and a sprinkle of this truffled oil becomes a delicatessen! La Chinata has become very popular and now they have different locations in Barcelona. There's probably one near your hotel or apartment: what are you waiting for!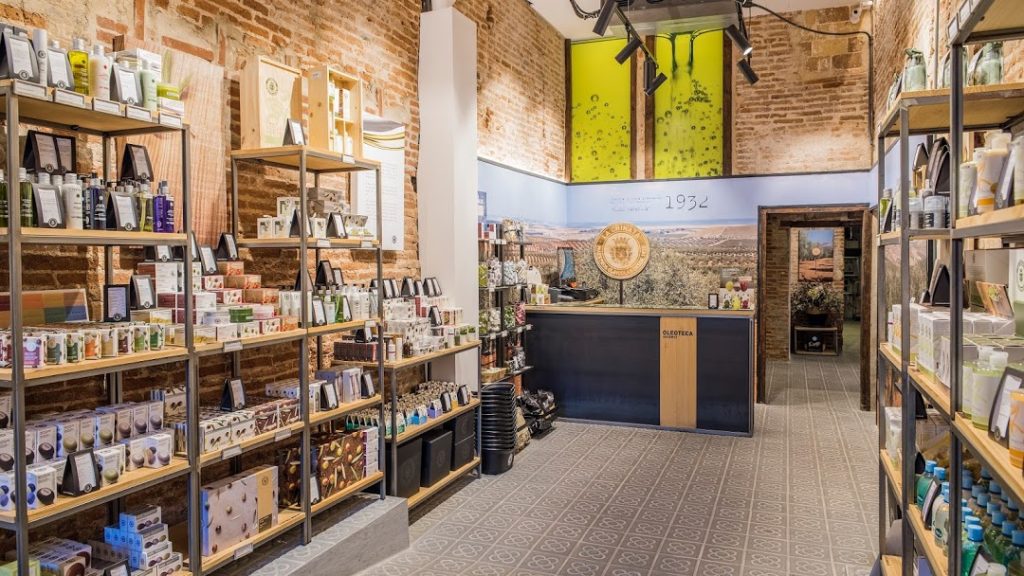 Espardenyes Barcelona – espadrilles galore!
If you want to feel really Spanish for one day, you need to walk in our shoes. And to do that, you need to have a pair first! The espadrilles (espardenyes in Catalan) are a very popular type of shoe for the summer. They have the three "able": affordable, comfortable, and fashionable! The espadrilles are available in a wide range of colors and models. Since they are quite cheap (usually around 10€), you can get several different pairs to combine them with your entire wardrobe. Their life is quite short too – you usually only use them for one summer, and then you recicle them. A very nice shop for espadrilles is Espardenyes Barcelona, at the heart of the Eixample. Don't miss out on it when shopping in Barcelona and pick the color that best matches your feet!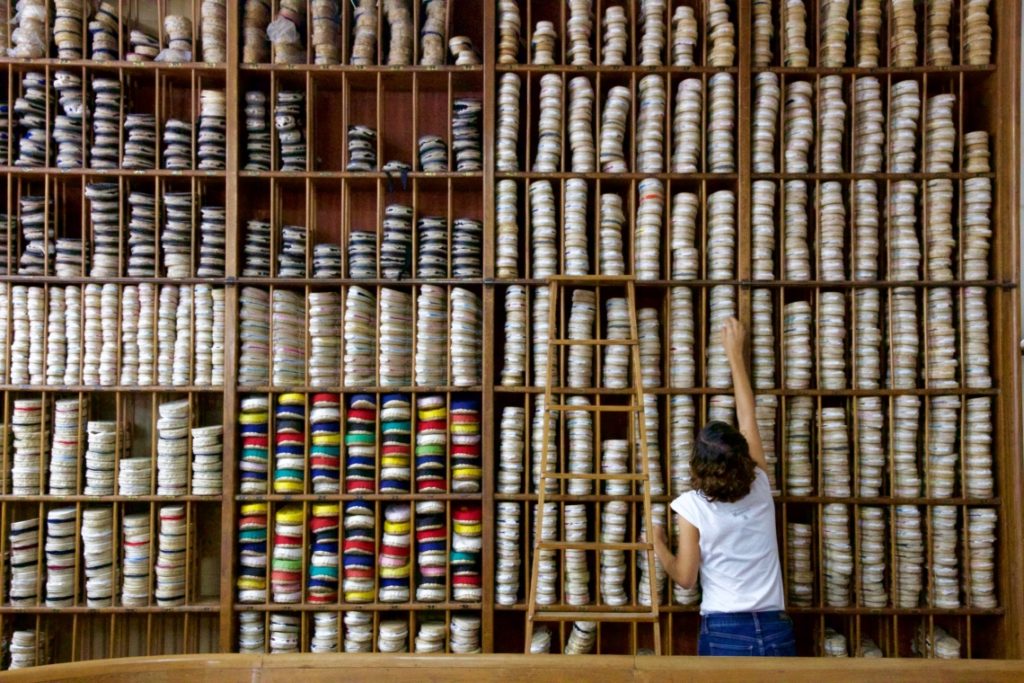 Xarcuteria la Pineda: a chorizo dream
A xarcuteria is a shop specialising in jamón, chorizo, fuet, and other cold meats. As you may know, Spain is famous for the quality of its cold meats, and these xarcuterias are the heaven of jamón and co. La Pineda is one of the oldest xarcuterias in Barcelona, right in the heart of the Gothic area. This small shop in the middle of the touristic center has survived the hords of tourists without losing its genuine spirit and authenticity. At la Pineda, you can just go and buy your preferred cuts to go, or you can have a seat at one of their small tables. If you have some time, we recommend you the second option. Order the crystal bread to go with your cheese, and also try cecina, secallona, and other items from the short menu like anchovies or albóndigas. The quality of each of their products is excellent. You'll probably love it so much that you won't be able to resist taking some for your beloved ones back home! Who said that you can't eat your souvenirs? La Pineda can pack your products in a vacuum, so you can put them inside your luggage without a problem. But check possible limitations at the border before re-entering your country. You don't want to end up giving out these delicacies to the security staff!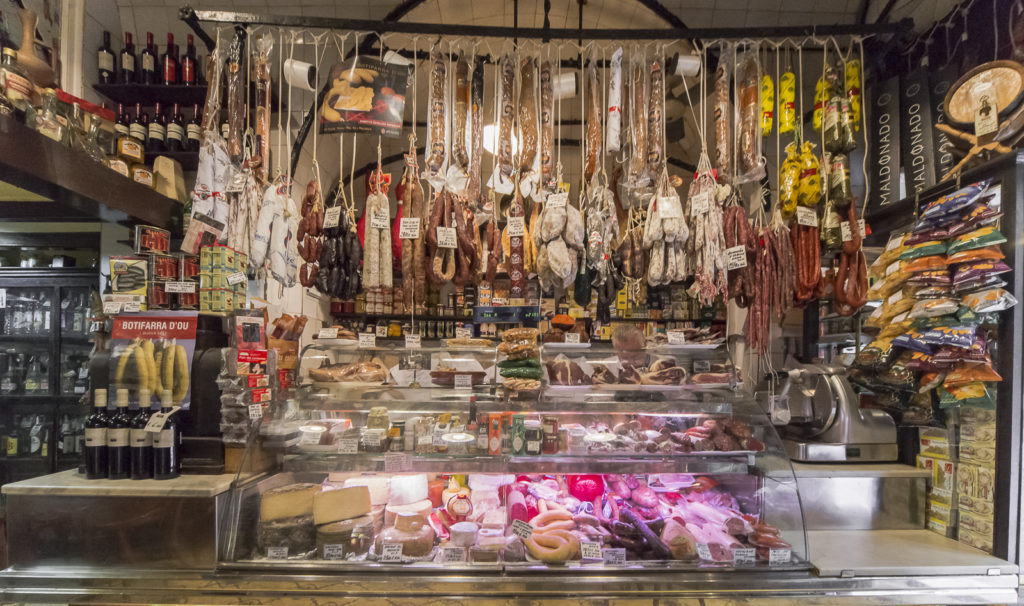 Casa Gispert: a place to go nuts!
Casa Gispert is one of the oldest roasters in Barcelona, dating back to 1851. Next to Santa Maria del Mar, the Cathedral of the Sea, this is one of the city's centenary shops that have succeded in keeping their activity and authencity for over 150 years. The area where it is located, el Born, used to be the working neighborhood of the city in the Middle Ages. That's why all the streets have the name of a workers' union. Casa Gispert is a small shop of jars filled in with orange and brown colors. From nuts to sun-died fruits, their tradition goes back to the age of colonialism. New exotic nourishments came from Latin America and were extremely precious for Europeans at that time. Today, you can still find a wide variety of these gastronomic treasures and take a handful home as a genuine souvenir. Don't miss this place full of know-how and tradition!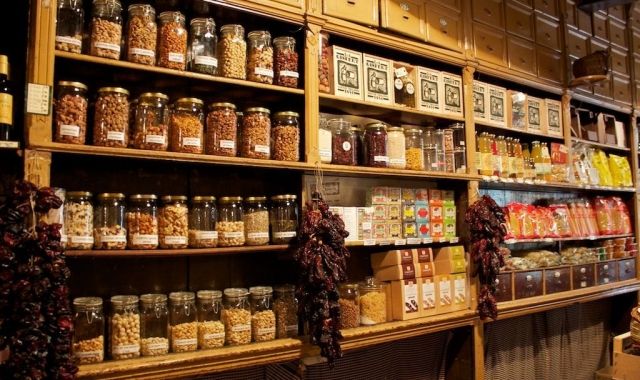 Typographia: find your touristy (and cool) T-shirt
Who doesn't want a T-shirt with the name of your destination printed on it? Unfortunately, these omnipresent pieces of clothing are usually horrendous and have the worst possible quality. But Typographia is different! In this original shop, tourist T-shirts have original desgins and are printed on quality cotton. In fact, they are really cool tourist shirts! Even the locals of Barcelona accept to wear an "I was in Barcelona" t-shirt if it's from Typographia. There are a lot of models that change every season and you can find them for around 20€. Although we've seen plenty of examples, our absolute favourite is the Gaudizilla t-shirt. In this model, the famous mosaic lizard of Park Güell climbs up the Sagrada Familia as Godzilla in the Empire State. Beat that! You can also find Typographia in Madrid and Lisbon, in case you want to have your whole European tour stamped in shirts!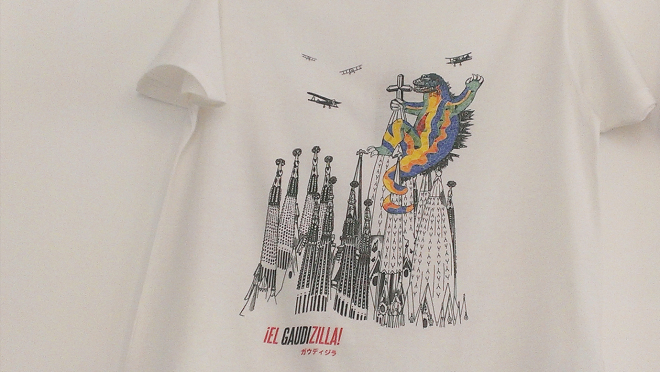 What do you think about our selection of souvenir shopping in Barcelona? We're really looking forward to reading your opinion, so please drop us a message! If you're looking for other types of souvenir, we can help you find them too. Barcelona is full of unique shops and we know all of them!
If you liked our post about souvenirs and shopping in Barcelona, recommend it to your friends and learn more Barcelona tips in our Panda Blog! Remember you can also take our tours to discover the best attractions in Barcelona from a local perspective. Use our Panda coupon in your language to get a 10% discount!
Coupons: CHINA10 – JAPAN10 – KOREA10
You can also follow us on Facebook!
Our Tours in Barcelona: