Let's talk about Spanish typical cuisine, paella
Spain is a one of the largest producers of this fragrant and colorful spice used in many dishes. We can enjoy essential ingredient by Spanish cuisine thank you for his fertile land.
In this week's post of The Touring Pandas, we are going to talk about the Spanish typical dish, paella, which belongs to one of the popular food in the world. If you keep reading this blog, you will have Spanish tips to spend full travel time and to have a more healthy life, an absolute must eat it on your trip to Spain.
Also, we will help you to find a good place to have this dish. In Barcelona, normally many restaurants and bars located in the touristic zone prefer to put this typical dish on their menu, on the other hand, the quality does not good compared with the authentic one. Well, what are you waiting for? Let's go!
History…
Paella is a Spanish rice dish that includes different combinations of vegetables and meats, characteristically seasoned with saffron, but also has other spices depending on the recipe and area in Spain it comes from.
Paella is said to be a perfect union between 2 cultures of Spain and the Romans, for the pan and the Arab, that brought rice.
There is an old story of how the Moorish king's servants created rice dishes by mixing the leftovers from royal banquets in large pots to take home. According to a legend, that word paella originates from the Arabic word aqiyahmeaning leftovers. The actual term, Paella, refers to the pan cooked in. All the way back to the ancient Sanskrit language the term means to drink, and the Roman culture from the latin made words like Patera, Patina, Patella… which could mean a container to drink, or perform other culinary functions.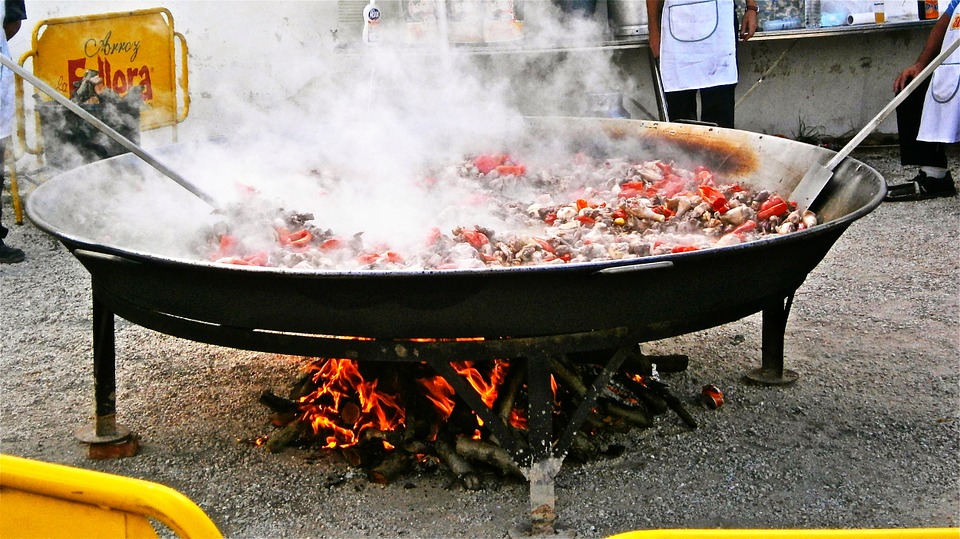 It would seem a natural dish, since rice is grown in Spain, and all meats, and seafood in some regions are plentiful, that this dish would be a native one. On the other hand, there are many workers in the fields, cooking it over an open fire also would be the most practical. Spain is not known for forests and lots of timber, so usually the small available twigs and branches from pruning that are capable to quick hot fire instead of a slow burning one from logs.

So, the size of the pan grew instead of the depth, you could get a hot fire a maximum evaporation.
Typical type…?
Most experts agree that the dish was developed in the southeast city, Valencia, where the Romans introduced irrigation and then the Arab conquerors that brought rice. That is why many folks say the best paella and most authentic menu still comes from Valencia.
Also in Islamic Andalusia, Spain symbolic dishes with rice and different meats and vegetables like a casserole were cooked for special occasions. So, some of these dishes may be the roots of paella recipes.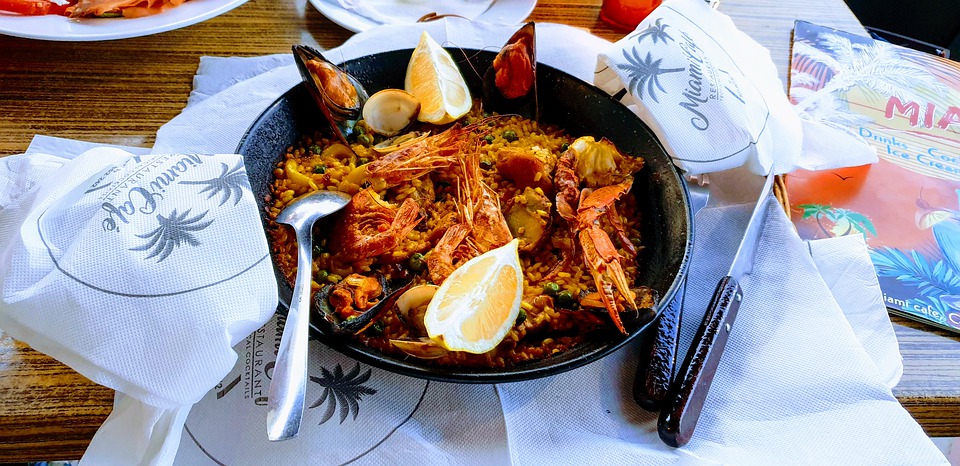 The typical picture presented in every travel guide, is seafood paella. On the other hand, the original one has no seafood, which originated in Valencia during war times. It means people were poor and had to cook with whatever they had. So, the basic ingredients were rice, rabbit, vegetables, and even snails! When better times arrived in Spain, people started experimenting with other ingredients. And today, the limits for paella go as far as imagination does!
Pasta type…
Also, there is a pasta type which is called Fideuà. The difference is basically made with short pasta instead of rice. It is also cooked in a wide and flat pan, and normal ingredients are monkfish, cuttlefish, squid, crayfish, prawns, or mantis shrimp. This dish is truly enjoyed along the Spanish coastline.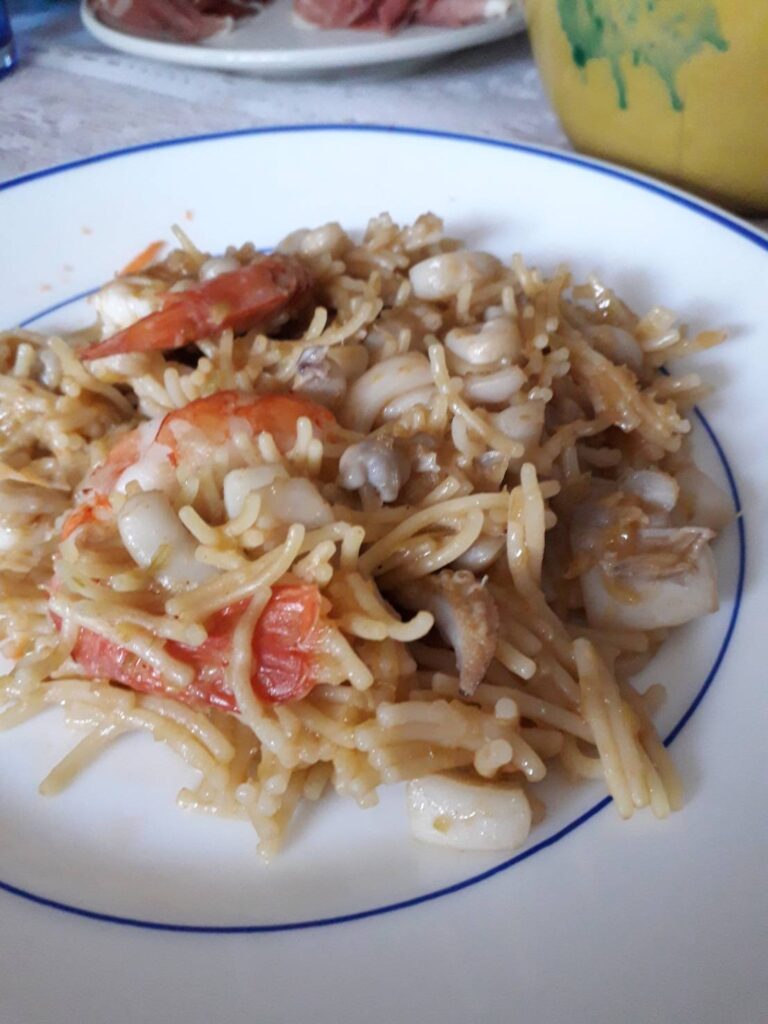 Experts and people have each opinion about the origin. Some people agree with a kind of Italian dish. I mean, some Italian were so moved when they stayed in Spain. So, they cooked pasta one instead of rice because pasta is one of the principal foods there! And the other people say that it is fishermen's one. They think that fisherman got an idea to cook with fresh ingredient quickly during fishing on the board.
Anyway, it is also delicious! Basically, it is made of fish soup and we need to wait till that the end of short pasta rises and transforms in like a letter of U. When you can see it as an uploaded picture, definitely that is the time to be ready.
So our recommendation…
Paella is what you've been supposed to check with your food budget list since you chose to visit Spain. Our recommendation is Arrosseria Xàtiva, one of the best restaurants in Barcelona to eat paella. Their menu consists of more than 20 options for paella: from the very basic to more daring combinations. As a proper family from Valencia, their paellas are served with a traditional wooden spoon.
Don't be afraid to eat directly from the "paella" (the recipient that gives the name to the dish): it's even more delicious thanks to this way. The average price per person, including some starters, paella, wine and desert, should be around 30-35€. The business has grown and there are several branches in the city.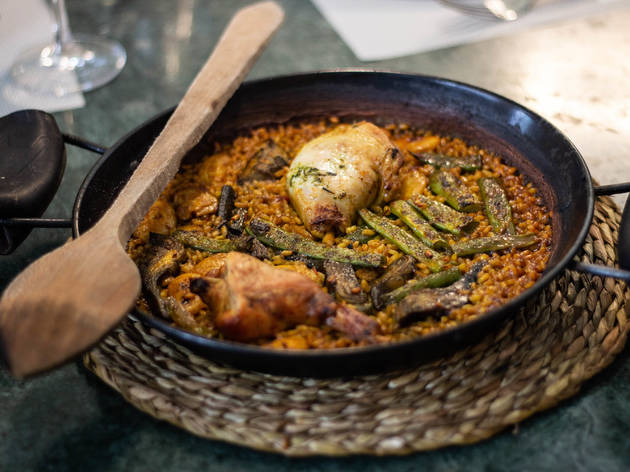 Did you make good notes? Or you are busy to endure with hunger? Please leave us a comment or send us a message in order to share your opinions and what you just learned. We're always happy to hear from you and talk about cultural difference.
If you liked our new blog post, recommend it to your friends and learn more Barcelona tips in our Panda Blog! Remember you can also take our tours to discover the best attractions in Barcelona from a local perspective.
Use our Panda coupon in your language to get a 10% discount!
Coupons: CHINA10 – JAPAN10 – KOREA10
You can also follow us on Facebook!