Tour details
The Gaudí Houses Tour: discover Gaudi's fairy-tale buildings
Learn everything about Gaudi and his one-of-a-kind buildings, Barcelona's architectural gems
Explore the amazing Eixample and dive into two of its masterpieces: Casa Vicens and Casa Milà
Enjoy a safe and comfortable tour in a small group of up to 12 people in English, Japanese, Korean, or Chinese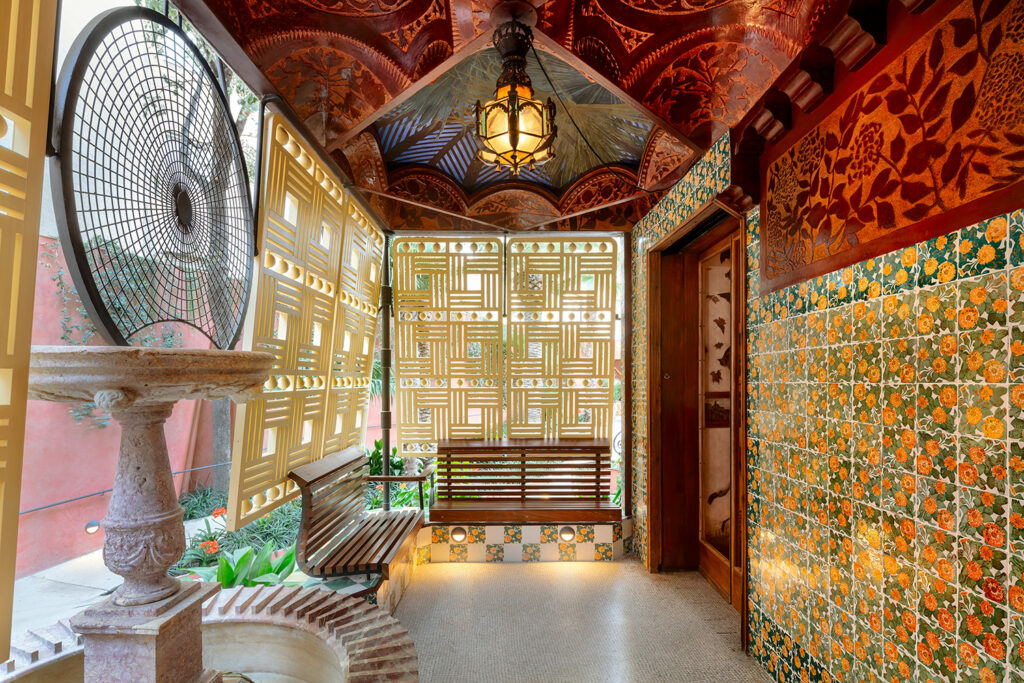 Prices (fast-track tickets included)
Adults (12+): 89€
Children (7-11): 30€
Infants (0-6): Free
Description
Barcelona is synonymous with architecture, and if there's a name that sticks out from the rest, that is Antoni Gaudí. Are you looking for the best architecture in Barcelona? On this three-hour tour of Barcelona's most famous houses, you will learn about Gaudí's life and the impact of this genius in the city's urban landscape.
Discover the most amazing buildings in the Eixample neighborhood and the magnificent Passeig de Gràcia in English, Japanese, Korean or Chinese. Wander down the picturesque vila de Gràcia and marvel at the facades of the city's most famous block: the Apple of Discord.
The price includes guaranteed, fast-track admission to Gaudí's first and last houses: Casa Vicens and La Pedrera-Casa Milà, where you'll be able to skip the line as a pro.
🔍 Click here to see the full itinerary!
Reasons to book this tour
This is the only tour focusing exclusively on the famous Gaudí Houses, making it the perfect plan to learn about them and make the hard decision to pick your favorite.
We conduct a chronologic itinerary: from Casa Vicens, Gaudí's first house as a young 26-year-old architect, to La Pedrera, the last work he completed in his life at the age of 58.
La Pedrera is a busy monument: the interior is self-guided with an audioguide, allowing you to explore at your own pace for a more intimate experience.
On this tour you'll also discover the charming Gràcia neighborhood, as well as non-Gaudí famous houses designed by other Modernista architects.
While most tour companies offer groups of up to 30 visitors, we limit our group size to 12. This guarantees a comfortable experience and the possibility to better interact with the guide.
Key information
Meeting Point
Carrer de les Carolines, 20-26, 08012. Outside of Casa Vicens.
Your guide will bring a tablet or a folder with The Touring Pandas logo.
End point
Casa Mila. Pg. de Gràcia, 92, 08008
Departure Time
The Barcelona Houses of Gaudi Tour departs daily at 10:00
Please arrive at the meeting point 10 minutes earlier
Duration
This tour lasts approximately 3 hours
Included

Houses of Gaudi Tour in English, Japanese, Korean or Chinese
Small Group (up to 12 people)
Gràcia neighbourhood
Casa Vicens express visit
Passeig de Gracia
Casa Batlló (exterior)
Casa Milà fast-track ticket

Excluded
Cancellations and amendments
You can cancel or reschedule the tour up to 24 hours before departure time. After that, it is non-refundable. In case of force majeure or inclement weather, the guided tour can be cancelled or rescheduled by the Touring Pandas, and the corresponding amount will be refunded. Make sure to arrive at the meeting point 10 minutes before departure. Latecomers and no-shows are not entitled to a refund.
For more details, check our terms and conditions.
Book now!
Itinerary
1. Meeting point: Casa Vicens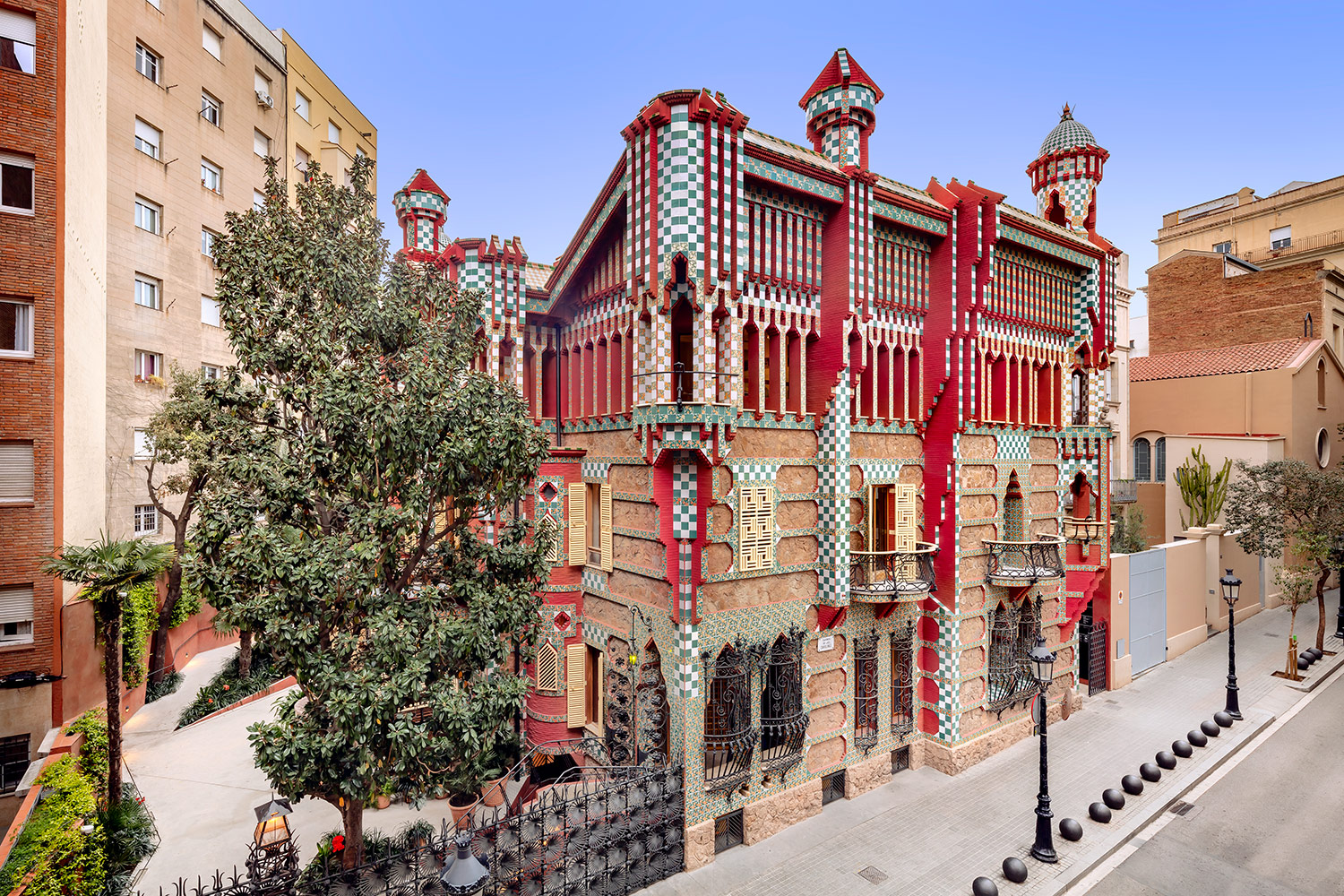 Our tour starts at the old village of Gràcia. Here you'll discover one of Barcelona's best kept secrets until 2017: Casa Vicens, Gaudi's first house! This house with oriental inspiration was his first project as a young graduate. The colors of the house blend with the surrounding garden, and it served as a prelude of a legacy that would mark Barcelona forever. Admission is included. Our guide will make an introduction to Casa Vicens and then you have 30 minutes to explore Gaudí's first house.
2. Gràcia neighbourhood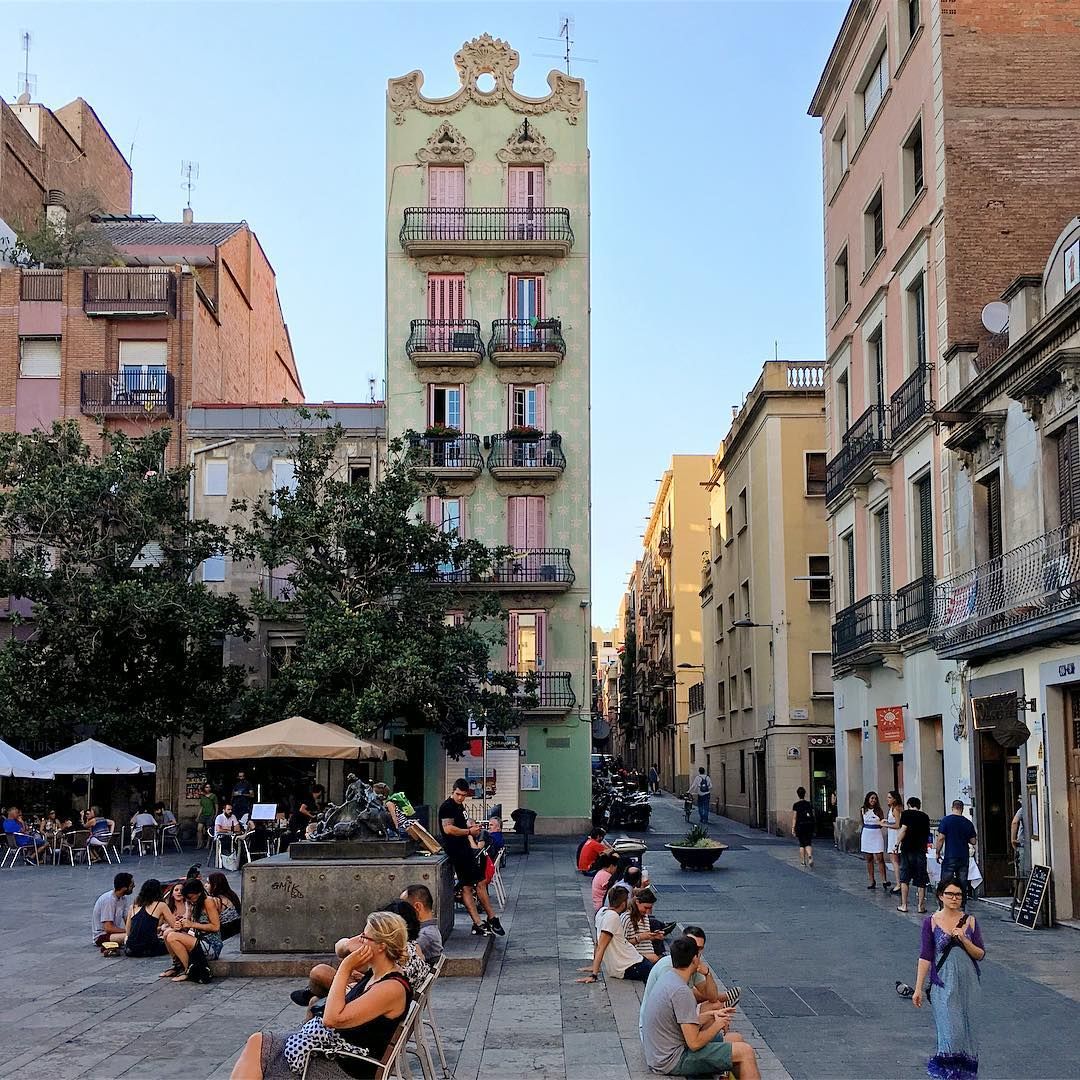 After Casa Vicens, you will walk past the Gràcia neighborhood. In the past, Gràcia was an independent village. But with the big expansion of Barcelona in the late 19th century, it was integrated as part of the city. Today it still retains the air of a small village and life is quite different in this part of the city with a very strong and authentic personality.
3. Passeig de Gràcia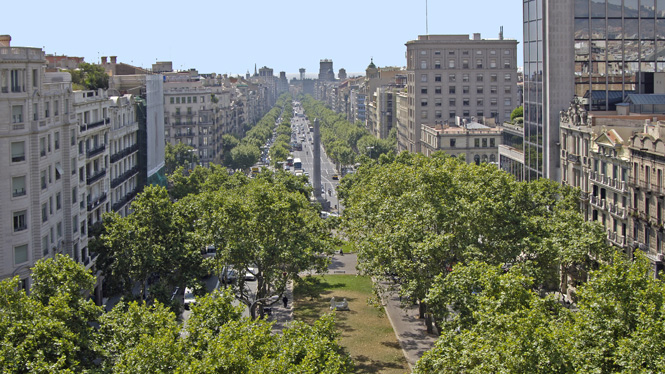 You will then arrive at Passeig de Gràcia, the most exclusive boulevard in the city. We could call this street Barcelona's 5th Avenue. In the past, rich families started a competition in the area to have the most eccentric facades: that's why we found such a rich heritage. Listen to some local anecdotes while you stroll towards the next Gaudi stop.
4. Casa Batlló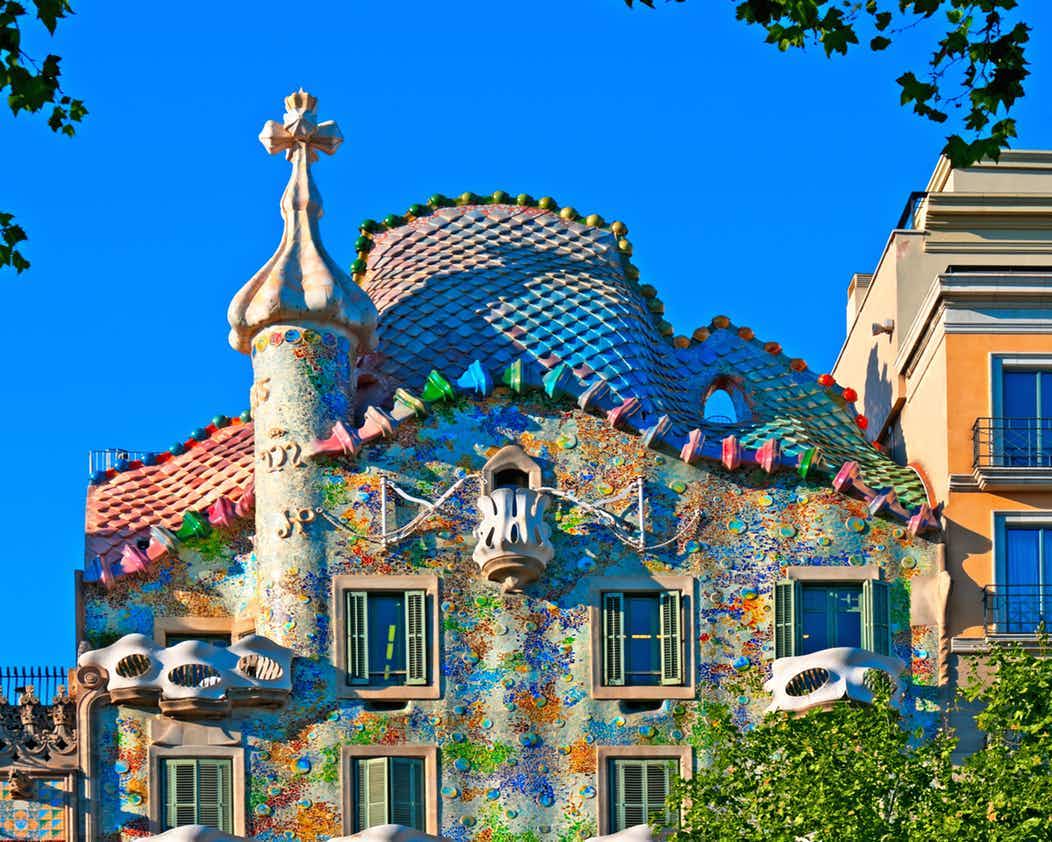 The house is like a fairy tale when you see it from outside, but wait to see the interior! This is probably the building where Gaudí let go of his imagination completely. Many people say it's like being deep under the surface of the Mediterranean sea.
5. The Apple of Discord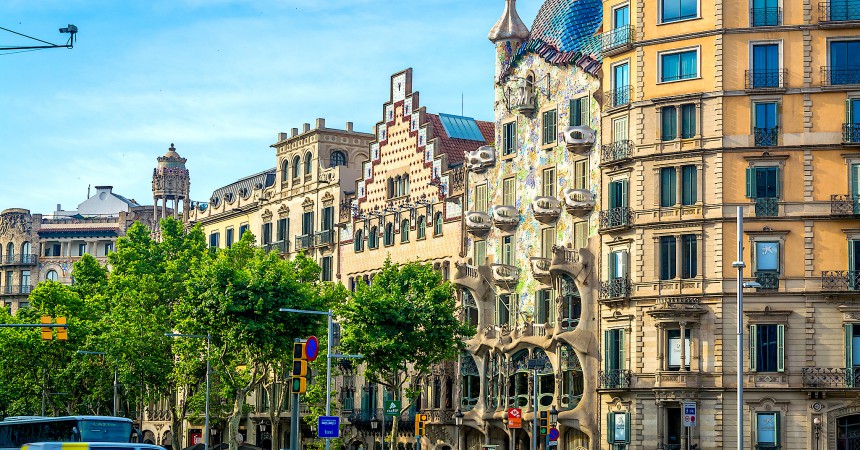 After some minutes, you'll arrive at the Apple of Discord, one of Barcelona's most famous blocks of houses. This is the perfect example of the facade competition that developed in Barcelona during the Modernista epoque. In just a few meters, you'll spot three of the most beautiful facades in town: Casa Lleó Morera, Casa Amatller and, of course, Casa Batlló.
6. End Point: Casa Milà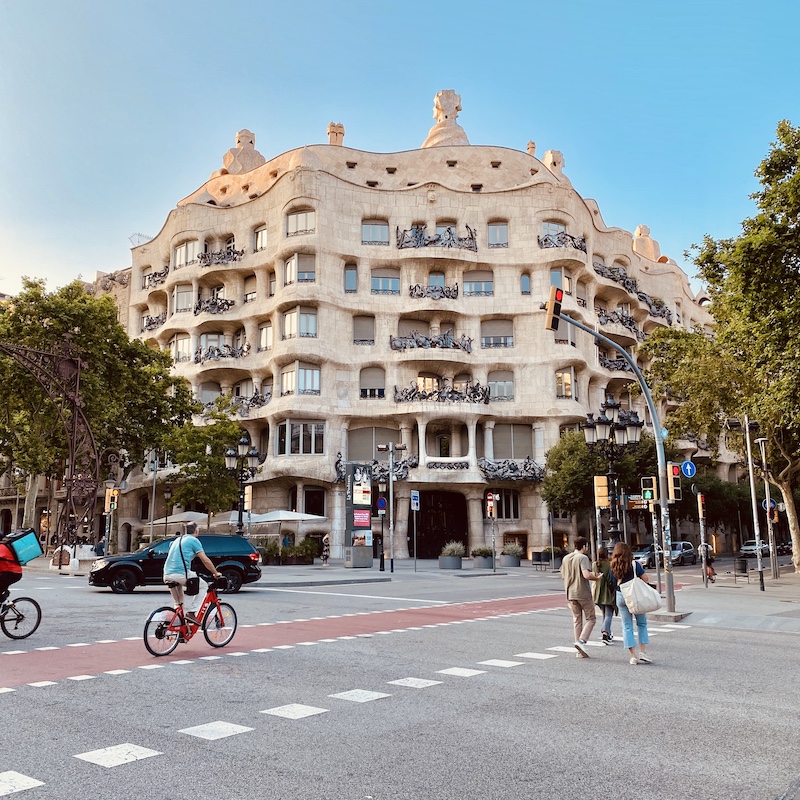 Finally, you're ready to explore Casa Milà. Casa Milà is the last work that Gaudí completed in his life. Looking up at this building, you'll learn some anecdotes - it is now one of the most renowned buildings in Spain, but at first everybody hated it! But now, La Pedrera (the quarry), as locals call it, is one of Barcelona's must-sees. 
Thanks to our fast-track ticket, you'll be able to get inside and finish your visit at your own pace with a video guide in your selected language.
Maps