Where to stay in Barcelona: best neighborhoods to explore the city
Finding the right accommodation in a city is a very important factor that will determine your travel experience. When we look for the right hotel or apartment, location is an essential piece of the puzzle. But apart from a central location, you need to consider other matters such as safety, leisure offer, or restaurants. And of course, how well connected the area is to visit the main highlights of your destination.
In this week's post, The Touring Pandas have selected the best neighborhoods to help you decide where to stay in Barcelona. Barcelona is a diverse city and each of its neighborhoods has its own personality. Keep reading to learn more about each part of the city and choose where you want to live for a few days in the city of Gaudí!
Where to stay in Barcelona: the city division
Barcelona is a medium-sized city with 1.6 million habitants. However, if you look at it from a high viewpoint, you may get the impression that it's larger than that. That is because of two reasons. Firstly, buildings in Barcelona are not high in general – five to seven stories usually. Secondly, the city of Barcelona is surrounded by smaller cities that seem to be already part of it. In the metropolitan area of Barcelona, which includes several cities, live around 5 million people. But let's go back to Barcelona city, which is split into 13 neighborhoods. Out of these, we've selected four to help you decide whete to stay in Barcelona: Eixample, Barri Gòtic, el Born, and Gràcia.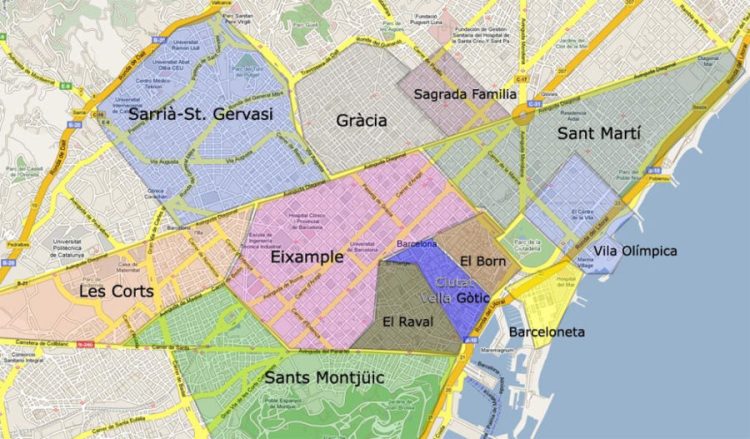 Barri Gòtic: 2.000 years of Barcelona
The Barri Gòtic is where it all began. When the Romans arrived in Barcelona in the years 15-10 a.C., they setteld on mount Taber. This was a small hill near the coast from where they could control the vast plain around it. Today, this mount is the heart of Barcelona, the old town or the Barri Gòtic, as locals call it.
With more than 2.000 years of history, the Barri Gòtic is a labyrinth of narrow streets and picturesque plazas. Even for those who live in Barcelona, this area is always able to surprise you with a new detaile you hadn't noticed before. Here you'll find the famous Ramblas, the Cathedral of Barcelona, the old walls, or the Plaça del Rei.
With hundreds of streets and alleys, it's easy to get lost and it may be a good idea to take a guided tour to discover it. We recommend you our Barcelona Gothic Walking Tour in Japanese, Chinese, Korean or English: a two-hour itinerary to explore Barcelona's old town with an expert guide.
The Barri Gòtic is also a good option to set your base and start exploring the city. There are obvious advanatges if you stay here. This is the most central neighbourhood and has excellent connections with public transportation. Also, the Barri Gòtic is absolutely beautiful at night, so it's really convenient if you're planning to go for a romantic evening walk. There are beautiful boutique hotels, like Hotel Neri or Hotel Mercer, as well as iconic AirBnB apartments if you prefer this option.
On the other hand, it's become very popular for tourists, so rates may be more expensive than in other areas, and it can get quite busy and noisy at night. You should always keep your eyes open in the Barri Gothic, since unfortunately pick-pockets love the area too.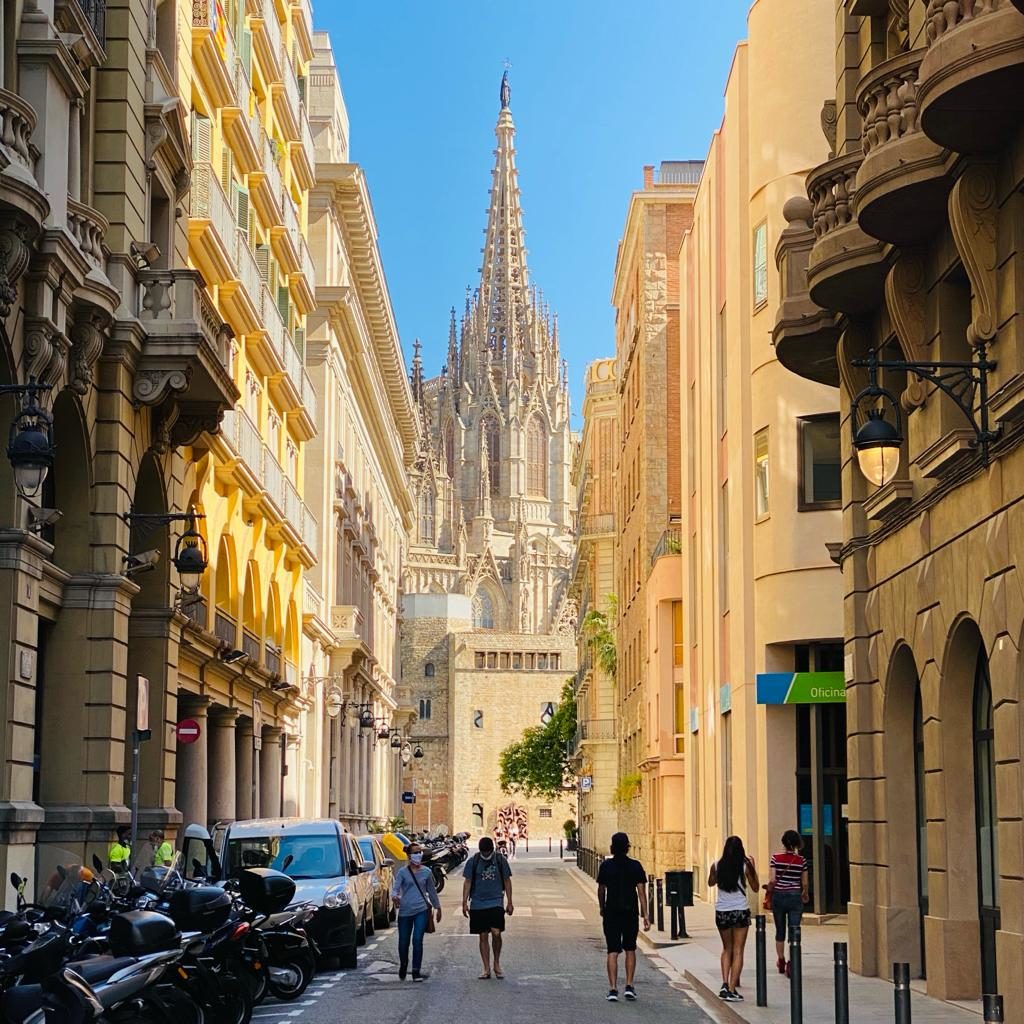 El Born: Middle Ages and modernity
El Born is, together with the Barri Gòtic, one of the oldest parts of Barcelona. When the original city became to get crowded, the noble families started raising their palaces in a new area just outside the walls. With the path of time, this new part of the city became the center of social life in the Middle Ages.
Today you can still walk on Passeig del Born, where knights used to organise duels on top of their battle horses. One of the gems of the neighborhoods is the Cathedral of the Sea, an astounding Gothic church that doesn't fail to impress every visitor. And of course, el Born has the famous Picasso Museum, one of the must-sees in Barcelona.
Today, el Born is a modern neighborhood with really cool boutiques and independent designer atteliers. If you're looking for a vibrant neighborhood with excellent bars, drinks, and nightlife, this is your choice. Like the Barri Gòtic, el Born is a very popular area for tourists and may be expensive and busy throughout the year. Also, there aren't many hotels in the area and the best option is probably to find a good apartment to feel part of the city for a couple of days.
Eixample: the modern Barcelona
Of all neighborhoods, Eixample is our favourite option when searching where to stay in Barcelona. Eixample is a very large are of the city, and it's divided in different sections. The baic sections of Eixample are old left, new left, right, and Sagrada Família. If you're going to spend a couple of days in the city, our recommendation is to look for a hotel or apartment on the right side of the Eixample.
Eixample in Catalan means "enlargement". When the population of Barcelona started increasing significantly at the end of the 19th century, it became urgent to expand the city. Thus, the local authorities drafted a plan to turn the old Barcelona into a modern European metropolis. That's how the Eixample originated. If you want to learn more about its history and to visit its most famous buildings, we recommend you our Gaudí and Sagrada Familia tour in Japanese, Chinese, Korean or English.
This area of the city is well known for its beautiful Modernista architecture. The greatest examples of this artistic movement are Gaudí's buildings. Sagrada Família, Casa Batlló and Casa Milà are in this neighborhood and they are probably among the reasons why you decided to visit Barcelona.
Apart from architecture, the Eixample has an excellent offering of shopping and gastronomy. Stroll down Passeig de Gràcia, the most glamourous boulevard in the city, and take in the perfect blend of fashion, culture and architecture. Unmissable!
If you're looking at where to stay in Barcelona, there are thousands of options in the Eixample. It covers the largest area of the city and there are hundreds of hotels and apartments to choose from. Whether you're looking for a budget hostel or a luxury apartment, Eixample has it for sure. In addition, public transportation connections are excellent and from here you can walk to all the tourist spots in less than 30 minutes. It's also one of the safest areas of the city.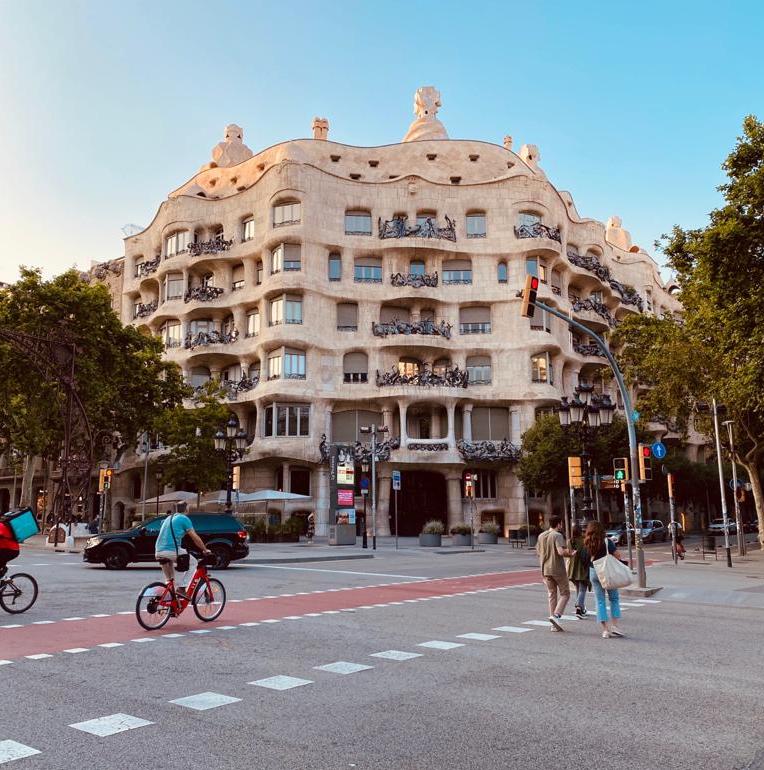 Gràcia: a tribute to the old times
If you're still wondering where to stay in Barcelona, Gràcia is also an option you should consider. In the past, Gràcia was an independent town that was absorbed by Barcelona when the city expanded. Although fully integrated now, it still preserves an air of the old times as if it continued to be a quiet village. Just in the outskirts of the mountains, Gràcia is strategically located near Park Güell and it also boosts Gaudí's best well-kept secret: Casa Vicens.
Just like el Born, the buildings in Gràcia are small and old, so there are not many hotels in the area. However, it's an excellent neighborhood if you're looking for hostels or apartments in a more quiet area. Although Gràcia is a good option when looking at where to stay in Barcelona, it may take longer to reach other parts of the city from here, since connections are limited.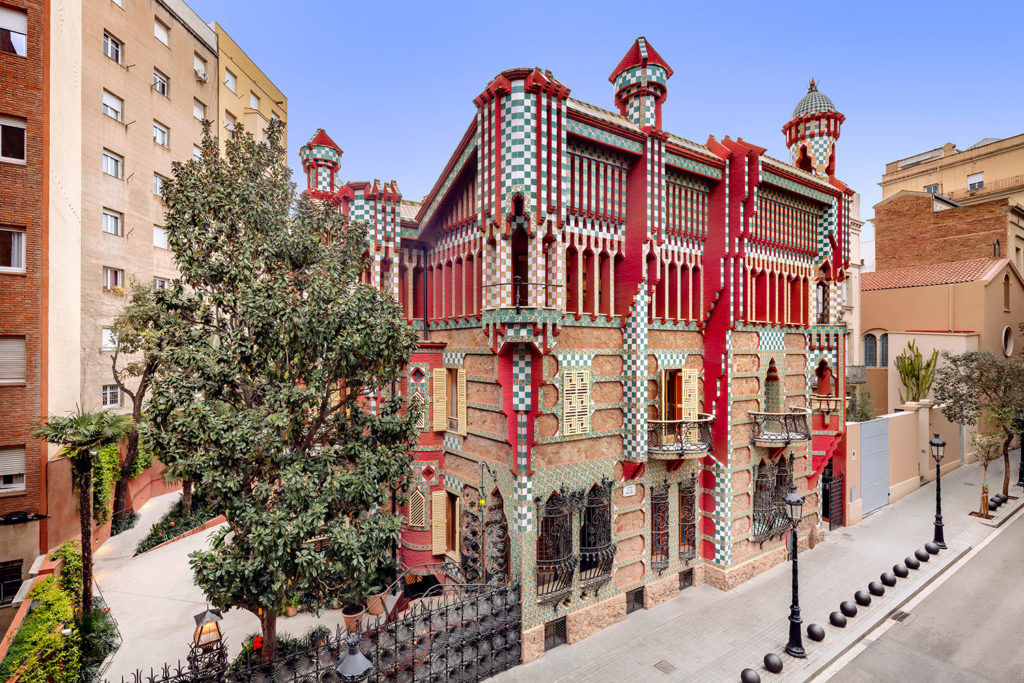 We hope this post will help you decide where to stay in Barcelona. The Barri Gòtic, El Born, Eixample and Gràcia are our favorite areas and we recommend you to look for accommodation in Barcelona in one of them. However, out of the four, Eixample is our preferred option and our first recommendations. It's centrally located, it has hundreds of options to choose from, and it also has some of the most important highlights that you want to visit. So when you're trying to figure out where to stay in Barcelona, make sure to put Eixample on your list!
If you liked our post about where to stay in Barcelona, recommend it to your friends and learn more Barcelona tips in our Panda Blog! Remember you can also take our tours to discover the best attractions in Barcelona from a local perspective. Use our Panda coupon in your language to get a 10% discount!
Coupons: CHINA10 – JAPAN10 – KOREA10
You can also follow us on Facebook!
Our Tours in Barcelona: