Visit Park Güell in Barcelona: explore Gaudí's fairy-tale park
If there is one thing in Barcelona that can rival the Sagrada Família, that is Park Güell. With 3.2 million visitors a year, Gaudí's fairy-tale park is one of the most visited places in Spain, and you'll know why when you visit it! The moment you step onto this unique environment, you will feel like you've been transported to another world where everything seems possible. That is what makes Gaudí so grand: in his buildings, you feel you've entered a dream. That's what makes Barcelona so unique and that is why so many people that visit our city, decide they want to stay.
In this week's post, The Touring Pandas have gathered some tips to help you visit Park Güell in Barcelona. Keep reading and learn all you need to know before planning your trip!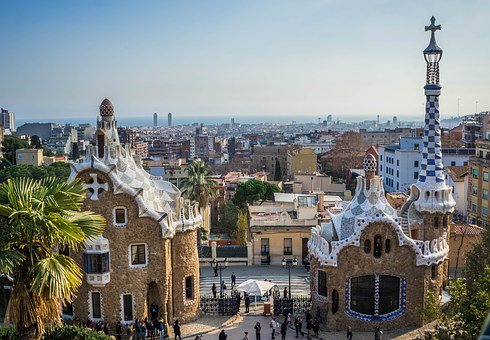 How to get to Park Güell in Barcelona
The first question you may be asking when planning to discover a city highlight is: how can I get there? If you want to visit Park Güell, this is even more important! Park Güell is not in the city center and they way to the park is long and steep. Here are three ways to reach the park.
1 – By Metro
Barcelona's public transportation system is very efficient and you can get anywhere by metro in less than 30 minutes. If you want to visit Park Güell, you can take L3 (green line) to Lesseps or Vallcarca stations. Vallcarca is a because most of the way uphill is covered by escalators.
2 – By Bus
Bus is another option, although it may be a bit inconvenient. You may have read that bus 24 is one of the fastest ways to reach Park Güell from Plaça Catalunya. However, since a couple of years ago the bus stop has been moved to the ower part of the hill, and now you have to cover a good portion of the way uphill on foot.
3 – Using the Bus Güell
This is by far our recommended option. If you have a ticket for Park Güell already, the shuttle service Bus Güell is included! This is a comfortable service that will take you from the metro station Alfons X (L4, yellow line) to the main entrance of the park in just 10 minutes. There are buses every 15 minutes and they are easy to find from the Metro station.
What to see when you visit Park Güell
Park Güell, as the anem suggests, is mainly a park. So you have to consider that most of the things you'll visit will be outdoors. However, there are two diferentiated zones and it's important to understand that most of the highlights are inside the Monumental Zone, which has an entrance fee of 10€. Here is a list of items that you must see when you visit Park Güell in Barcelona:
Plaça de la Natura (The Natura Square)
The Plaça de la Natura is the top part of the Monumental Zone. Here is where you'll find the iconic mosaic benches and some of the most impressive views from the city. Since Park Güell was constructed upon a hill, you can see all the city and even the sea from here.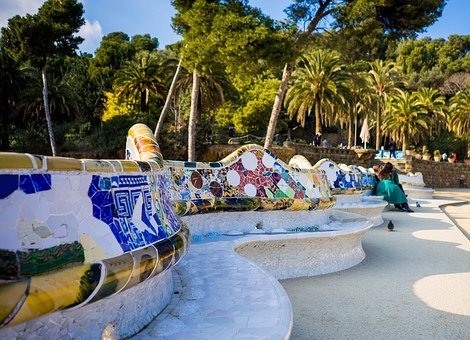 Trencadís works and the giant lizard
Park Güell, as other Gaudí's works, is full of trencadís. But what is trencadís? It's a technique that Gaudí use to fill his buildings with colors. It is very similar to mosaic, but the pieces are irregular and bigger. Gaudí used broken bottles, spared tiles and other recycled materials to create his trencadís. The park is full of them, and of course the most notorious is the most famous lizard in the world!
The Monumental Stairway tand the Hypostile Room
If you enter Park Güell from the main entrance, which is on Carrer d'Olot, the first thing you'll spot is the Monumental Stairway. This is the place the lizard chose to spend the rest of its days, and where many people spend a good portion of their time in Park Güell trying to get a selfie with it.
After three flights of stairs, you will reach the Hypostile Room. The most carachteristic elements of this part of the park are the columns, which form a labyrinth where children love to play hide-and-seek. The main function of these columns though, is to sustain the Plaça de la Natura, which lies just on top of this room.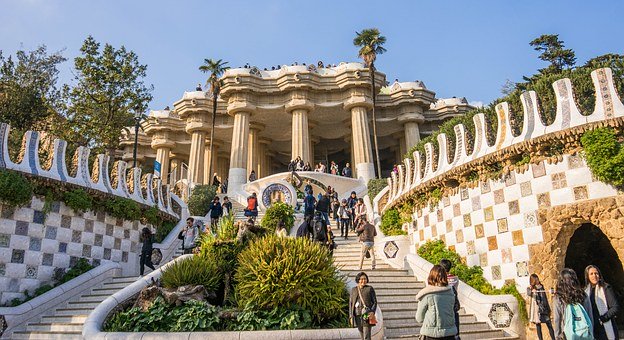 Casa del Guarda (House of the park-keeper)
When Mr. Güell, Gaudí's main patron, assigned him the project to build the park, the idea was completely different from what it is today. Park Güell was supposed to be an urbanization for the wealthy class of Barcelona. Gaudí planned the park as the common area of this Melrose Place in Barcelona, and the built a first house as a model.
This house served as the home for the park-keeper, but in the end this was the only person that ended up living in the park. In that time, it was so far from the city center that nobody wanted a house there and the initial project was abandoned. That's how it ended as a public park for the neighbours of Barcelona when the city grew and absorbed the area of the park.
Where to buy tickets to visit Park Güell
If you want to visit Park Güell in Barcelona, the best tip we can give you is to buy your tickets in advanced. As we mentioned at the beginning of the post, Park Güell is tricky to reach. In addition, it's the second most visited place in the city and that means it's usually quite crowded. There are long queues to get inside and tickets sell out quite often. So it would be really frustrating arriving at the park to find out there are no tickets left!
The best place to get the tickets is the Park Güell official website. The entrance fee is 10€, and it will allow you to select a time slot for your visit. It is important to plan your trip accordingly, since there is no possible reschedule if you're late. So don't hesitate anymore and buy your tickets for Park Güell now! Remember Bus Güell is included from Alfons X Metro station and this shuttle will leave you right at the entrance of the park.
We hope you found this post with tips to visit Park Güell interesting. If you're still missing some information or if you have questions, leave us a comment. We'd love to hear from you and we're happy to help you with more tips and advise! Also, we invite you to check our posts to spend one day and two days in Barcelona. They're full with ideas to taylor the perfect plan to discover the city!