Get to know the most traditional spanish tapas with us – Tortilla and Croquetas!
Last week, we introduced you one of the most typical dishes in Spain, Paella. This week, the touring pandas will to show you another type of cuisine which is also the most representative of Spainish food, tapas!
Speaking of tapas, the most famous tapas dishes that you can see in a spanish bar, restaurant or even household, can be tortillas and croquetas. What are they? What are the food stories? How to eat them like a local? Or even, how to make them? Let us reveal all the secrets of these tapas for you!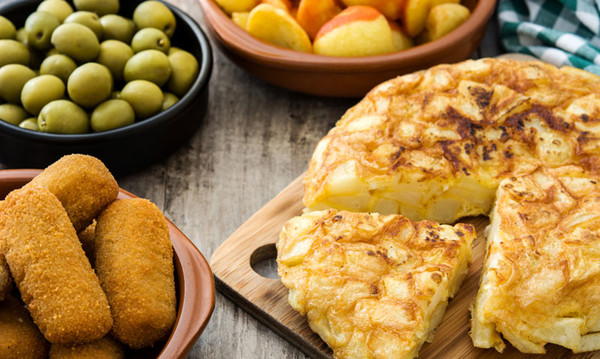 What is Tortillas and Croquetas?
A tapa is an appetizer or snack in Spanish cuisine. Simply it is a small portion of food. Tapas may be cold or hot, and are always served in smaller dishes. When you go for tapas, you'll end up ordering lots of small plates and sharing.
Today, we are introducing two typical tapas dishes which you can easily find in this country: tortillas and croquetas! They are so popular and well-known by everyone, which makes them become the must-try food when a traveller visits Spain.
Tapas of tortillas is completely different from the normal tortilla that you might have seen a lot in Latino cuisine. Its full name should be tortilla de patata, which means tortilla of patato. It is basically a thick omelette made with eggs, potatoes and onion and often served at room temperature as a tapa.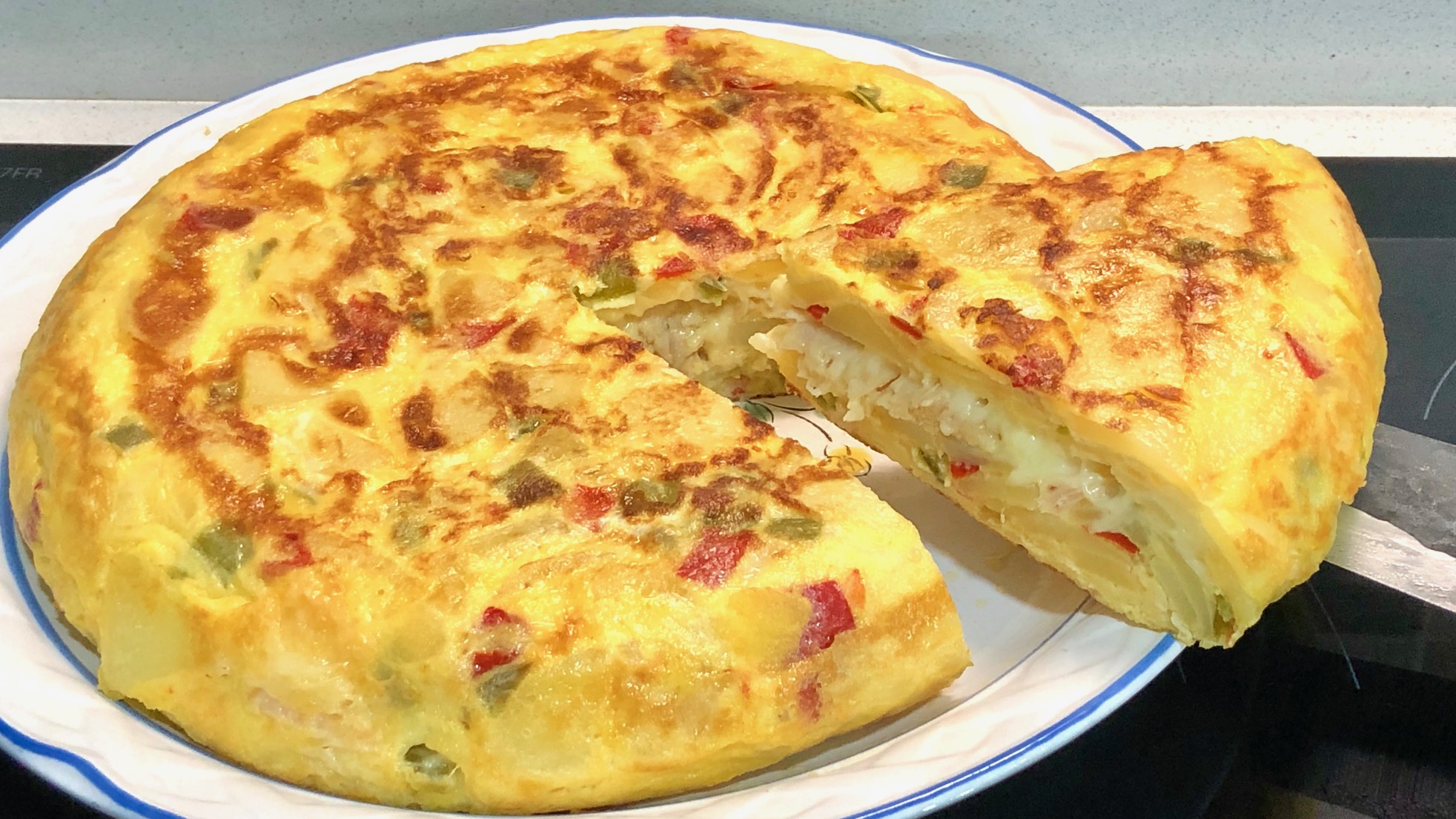 And croqueta, which is more commonly seen around the world, is also a typical tapas dish in Spain. A croqueta (in English, croquette) is a small cylinder of food consisting of a thick binder combined with a filling, which is breaded and deep-fried. But rather than being filled with potatoes, Spanish croquetas are filled with a creamy bechamel sauce, which can include a variety of other fillings added, like jamon(ham), chicken, mushrooms, cheese or salt cod.
Stories of Tortillas and Croquetas
The origin of tortillas de patata is blurry recorded. But the first authentic reference to the tortilla is found in a Navarrese document from 1817. It explains the sparse conditions of Navarra's farmers in contrast with those in Pamplona (the capital) and la Ribera (in southern Navarra). After listing the sparse food eaten by highlanders, the next quote follows: "…two to three eggs in tortilla for 5 or 6 people as our women do know how to make it big and thick with fewer eggs, mixing potatoes, breadcrumbs or whatever."
It is believed that around 200 years ago, tortillas de patata is already a typical local dish in the Spanish territory, and soon later started to gain more acknowledge in the country.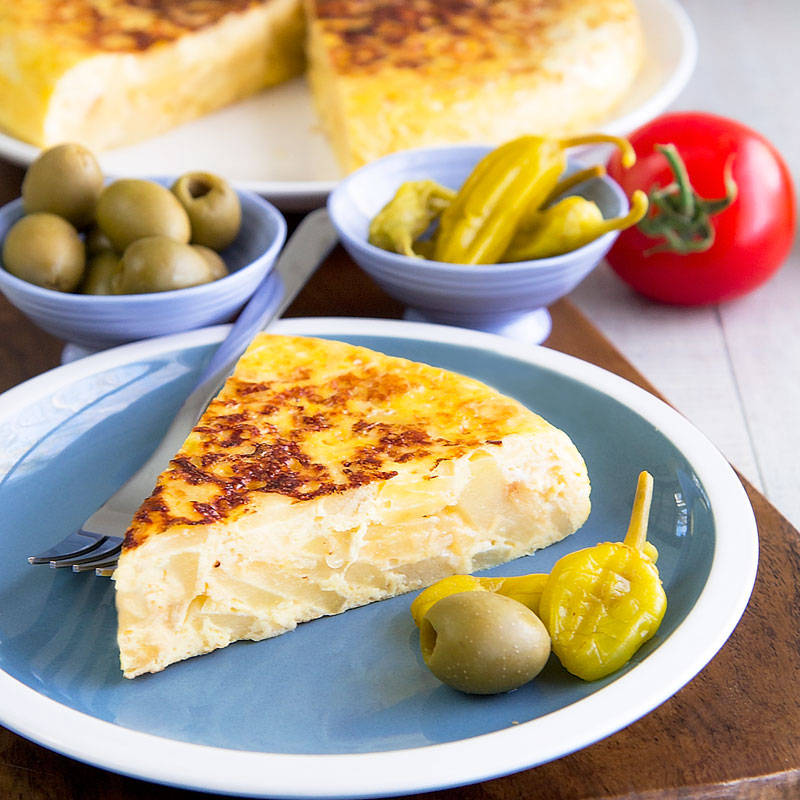 As for croquetas, although it seems uncertain, the origin of this succulent bite of cylindrical or spherical form is not Spanish but French. It is a dish that emerged from the need to take advantage of all the food, as it was time of scarcity. So, with the purpose of not neglecting the meat left over from the previous day's stew and the remains of ham that were getting hard, the croquette was born.
When croquetas traveled down to Spain, they took on something a bit different, with a special iberian flavor and way-to-make. For example shapes became various and more local ingredients are added like jamon and cod.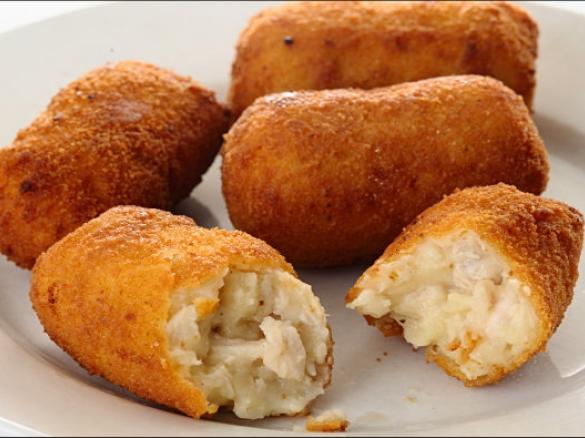 How to make tortillas and croquetas?
As tortillas and croquetas are so popular and native, it is not exaggerated at all to say that everyone in Spain knows how to make them! We will show you how to make these typical tapas dishes at home by yourself. You can find all the ingredients in the supermarket next door so why not give it a try!
Tortillas:
STEP 1: frying pan on a high heat. Put 4 table spoons of olive oil in the pan, wait till it gets heated, put 400g waxy, peeled, quartered and finely sliced potatoes and 1 sliced onion.
STEP 2: Turn the stove to medium heat, cover and cook for 15 mins, stirring occasionally to make sure they fry evenly. When the potatoes are soft and the onion is shiny, uncover and cook for another 2 mins, rinse everything and set aside.
STEP 3: Whisk 4 eggs and mix with cooked potatoes and onion. One spoon olive oil in the pan with medium heat, put the mixture in. Keep it cooking for about 10 mins until the edges and base are golden. To turn it over, slide it onto a plate and put another plate on top, turn the whole thing over and slide it back into the pan to cook another 3 mins. Slide it out to a clean plate to serve warm or cold.
Croquetas de jamon (croquettes of spanish ham):
STEP 1: Melt 30g butter in a large pan and add in half diced onion and cook under medium heat for 1 min, until softened. Turn down heat and add in 1 tbsp garlic powder, 1 thsp chicken powder, 1/4 tbsp pepper, 4 tbsp flour and stir immediately. Cook the mixture for 1 min.
STEP 2: Add in 1 cup of milk and stir immediately. Keep stirring until well combined and add another cup of milk. Bring to boil, add in 140g ham and mix well. Add in the pinch of salt if necessary. Turn off heat and transfer into a tray or baking dish to cool.
STEP 3: Refrigerate for at least 6 hours. Scoop a spoon of the croqueta and roll into a cigar shaped log. Roll it in the flour, dip in the egg and coat with breadcrumbs. Repeat with the rest. Place in freezer for 15 mins before frying. Fill a frying pan with oil until reaching 1/2 of the pan for deep fry. When the oil is hot, add in the croquetas and cook for 1 min on each side, until golden brown. Drain on paper towel and serve warm.
Are you ready to make your own tapas? Or to come to Spain and taste the best in person? Please leave us a comment or send us a message to share your opinions and thoughts. We're always happy to hear from you!
If you liked our new blog post, recommend it to your friends and learn more Barcelona tips in our Panda Blog! Remember you can also take our tours to discover the best attractions in Barcelona from a local perspective.
Use our Panda coupon in your language to get a 10% discount!
Coupons: CHINA10 – JAPAN10 – KOREA10
You can also follow us on Facebook!