Madrid in one day: discover the capital of Spain in 24 hours
Madrid is one of the hippest and trendiest destinations in Europe, and once you visit it, you'll know why! Spain's capital is one of those cities that never sleeps. No matter the time of the day, the madrileños always have something to do on the streets. Drinking cañas, eating tapas, visiting museums, going to the theatre, or just hanging out with friends are the favorite activities in this dynamic city! In this week's post, The Touring Pandas will go through the city's must-sees and help you make the most of your 24 hours in Madrid.
If you follow our tips and organise your schedule well, you'll get to see the most famous highlights of Madrid in one day. It's not much time, but just enough to discover the best of this vibrant destination. Get ready to enjoy Madrid in 24 hours!
Madrid in one day: morning
Kick off your day in El Retiro Park
El Retiro is one of the most beautiful places in Madrid and also a good place to start your 24 hours in Madrid. Enter the park from Plaza de la Independencia, where you'll find the famous Puerta de Alcalá. This imposing monument used to be the noble entrance to Madrid in the past, but now it's just outside the city center. Once inside the park, you can't skip the lake, the Crystal Palace, the rose garden (La Rosaleda), and the Ángel Caído, one of the few sculptures in the world representing Lucifer. As a curious data, this gloomy statue is situated exactly at 666 meter over the sea level: the number of the devil in Western cultures!
After exploring El Retiro, we recommend to continue your plan to visit Madrid in one day strolling around the Art Walk. In the Paseo del Arte, as locals call it, you'll encounter landmarks like the Cibeles Palace and Fountain. The Cibeles Palace is nowadays Madrid's City Hall. And the Fountain is the place where Real Madrid, one of the world's best football clubs, celebrates victories with the fans. But besides architecture and sculptures, this walk boasts three of the most important museums in Europe: Prado, Thyssen and Reina Sofía. Which one will you visit? A difficult choice to make if you only have 24 hours in Madrid!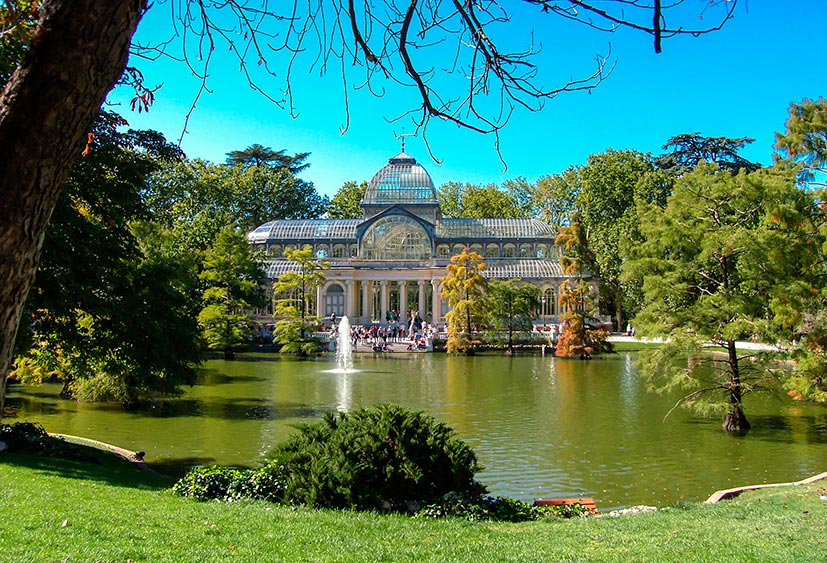 Prado Museum

With just 24 hours in Madrid, and although this is a painful decision, if you have to pick one museum it should be the Prado. The Prado Museum is the temple where the great masterpieces of Spanish Art are kept. Apart from the famous Meninas, you'll find the largest collection of Goya works, including the incredible Black Paintings. But it's not only Spanish brushes that you'll spot around the corridors, but also great European classics like the famous Garden of Delights, by El Bosco. This is one of the largest museums in the world, so make sure to save at least two hours to explore the highlights of the Prado.
There is a lot of history and a lot to see and to learn between the Retiro Park, the Art Walk and the Prado Museum. If you want to discover every detail of these magical places, we recommend you to have a look at our Art Walk & Prado Museum Tour. Our expert guides will walk you through the very best of Madrid in your selected language: English, Japanese, Korean or Chinese. After a few hours of walking, you may as well be hungry! A good place near the Prado Museum and well located to continue exploring Madrid in one day afterwards is Vinitus. Located at the begining of the Gran Via, this is an excellent place for tapas and paella.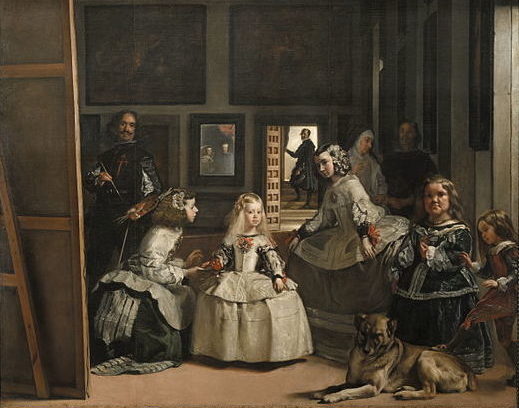 One day in Madrid: afternoon
Puerta del Sol, Habsburgs Madrid and the Royal Palace
Now that you have a full belly, you're ready to continue enjoying your 24 hours in Madrid. Visiting Madrid in one day is an ambitious task, since the city is quite big and there is a lot to see. But one thing you don't want to miss is the very center of Spain: the Puerta del Sol! This is one of the most beloved plazas in the country because it's the most popular place to celebrate the New Year's Eve. Every 31st of December, thousands of people gather here to welcome the new year and eat 12 pieces of grape. They say you can ask one desire with each of them, so make sure to have your checklist!
Another famous item at the Puerta del Sol is Spain's Km0, where all the roads begin. This famous geographic landmark is right in front of the Madrid Tourism Office: you'll probably spot some visitors taking selfies! The Tio Pepe comercial and the Oso y Madroño statue are also icons in the plaza that you'll probably recognise from the travel guides. Once you've taken some good shots of all the classics on Puerta del Sol, you're off to explore the Habsburgs Madrid.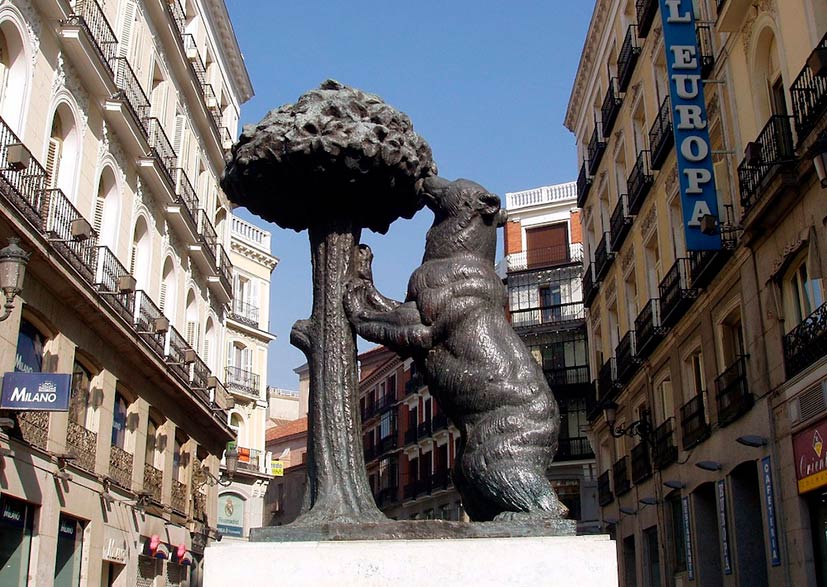 The Habsburgs were a dinasty of kings who reigned in Madrid during several centuries. It was during their command that Madrid became the capital of Spain and became a splendorous city with noble buildings and monuments. In this area you'll find some of the most picturesque corners of Madrid, like the Plaza Mayor. But also gastronomic Meccas like San Ginés, a legendary place to enjoy the famous churros con chocolate! The cherry on the cake in the Habsburgs Madrid is the Royal Palace.
This majestic building is no less than the largest palace in Europe, with more than 3.000 rooms. If you want to discover all the details about Madrid and the Habsburg, we recommend you to take our Royal Palace of Madrid and Habsburgs tour. In this itinerary of two hours through the old town of Madrid, you'll learn all the anecdotes about the royal families. And at the end, you'll get a fast-track ticket to skip the long lines to visit the Royal Palace of Madrid! You'll sure appreciate that having to see Madrid in one day, so make sure to book your tour in advance.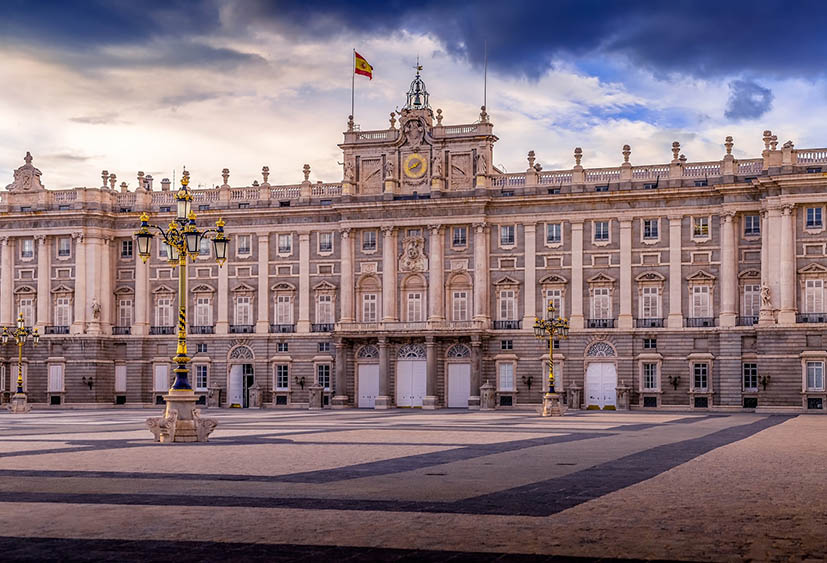 One day in Madrid: evening
Flamenco and tapas
What a better way to round up your 24 hours in Madrid than enjoying a traditional flamenco show? You've probably been dreaming about seeing this beautiful performances and we have the right recommendations. The most renowned tablao in town is Corral de la Morería. Apart from an outstanding quality standard in their performances, they have a restaurant with a Michelin star. So the place is also great to feast on otherworldly Spanish delights. Another option offering good value for money is Café de Chinitas, which is also more affordable and still a really good show.
If you'd rather have food on a local bar or restaurant, Madrid's gastronomic scene just rocks it. The city center is full of tapas bars and bistrots where you'll find all the basics of the Spanish menu. Tortilla de patatas, bocata de calamares, croquetas… you name it, Madrid has it! Plaza Santa Ana is a good area to look for food in the evening. Two of our favourite places are Casa Alberto and Lateral: make sure to have a reservation! After savouring the genuine flavours of Spain, you'll feel like you've made it through Madrid in one day in the best way possible!
We hope this post will help you decide what you should prioritise in your visit to Madrid in one day. If you have some more time, we have also designed plans for two days and three days. Do you think we missed something important? Was this information useful to you? Leave us a comment and let us know your thoughts! We really look forward to hearing from your dreamed 24 hours in Madrid! And if you want us to take care of everything, check out our Full Day Tour in Madrid in English, Japanese, Korean or Chinese.
If you liked our post about what to see in Madrid in one day, recommend it to your friends and learn more Madrid tips in our Panda Blog! Remember you can also take our tours to discover the best attractions in Barcelona from a local perspective. Use our Panda coupon in your language to get a 10% discount!
Coupons: CHINA10 – JAPAN10 – KOREA10
You can also follow us on Facebook!