Are you looking for an amazing Chinese restaurant in Barcelona, with great traditional dishes, a very nice decoration and located in the city center?
Well, you've just found it! La Olla de Sichuan is our favorite Chinese restaurant in Barcelona and today we will tell you everything about it. 
Serving delicious food for more than 10 years, La Olla de Sichuan is a great option to have lunch or dinner. You can even go there to celebrate a special occasion because the place looks beautiful, but the prices are affordable.
This Chinese restaurant in Barcelona has great reviews from Chinese people who live here or visit the city, but is also a "must go" for Spanish people or Asian food lovers from all over the world.
The food served at La Olla de Sichuan is traditional from Sichuan Region, in central China, known for its spicy/hot food. But don't worry, Olla de Sichuan adapted its dishes to the European taste, so you can choose if you want your food really hot or not hot at all.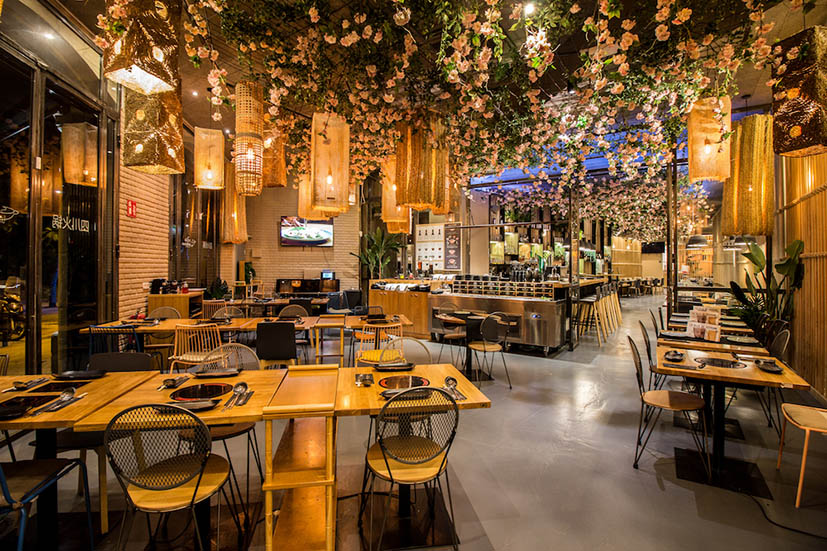 La Olla de Sichuan special dishes
Let's talk about what really matters: the food! One of the things we love the most about La Olla de Sichuan is their menu, with 2 options: a la carte or hot pot (olla).
If you go for a la carte menu, you will have the chance to choose from many options of traditional dishes from the Sichuan region such as Dim Sum, wok pastas, rices, meat, duck, pork and seafood dishes. We really love the pork Dim Sum and the pasta soup "Fideos Cruzando el Puente".
If you prefer the Hot Pot (olla) option, prepare yourself to eat a lot and leave the restaurant in a very happy mood. We highly recommend it! The Hot Pot is a traditional Chinese dish served in special occasions. You'll cook the ingredients directly in your own bowl!
There are 2 Hot Pot options: All food included (21€) or All food and beverage included (28€). You will choose your ingredients from the special Hot Pot menu. First, the soup base: meat, mushrooms, ginseng, thai (hot) or Sichuan Spicy (very hot).
Then you'll choose all the ingredients you want to add in your hot pot. There are more than 40 options of vegetables, Chinese pastas, fish and seafood, meat, tofu, mushrooms and seaweed. As it's "all food included" you can choose as many ingredients you'd like and it's ok to repeat many times.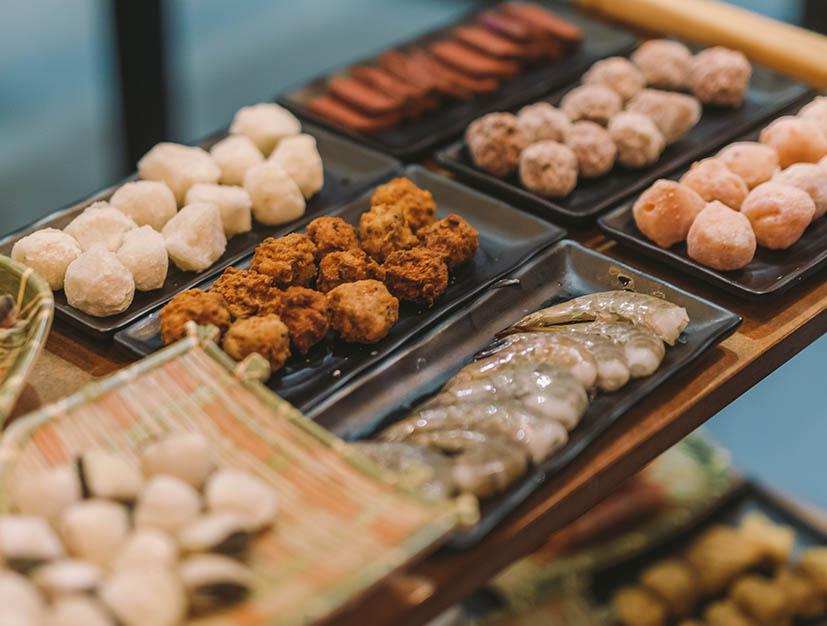 On top of that, there's a variety of sauces and dressings. Once you have all your ingredients in front of you, it's time to cook! The special vitro ceramic pot will be heated and when the soup base is boiling you can start adding the ingredients.
When everything's cooked to your taste, it's time to eat and enjoy a great time with your friends or family. You can stay eating the La Olla de Sichuan hot pot for hours if you want to, and that's the amazing thing about this experience.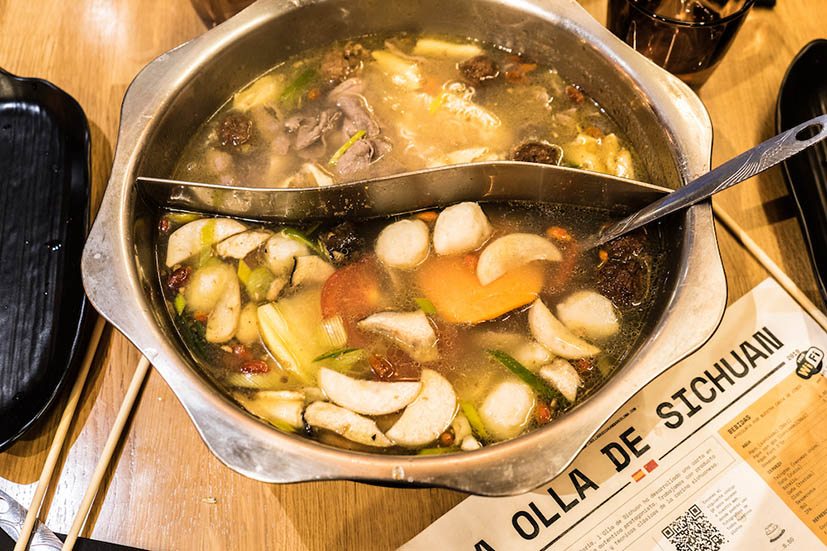 Once you are preparing to come to Spain, you may be interested in visiting the best Gaudí's buildings or knowing the best places to shop in Barcelona.
La Olla de Sichuan: practical information
The restaurant is located at Carrer Arago 224, just by the beautiful Doctor Letamendi square in Eixample neighborhood. The closest subway stations are Passeig de Gràcia (Line 3) and Universitat (Lines 1 and 2). The train station Provença is 4 blocks away. It's very central, near Plaça Catalunya.
Even though La Olla de Sichuan is a big restaurant, with a great interior, it's recommended to make a reservation in this link. They are open every day from 12pm to 4pm and from 7:30pm to 12am.
If you want to know more you can visit their website or call them at +34 935 031 888.
Have you tried the amazing La Olla de Sichuan's food? Tell us your experience in the comments section! 🙂
Our Tours in Barcelona
Use our Panda coupon in your language to get a 10% discount!
Coupons: CHINA10 – JAPAN10 – KOREA10 – ENGLISH10