Do you need to travel from Madrid to Barcelona or the other way around?
The two cities are 630km (392 miles) away and you can travel from one to another by plane, train, bus or car. In this post we will explain all of the options so you can choose the best one for you.
Of course you can also use these tips to travel the other way around, from Barcelona to Madrid.
Madrid to Barcelona by plane
Flights from Madrid to Barcelona take 45 minutes. When you search for flights you have to choose the following airports: Madrid (Barajas) and Barcelona El Prat.
Of course prices varies a lot, depending on the season, day of the week, airline company or if you buy in advance or last minute. Remember that if you fly low cost you may need to pay even for your hand luggage.
Advantages: it's fast and and comfortable.
Disadvantages:

you have to go to the airport. The two airports are not very far from the cities centers and it's relatively easy to reach them, but not as easy as leaving from the central train stations. You also have to arrive at the airport 1h30 before your flight time. Prices may be very high if you buy last minute.
Madrid to Barcelona by train
Traveling from Madrid to Barcelona by train is fast and comfortable. Renfe operates a fast train and the journey time is 2h30. Some trains take a bit longer (3h10), so pay attention when you book.
Trains depart from Puerta de Atocha station in Madrid and arrive in Sants Estació in Barcelona, both in the city center.
Seats are comfortable and the travel is very pleasant. Another big advantage is that you can take up to 3 pieces of 25 kilos each. If you are traveling with more luggage this may be the best option for you.
Tickets are usually more expensive than the flight, specially if you buy last minute. Try to book as early as possible. You can check prices and book at Renfe's website.
Advantages:

fastest option, comfortable, city center to city center, more luggage allowance.

Disadvantage: higher price.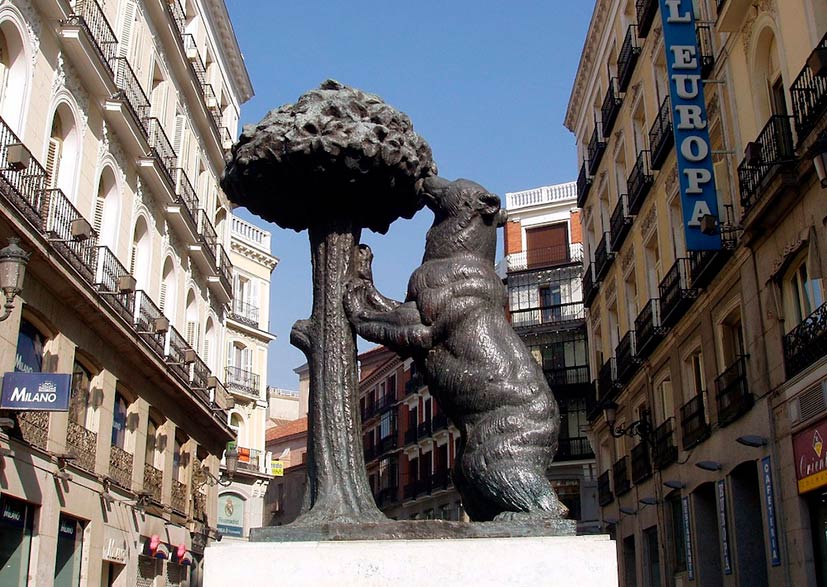 Madrid to Barcelona by bus
If you are looking for the cheapest option to go from Madrid to Barcelona, the bus is your choice! But it is also the longest one… Travel time is 8h30 hours, with 2 stops in the way.
Buses leave from Madrid Sur station and arrive at Estació Nord in Barcelona, both in the city center and well connected with the subway network.
You can travel with Alsa Autobuses or Flixbus and you can take with you one piece of luggage and one smaller carry one.
Advantages: cheapest option and luggage allowance.
Disadvantages: longest travel time, not as comfortable.
Madrid to Barcelona by car
If you prefer to rent a car to visit Spain in your pace and maybe stop in different cities, we think it's also a good idea!
The journey from Madrid to Barcelona by car takes around 6h30 hours. You have to take highways A-2 e AP-2. There are toll gates and they cost more or less 33€. Consider another 50-55€ in fuel.
You will probably need to make a stop for food, toilet and stretch your legs. We recommend the city of Zaragoza for that.
Advantages:

flexibility. If you are in 3 or 4 people it becomes an economical option.

Disadvantages: It's a long drive and may be tiring. If you are traveling alone is gonna be expensive.
Once you are preparing to come to Spain, you may be interested in visiting the best Gaudí's buildings or knowing the best places to shop in Barcelona.
There are some great tours you can do in Barcelona and Madrid with locals to discover not only the main attractions but the secret gems of the cities. Here are some we recommend:
Royal Palace of Madrid
Madrid Flamenco Show & Tapas Tour
Prado Museum and art walk tour in Madrid
Barcelona Gothic Walking Tour
Barcelona Gaudí Walking Tour
Sagrada Família Walking Tour
Barcelona Tapas Tour
Gothic Evening Tour & Flamenco
Use our Panda coupon in your language to get a 10% discount!
Coupons: CHINA10 – JAPAN10 – KOREA10 – ENGLISH10