Hotels in Barcelona: 15 options to sleep in the city for every budget
Book a Free Tour of Barcelona!
Have you decided yet in which of the neighborhoods of Barcelona you're going to stay? If not, we recommend you to take a look at our post about where to stay in Barcelona. And if you've done that piece of homework already, then it's time to look for the right hotel in the area! In this week's post, The Touring Pandas have made a selection of the best hotels in Barcelona. From low-cost accommodation in a cool hostel to the most exclusive rooms in the city, you'll find a list with hotels for every budget. Keep reading and choose the right home for you during your stay!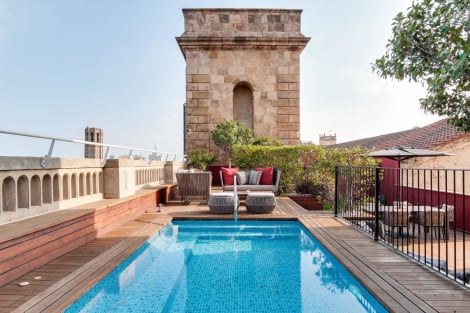 Cheap hotels in Barcelona (under 100€)
Barcelona is a very popular city and, as such, accommodation can get quite expensive during the seasonal peaks of the year. Thus, it's normal that you struggle to find cheap hotels in Barcelona. However, cheap doesn't mean tacky and that's why we want to help you find the coolest places to sleep in a budget under 100€/night.
TOC Hostel & Suites is a convenient boutique hostel right in the center of Barcelona, near Plaça Universitat. They have different accommodation options, from a bed in a shared room of 6-8 people, to a private suite for 1-4 people. You can find a bed in a shared room for as little as 18€ per night and they have female-only rooms available. If you want some more privacy, suites for 2 start at 72€ per night, and suites for 4 at 85€.
If you're looking for a hostel that is also in a quieter area, Generator Hostel may be a good option for you. This hostel in the Gràcia neighborhood has beds available from 13€ per night in an 8-bed room. There are also 6-bed dorms, female-only dorms, private rooms for 4, private twins, and even suites. The private bedrooms for 4 can be booked for as little as 65€ per room, and the superior suite, for 175€.
Another interetsing option for cheap hotels in Barcelona is the Twentitu Hostel. This hi-tech hostel is a leader in sustaiability and has been recognised with the Biosphere Responsible Tourism certification. It is located in the area called 22@, the innovation and start-up hub in the city. The hostel has a total of 62 rooms with 2 or 4 beds where you can stay from 10€, depending on the season. There are also female-only rooms available and you can chose to privatise a room.
Hotel Curious may have just 1 star, but the value you get is worth a planet! This small hotel at the heart of Barcelona, just off La Rambla, is an innovative establishment that has sustainability at its core. You can book a room at Hotel Curious from 57€. Being a small hotel, their best value is a close treatment of their customers, but also of the neighborhood surrounding it. Staying here, you'll get a lot of perks in nearby shops and cafés, and you will also help the NGOs with which they collaborate.
Only in Barcelona for a day? If you're staying for just one night and you're in a morning rush, sleeping near the airport may be a handy option for you. Hotel Porta Fira is a 4*Superior hotel with amazing architecture designed by Toyo Ito, so it's an ideal place to combine low budget and quality. Rates are often under 100€ for a night, and it will take you only ten minutes to reach the airport from here. Also, it's outside the city but very well connected, so it can be the perfect base for a one day of Barcelona exploration.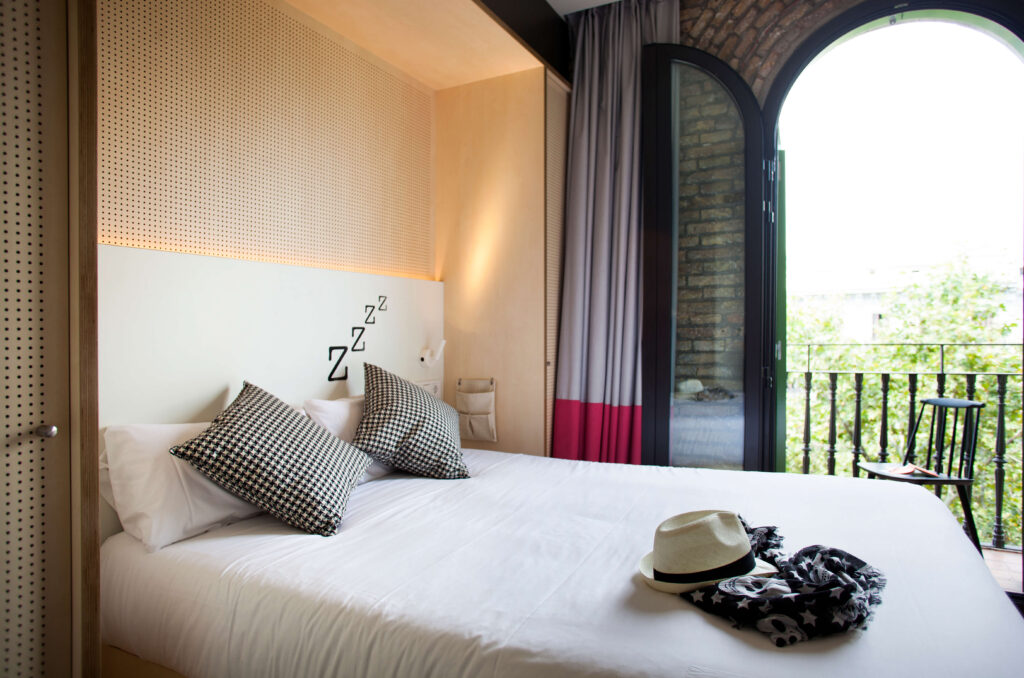 Medium budget hotels in Barcelona (100-250€)
If you're willing to spend a bit more, there are really cool 4 starts hotels in Barcelona where you get real value for money. We've selected 5 really good options where you can usually find a room ranging from 100-200€ per night.
Hotel Alexandra is one of those hotels where you could wake up and guess in what city you are just by the looks of the room. This boutique hotel in Barcelona has a strong personality that becomes a part of your experience in the city. The terrace, pool, and Solomillo restaurant with maybe the best steaks in town are three reasons why you won't want to leave the hotel! But Gaudí's Casa Batlló and Casa Milà, just a few steps from here, are the reasons that will definitely drag you out.
1898 is one of the best options for hotels in Barcelona. Right on La Rambla, its location is unbeatable, just as its terrace. From here, you can have some of the most fabulous views of the Gothic Quarter and it's one of the best places in town to have an evening cocktail. The architecture and design of the building are also some of the most remarkbale features that bring a noble air from the old times. Make sure to check it out!
Exploring Spain by train? Then there can't be a better hotel in Barcelona for you than Barceló Sants! This spaceship-like hotel is literally on top of Barcelona Sants station. If you're taking a late or early train, an elevator can bring you from your room to the station hall in one minute! With such a privileged location, this is a perfect option if you're travelling between Barcelona and Madrid by train.
If you come in the summer, Melià Sky is a hotel that makes the summer even more beautiful. Located in one of the newest areas of the city, you can walk to the beach in just ten minutes. But you don't even need to leave the hotel to enjoy the summer. With one of the best hotel pools and outdoor restaurants, Melià Sky is an excellent hotel to enjoy the Mediterranean lifestyle. In addition, the rooms in the upper floors boast some of the best views you'll get in Barcelona.
Looking for a gay-friendly hotel in Barcelona? Check Hotel Axel, at the heart of the gay area in Barcelona. Actually, Axel was the first hotel in the world to be delcared hetero-friendly! Respect for diversity is guaranteed in this convenient 4-stars hotel in the center of Barcelona. Also, it's the perfect option to enjoy gay nightlife in Barcelona… maybe even without leaving the hotel!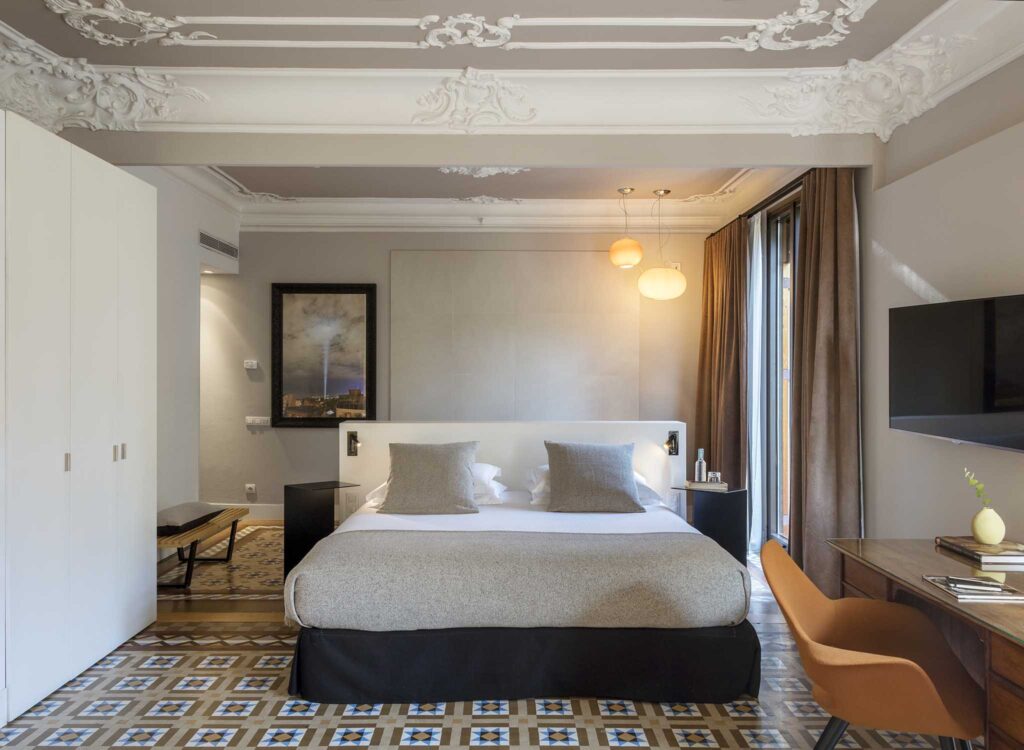 Lifestyle & Luxury hotels in Barcelona (over 250€)
Sometimes, you just want to enjoy every single second of your trip. If that's your case, Barcelona has some of the most wonderful hotels in Europe. Competition among luxury hotels in Barcelona is so fierce that they're constantly improving their service and facilities to surprise their guests. If you want to be pampered from the moment you step in, have a look at these 5 wonderful hotels in Barcelona… After all, you've been planning and dreaming about this trip for a long time, and you deserve it!
Do you want to live for some days in a medieval palace from the XII century? Barcelona has it for you. Right on the Plaça de Sant Felip Neri, one of the most beautiful spots of the Gothic Quarter, Hotel Neri is a dream come true. With only 22 rooms, this boutique hotel combines privacy, outstanding service and privileged location as its main features. Just a few minutes from la Rambla, la Boqueria and the Picasso Museum, this is a perfect option to soak in Barcelona's history in style.
You don't know what style is until you've stayed for a couple of nights at the Hotel Claris in Barcelona. This 5*Superior hotel in the center of the eixample combines luxury, art, and the perfect location to enjoy architecture, fashion and gastronomy in the most exclusive area of Barcelona. In addition, every room is decorated with exclusive pieces of exotic art from a private collection owned by the founder of the hotel.
Maybe the luxury hotel in Barcelona par-excellance, Majestic Hotel represent classic luxury and style. This historical hotel was one of the first luxury residences in the city and is still considered a reference in the industry. On top of exclusive services and amazing rooms, the hotel has a breakfast menu designed by Nandu Jubany, a Michelin starred chef.
It just can't get cooler than this. W Barcelona is one of those amazing places that create a one-of-a-kind experience. Located at the far end of Barceloneta's beach, the exclusive location of this hotel has made it a part of Barcelona's skyline. Locals call it the "vela" hotel (the sail) because it looks like the sail of a boat on the Mediterranean sea. The views from the hotel rooms are just breath-taking and worth the cost. Waking up every day and staring at Barcelona's waterfront will just become one of your most cheerieshed memories back home. This is without a doubt one of our favorite luxury hotels in Barcelona.
Do you believe it's possible to fall in love with a city? It is, and especially, if you stay at this boutique hotel at the heart of the Eixample. H10 Casa Mimosa is a historic noble building that has been turned into a modern outique hotel, while keeping its architechture untouched. The moment you step in, you know aristocracy has played a role here.
Having breakfast at the patio of this hotel is already an experience. But what really makes this hotel stand-out from the rest is its terrace. Due to its exclusive location, H10 Casa Mimosa has direct views to the terrace of Casa Milà, one of Gaudí's maserpiece. If you sit at its rooftop bar to sip a cocktail, it won't be hard to understand why they name it "Gaudí's Sky".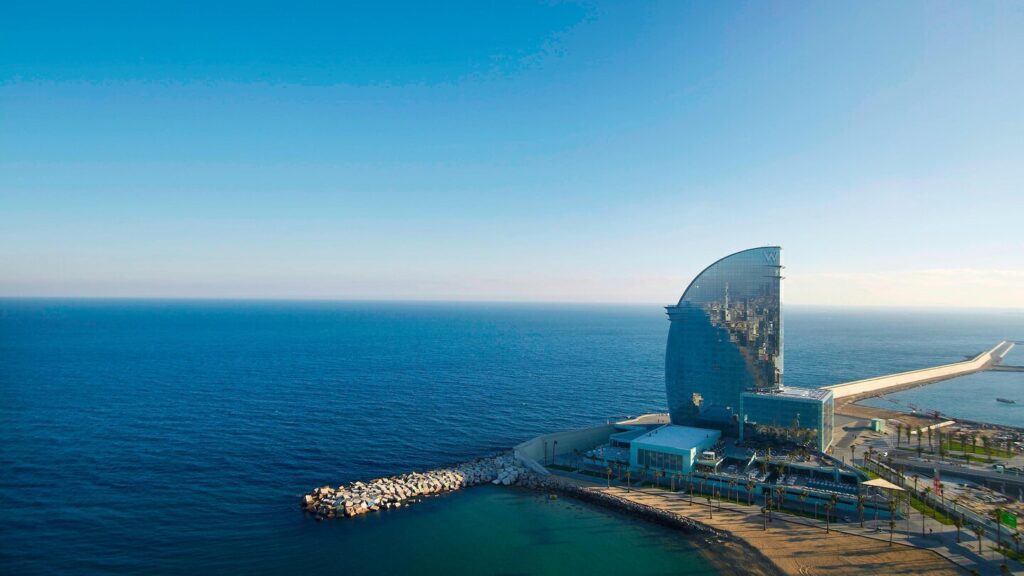 Did you make up your mind? Did you find the right hotel for you among our favourite options? If you didn't find what you're lookng for, drop us a message! We would like to hear from you and give you some more recommednations based on your preferences. These are some of the best hotels in Barcelona, but of course there are many more and we can help you find your perfect match.
If you liked our post about best hotels in Barcelona, recommend it to your friends and learn more Barcelona tips in our Panda Blog! Remember you can also take our tours to discover the best attractions in Barcelona from a local perspective. Use our Panda coupon in your language to get a 10% discount!
Coupons: CHINA10 – JAPAN10 – KOREA10
You can also follow us on Facebook!
Our Tours in Barcelona: