Gaudí in Barcelona: 5 must-see buildings!
Book a Free Tour of Barcelona!
Gaudí is the main icon of the Catalan Modernism and his work attracts millions of visitors every year to Barcelona for a reason: it's amazing!

Barcelona is home to most of his works and one shouldn't miss the opportunity to visit while in the city.
In this post we will show you the most beautiful and amazing works of Gaudí in Barcelona. You can visit them in a Gaudí walking tour, starting at his first house, Casa Vicens, and then heading to La Pedrera and Casa Batlló.
If even today we are astonished by his work, the architectural innovations he developed and the artistic expression he achieved, imagine the impact over 120 years ago when he projected these buildings! He was so ahead of his time!
Sagrada Família
The first stone of the church was laid in 1882 but Gaudí only assumed the project nearly 2 years later, changing it completely.

When finished, it will have 18 towers reaching 172 meters high. And you may ask: when is Sagrada Família going to be finished? The plan is to have it done by 2026, the year of the 100th anniversary of Gaudí's death.

The nativity facade tells the story of the first days of Jesus while the Passion facade represents his final moments, his calvary and death.

There's one more to be built, the Glory facade, where the main entrance to the church will be located.

But there's nothing like going inside Sagrada Família. It's so different from any other church you have ever seen. Gaudí designed the interior of the church as if it was a forest with high trees. The way light comes inside reflecting all the colors of the vitrals will leave you speachless.
Not going inside is a pity! You have to visit inside to see what makes Sagrada Família so special. With the Sagrada Família Tour you can go inside and skip the line, and the local guide will explain you all the secrets and symbols of the basilica in your language (you can choose English, Chinese, Japanese or Korean).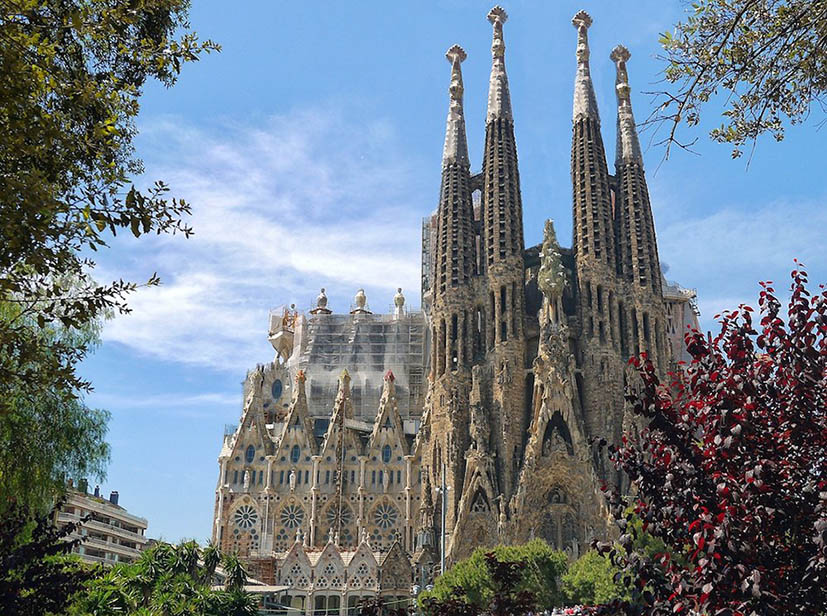 Casa Vicens
This house with oriental inspiration was the first project of Gaudí in Barcelona, when he was an young graduate. And it was the latest one to be opened to the public in 2017.

Casa Vicens was constructed between 1883 and 1885 for Manuel Vicens to be a holiday house. Gràcia, where the house is located, at the time was a village outside Barcelona and today is a very cool district.

Even though Casa Vicens was his first work, we can note traces of his mature style, such as the beautiful rooftop with colorful tiles and cast iron decoration.
Inside the house we can see flowers, leafs, birds in the ceilings, walls, doors, like we usually find in the modernism.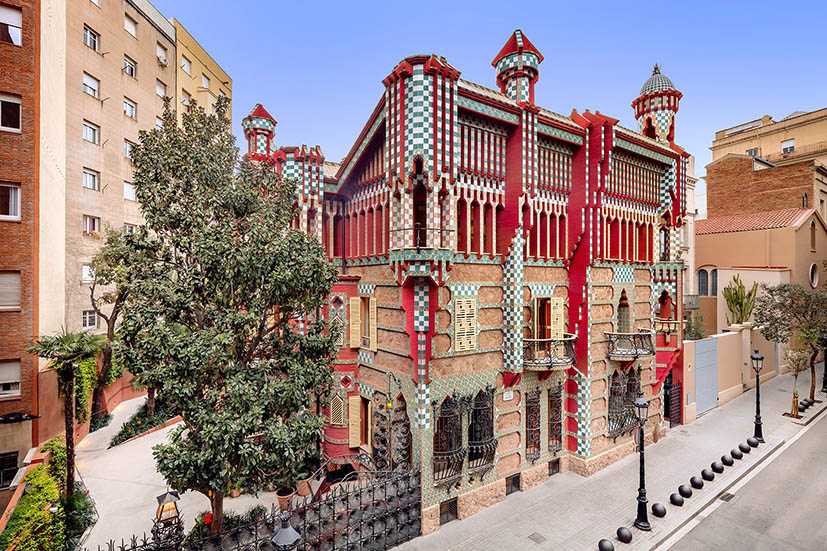 Casa Batlló
In this house we can see Gaudí's style completely developed. The house is like a fairy tale when you see it from outside, but wait to see the interior!
This is probably the building where Gaudí let go his imagination completely. Mr Batlló gave him total freedom to create wonders.
Many people say it's like being deep under the surface in the Mediterranean sea. And it really feels like being underwater. And this is something you can only experience if you go inside!
Casa Milà – La Pedrera
This was the last civil project Gaudí worked in. After that, he dedicated himself exclusively to Sagrada Família.

Casa Milà – La Pedrera was finished in 1912 and everybody hated it! It sounds crazy but back then people started calling it "La Pedrera" (the quarry), because of its looks. This nickname was carried on to the present day. But it is now one of the most renowned buildings in Spain.

Its rooftop is spectacular, with sculpture-like chimneys, and stairs that float like sand dunes. You are going to be amazed!
You can visit these 3 iconic Gaudí Houses in the same day with the Gaudí walking tour!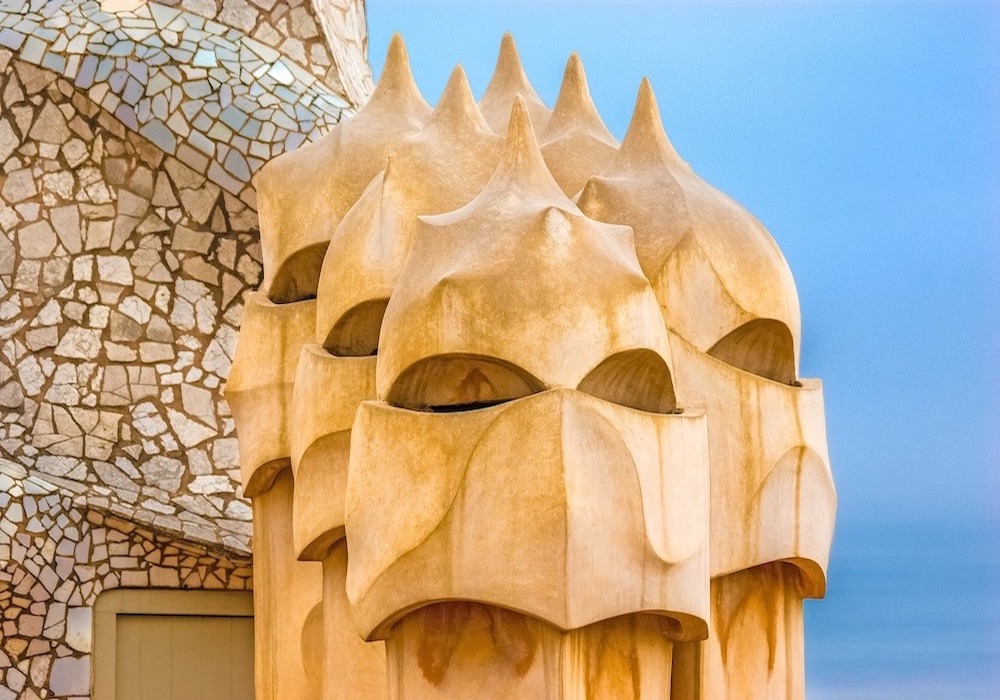 Park Güell
The modernist genius imagined a full residential area inspired by the English garden city movement. The ideia was to have some clean and fresh air to breathe, away from grey and polluted Barcelona after the industrial revolution.
Only two houses were built in Park Güell. One of them was occupied by Mr. Güell and his family and the other one by Gaudí himself. He lived there from 1906 to 1926. It is now the Gaudí House Museum and contains som of his original works.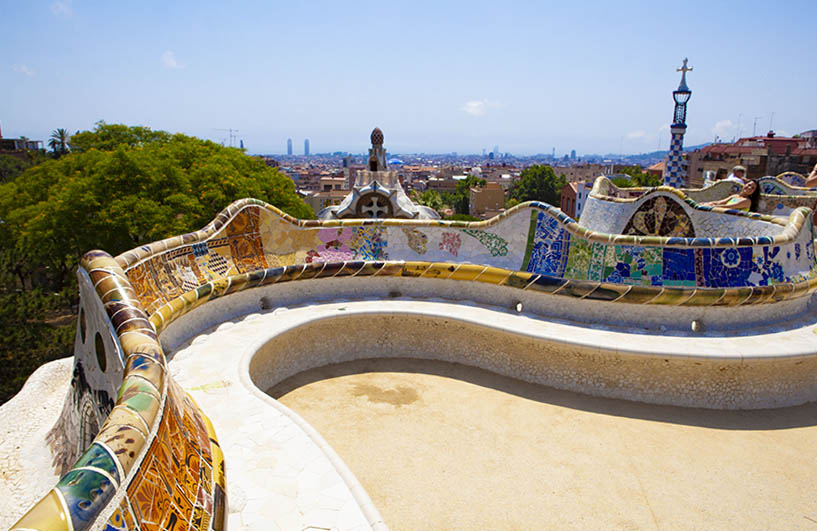 The fairy-tale-like park enchants every single visitor with its welcoming mosaic lizard. But keep in mind there are two areas inside the park: one that is free, where you can walk around and the Monumental Zone, that you have to pay for. And here is where the famous lizard is!
Usually if you show up in the park without a ticket, you can't get one to visit. It's very important to book in advance! Don't miss the chance to book now and make sure you can visit everything. Buy here your Park Güell online ticket.
Aren't these five buildings of Gaudí in Barcelona amazing?
Are you coming to Barcelona? You may also be interested in doing a day walking Tour in the Gothic neighbourhood, or enjoy an evening tour in Barcelona with a flamenco show and dinner.
If you liked our post, recommend it to your friends and learn more Barcelona tips in our Panda Blog! Remember you can also take our tours to discover the best attractions in Barcelona from a local perspective. Use our Panda coupon in your language to get a 10% discount!
Coupons: CHINA10 – JAPAN10 – KOREA10
You can also follow us on Facebook!
Our Tours in Barcelona: