Best restaurants in Barcelona: where to eat authentic local food
Book a Free Tour of Barcelona
More and more, food is becoming an essential part of travel. When we travel to Paris, or Rome, or Barcelona, we want to try the local specialty as much as we want to visit the Eiffel Tower, the Colosseum or the Sagrada Família. Still, it is very difficult to find good restaurants to enjoy local food and, of course, with local prices. Unfortunately, the centers of these cities are often full of tourist traps. The food is far from authentic, and the prices are abusive. But there are also amazing restaurants with excellent, genuine food! That's why we want to give you some tips to find real and affordable local bites! In this week's post, The Touring Pandas reveal 5 of our favorite best restaurants in Barcelona. Keep reading, make notes and get your belly ready!
The day starts with a vermut in Barcelona!
The Spanish people LOVE to eat. We usually have four meals a day: breakfast, lunch, merienda (similar to an afternoon tea), and dinner. However, the days in Spain are long (we get up around 7-8am and go to bed at midnight) and we often need to add some extras. One of them -and one of our favorite- is vermut! Vermut is a very deep-rooted tradition in areas like Catalonia, typically on weekends. It's a light meal we have around noon, in order to get us going until lunch time, which is generally around 2-3pm. The vermut is atcually a drink: it's a sweet wine served with ice, an olive and a slice of orange. Don't get too confident with it: despite its sweet and unharmful taste, it makes you happy quite fast! Vermut goes together with some cold bites like olives, artichokes, sardines or even jamón. So, the first of our recommendations for best restaurants in Barcelona will help you find an excellent vermut. Our favourite place to have vermut in Barcelona is Vidrios y Cristales. It's an old bar with a long tradition and awesome looks. You can have a decent vermut with a couple of sides for as little as 10€. If you want to dive deep in this and other gastronomic traditions, we recommend you to take our Barcelona Tapas Tour. Our expert, local guide will take you to this and other unique bars around the city!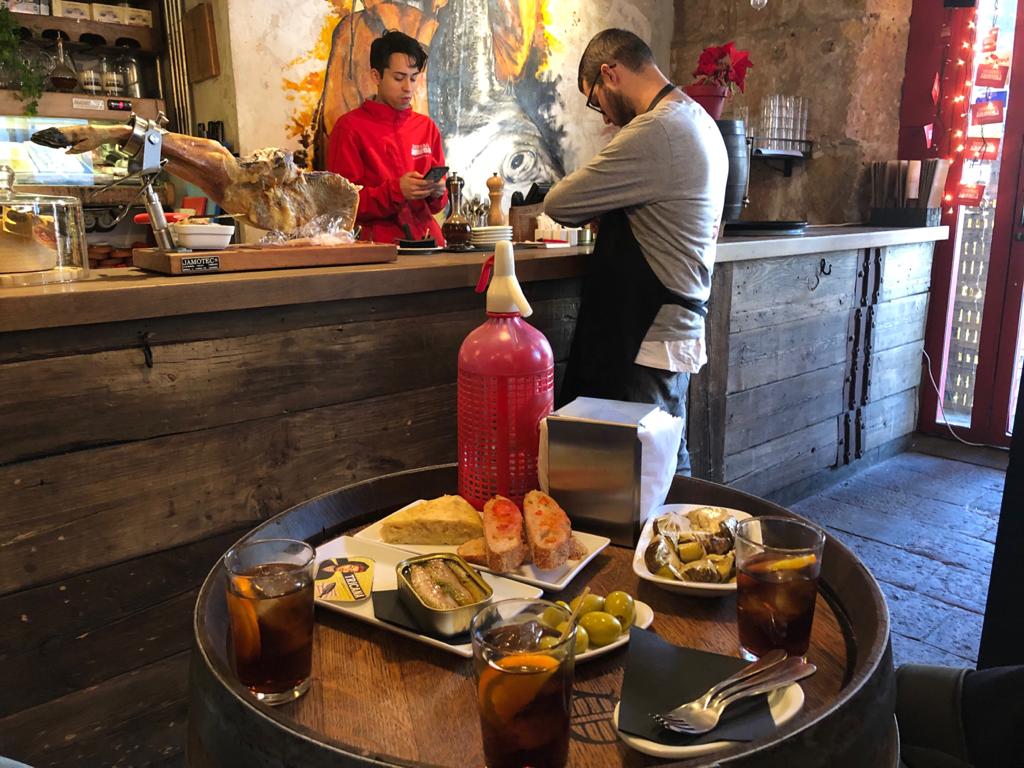 No vermut without tapas
You've probably heard about tapas already, but what are they exactly? And what's the difference between vermut and tapas? While vermut is typically an aperitif that you take at noon, tapas are welcome anytime! Actually, a meal can consist entirely of tapas: at noon, lunchtime, in the evening… we never say 'no' to them. Barcelona, as most of Spanish cities, is packed with bars where you can have some tapas. But, beware of fake tapas! Not every piece of food served in a small dish are tapas. Avoid the many tapas bars on La Rambla because they have abusive prices and bad food. Chicken wings and fried potatos are not the real tapas. Instead, look for albóndigas, patatas bravas, chipirones, ensaladilla rusa, tortilla de patatas… There's a myriad of options, you just need to find the right place to enjoy them. One of our favourite options for tapas is Vinitus: local food at reasonable prices! And if you start with tapas and want to go for more, they often have delicious paella with different ingredients every day. You can't miss this place! Get a seat at the bar, pick your tapas, and wash them down with a cold beer! Your budget per person at Vinitus for some tapas and a drink should be around 15€.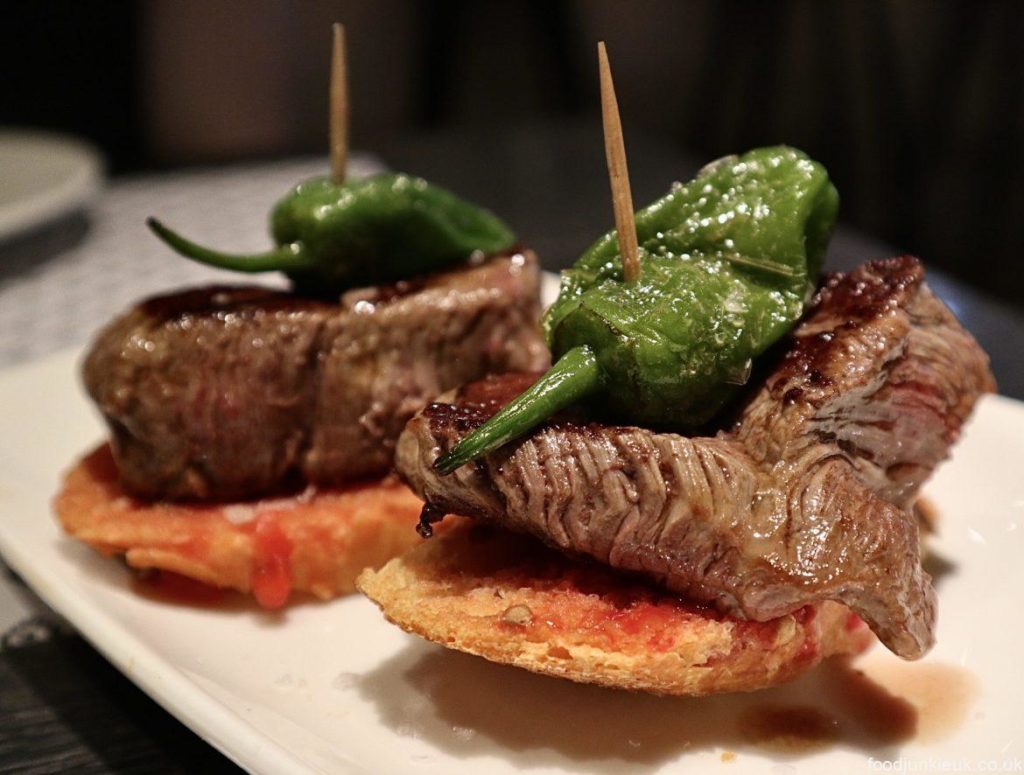 A trip to Galicia: octopus at O Retorniño
If you're a real foodie, you need to know that Spanish gastronomy varies a lot from region to region. And you need to try all of it! One of our most precious meals is the pulpo a la gallega (octopus Galician style). Again, it's not easy to find the right place with the right pulpo. Octopus is not cheap, so don't feel attracted to very low prices because rations will be minimal and gummy. Our recommendation is clear: go to O Retorniño! This is one of the best restaurants in Barcelona, owned by a Galician family. And they know how to cook the pulpo (in their menu it's called Pulpo con cachelos). A ration is 35€, but it's huge! So if you're two, you don't need to order anything else (apart from wine or beer, of course!). If you're alone, there are also half and even quarter rations, so don't worry about it. The octopus here is tender, tasty and abundant: get ready to feast on this eight-legged marine animal that is ugly -yes- but absolutely delicious! This is a very popular place for locals, so we recommend you to book your table ahead. Also, it's become so famous that they opened new restaurants nearby: O Retorno, O Retorno 2, O Retorniño, O Retorniño 2, and A Palloza are all owned by the same family and exactly as yummy! You should count on around 25€ per person for a good meal.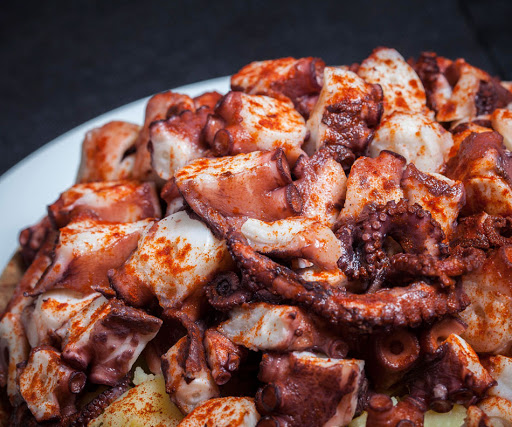 Feeling porky? Barcelona also has the right place!
So maybe you hadn't heard that the octopus was so popular in Spain. But we're sure you've heard about the pork! Pigs are the Spanish people's best friends, and we love absolutely everything about them! From the famous jamón to ears, tail and feet, every part of the pork is well taken care and cooked in Spain. At Pork… boig per tu (Pork… I'm crazy about you) you'll find a temple dedicated to the most popular meat in the country. Everything at this restaurant is cooked in a stone oven, and usually between three and six hours! This is how they achieve amazingly tender ribs, sausages, and many other cuts that will drive you crazy… for the pork. Of course, there are also vegetarian options available and a curated wine menu to pair with your food selection. The average price per person at Pork is around 30€ for a full menu including drinks and desert. If you want to combine an incredible dinner with a fantastic evening out, we recommend you to take a look at our Evening Tour with Flamenco Show & Dinner. Our local guides will take you to discover the Gothic Quarter in the evening before taking you to the oldest flamenco show in town. And as a perfect ending for your night, we have a reservation for you at Pork!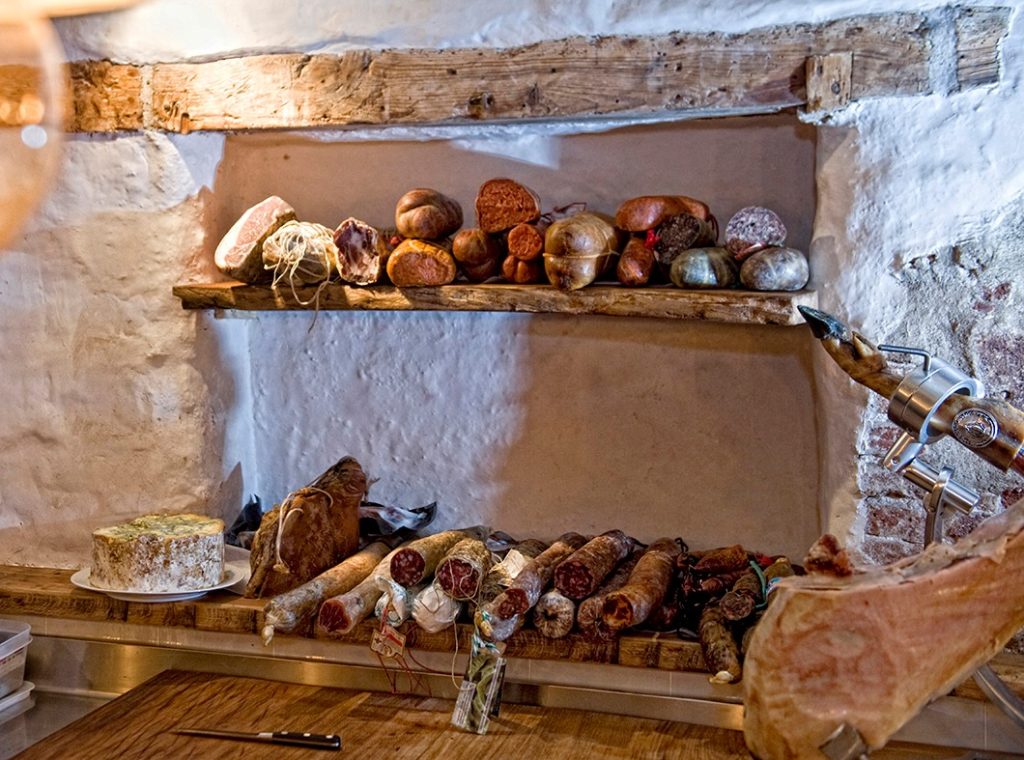 And, of course… paella!
Did you really think you would be left without a recommendation for paella? We're not that unconsiderate! Paella is probably what you've been dreaming of since you chose to visit Spain… if it's not the reason behind your choice! As it happens with tapas, paella is so popular that every restaurant wants to have it on their menu. But the truth is, paella can be as good as it can be horrible if oredered in the wrong place. So pay attention and don't deviate from our tips! The typical picture of paella that has conquered every travel guide, is seafood paella. But actually, the original paella has no seafood. This dish originated in Valencia during war times. This means people were poor and had to cook with whatever they had. So the base ingredients of paella are rice, rabbit, vegetals, and even snails! When better times arrived in Spain, people started experimenting with other ingredients. And today, the limits for paella go as far as imagination does! Our recommendation is Arrosseria Xàtiva, one of the best restaurants in Barcelona to eat paella. Their menu consists of more than 20 options for paella: from the very basic to more daring combinations. As a proper family from Valencia, their paellas are served with a traditional wooden spoon. Don't be afraid to eat directly from the paella (the recipient that gives the name to the dish): it's even more delicious this way! The average price per person, inclding some starters, paella, wine and desert, should be around 30-35€. The business has grown and there are several branches in the city: choose the most conveninent for you!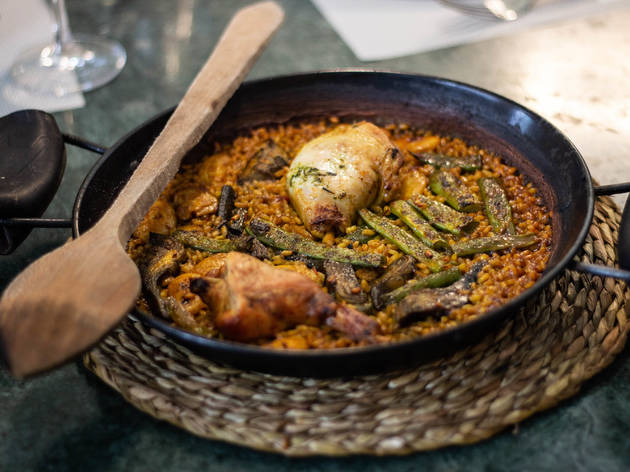 So this is our selection of best restaurants in Barcelona! Did you make good notes? Or you were to busy just salivating? If you want more tips, please leave us a comment or send us a message. We're always happy to hear from you and help you plan your trip to Spain!
If you liked our post about best restaurants in Barcelona, recommend it to your friends and learn more Barcelona tips in our Panda Blog! Remember you can also take our tours to discover the best attractions in Barcelona from a local perspective. Use our Panda coupon in your language to get a 10% discount!
Coupons: CHINA10 – JAPAN10 – KOREA10
You can also follow us on Facebook!
Our Tours in Barcelona: